Ahh, the holidays. While most people are busy checking off their Christmas lists, swilling eggnog, or braving the crowds to find that one-of-a-kind gift for a special someone, many system administrators are still diligently going about their appointed rounds, monitoring servers, patching software, and generally making sure that the digital lifeblood of today's modern civilization keeps flowing. There's no Santa for the sysadmin: I can't remember how many stories I've heard of hapless sysadmins being paged to reboot servers and unclog email obstructions on holidays or during the wee hours of the morning.
So in honor of the tireless and indefatigable sysadmin, we'd like to present you with the Petri IT Knowledgebase's version of the ubiquitous The 12 Days of Christmas holiday jingle. Check below the image for the song lyrics, and click on the image for a larger version of the graphic. Don't forget to check out our posts about Star Wars paper ornaments and our holiday gift guides for system administrators (2012 Edition, 2013 Edition, 2014 Edition).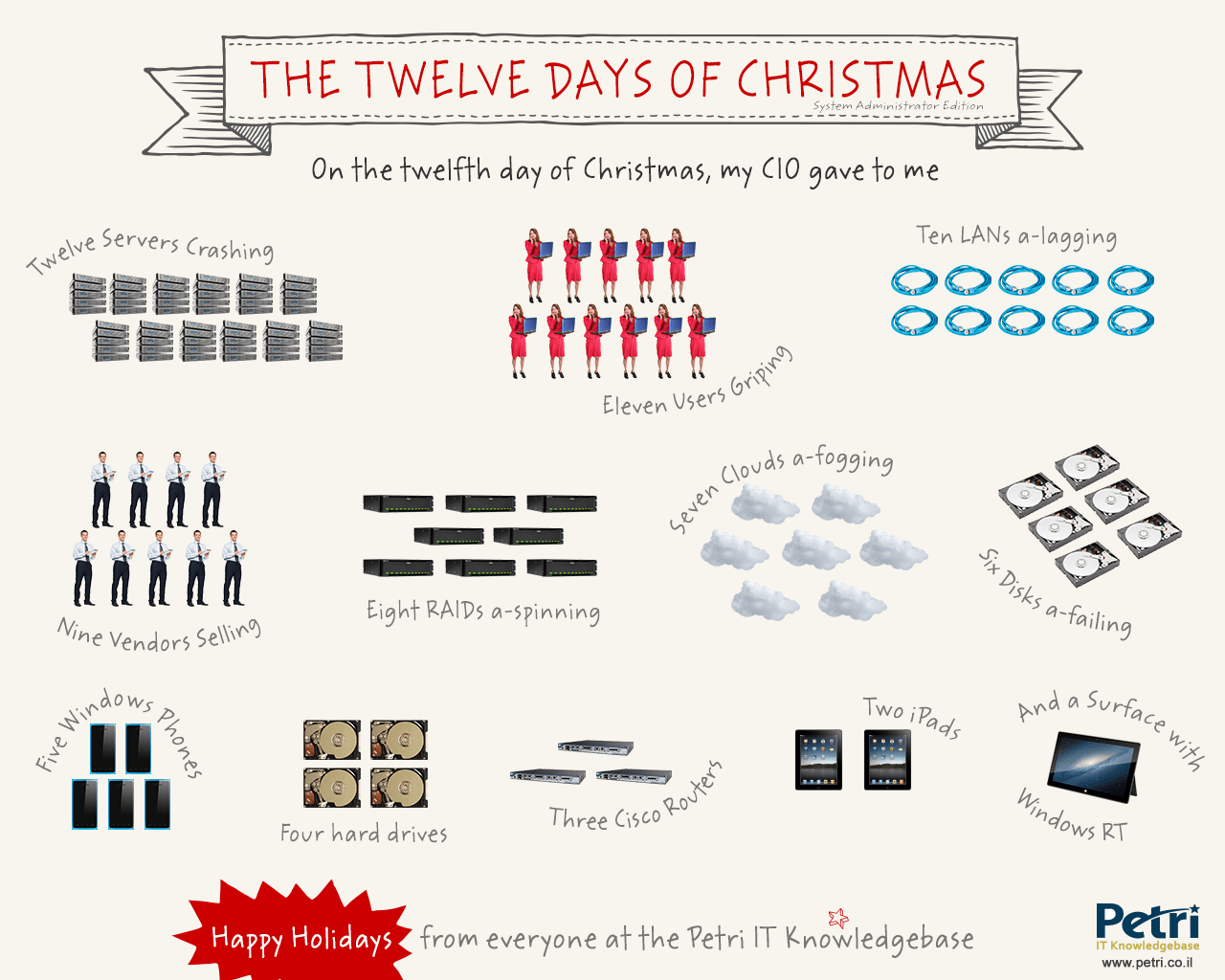 The Sysadmin's 12 Days of Christmas
On the twelfth day of Christmas,
my CIO gave to me
Twelve servers crashing,
Eleven users griping,
Ten LANs a-lagging,
Nine vendors selling,
Eight RAIDs a-spinning,
Seven clouds a-fogging,
Six disks a-failing,
Five Windows Phones,
Four hard drives,
Three Cisco routers,
Two iPads,
And a Surface with Windows RT!
Lyrics: Jeff James (@jeffjames3)
Infographic: Piper Kullas (@UxPiper)