By default, Windows 7 — and nearly every other Windows operating system — hides a fair number of important files and folders from view. This is primarily done to prevent inexperienced and novice computer users from deleting important system files accidentally. Yet there are cases when you need to show hidden system files and folders, especially when you're editing system configuration files, or performing other system maintenance that requires you to view those items. In this short tutorial I'll show you how to show hidden files and folders on a PC running any edition of the Windows 7 operating system.
Show Hidden Files and Folders in Windows 7
To begin with, make sure you're on the Windows 7 desktop.
1. Click on the Start button, select Control Panel, click on Appearance and Personalization, and then click on Folder Options, which I've highlighted with a red outline in the following screenshot.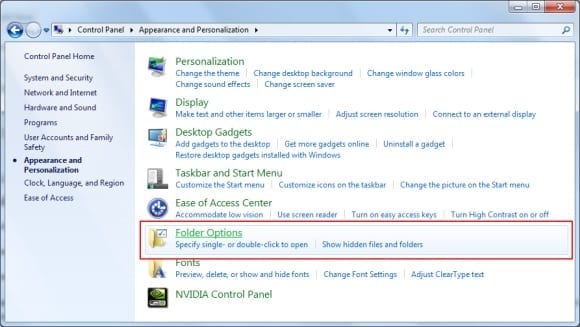 2. Click on the View tab in the Folder Options window that appears (see below).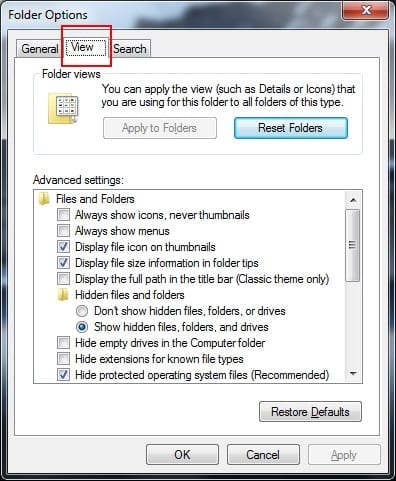 3. In the Advanced Settings section in the center of the Folder Options window look for the Show hidden files, folders, and drives radio button — found under the Hidden Files and Folders divider — and select it as shown in the example below. You may need to use the vertical slider on the right side of the window to scroll down to see the options listed, depending on your current screen resolution settings.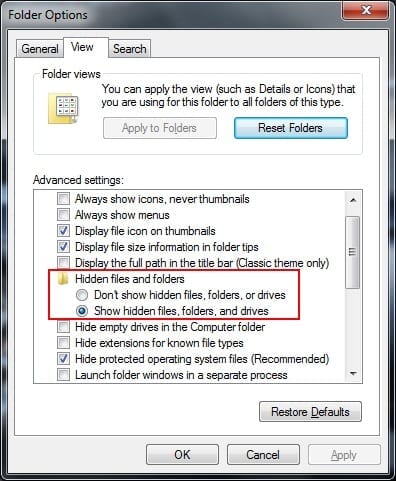 4. I'd also suggest that you deselect Hide empty drives in the Computer folder and Hide extensions for known file types (see below). The former will make it easy to spot empty folders manually when using Windows Explorer, and the latter makes it much easier to tell — at a glance — what type of files you're looking at.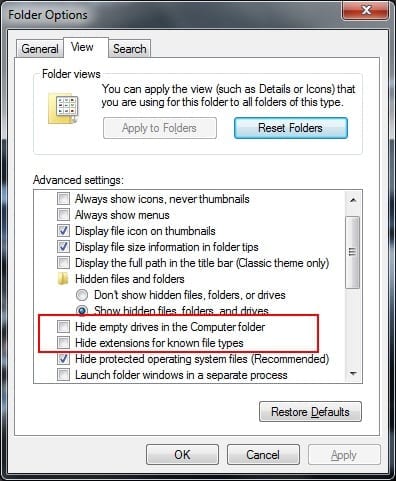 Note: While you're in the process of unchecking boxes and clicking on buttons here, you may be tempted to de-select the Hide protected operating system files (Recommended) option. I'd strongly suggest that you leave that one as is, since unchecking it will display all sorts of valuable (and vital) system files on your Windows desktop and in other places. That might be fine for a system administrator, but making all those files visible for office workers (or home PC users) is generally a very bad idea. So follow my advice and keep that option checked unless you have very good reasons for not doing so.
5. Click 'Apply' then 'Ok' to accept the changes and return to the Windows desktop. The changes should take place immediately, so there's no need to restart your machine.
If you need additional tutorials and how-to articles on how to perform certain tasks with Windows 7, please bookmark our Windows 7 resource page. That page features links to dozens of other articles focused on Windows 7, from deployment advice to management and security tips.
Have any other Windows 7 tasks you'd like to see tutorials for? Drop me an email or touch base with me on Twitter, Google+, or Facebook (see below) and let me know what you'd like to see us cover.