At a press event at the relatively new corporate offices of Yammer in San Francisco earlier today, Microsoft Cloud and Enterprise Vice President Satya Nadella discussed Microsoft's renewed commitment to the enterprise IT market, including new Microsoft remote desktop apps for iOS and Android devices, and new certifications for Azure on the government computing front. Nadella also used the event to highlight Microsoft's updated enterprise software and services portfolio, including the upcoming releases (on October 18th, 2013) of Windows Server 2012 R2, Microsoft System Center 2012 R2, the latest release of Windows Intune, as well as Visual Studio 2013 and .NET 4.5.1.
Interoperability and Microsoft's New Remote Desktop Apps
In a wide-ranging Q&A session, Nadella stated that Microsoft had been awarded a Provisional Authorities to Operate (P-ATO) designation from the Federal Risk and Authorization Management Program (FedRAMP) Joint Authorization Board (JAB). This alphabet soup of acronyms translates into Microsoft being able to sell Windows Azure to U.S. government customers — when they're not sitting on their hands waiting for our government shutdown to end, of course — who historically have not been able to adopt public cloud services due to the lack of said designation.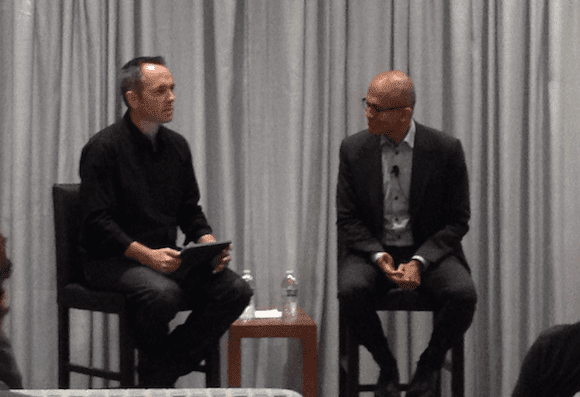 Microsoft Cloud and Enterprise Vice President Satya Nadella (R) fields questions from journalists at the Yammer corporate offices in San Francisco, CA, on October 7th, 2013. (Photo: Jeff James)
Nadella also mentioned that Microsoft had "grown up in the last ten years" when it came to interoperability with other OSes and platforms, and said that the "…mix of Linux and Windows workloads on Windows Azure closely mirrors the actual market share of those platforms." As part of that renewed push for interoperability, Microsoft also recently announced a wide-ranging partnership with Oracle to bring Oracle workloads to Windows Azure. Nadella also pointed to the forthcoming release of an official Microsoft remote desktop application for iOS, Android, and Mac OS X for the first time.
Microsoft's "Boundaryless Datacenter"
Another theme that Nadella promoted was that of the "boundaryless datacenter" and how Microsoft was going to give IT managers the tools they needed to manage their private, public, and partner-hosted cloud resources. Microsoft's Jeffrey Snover has often referred to the "three cloud" strategy and how Microsoft plans to help customers utilize their cloud assets in each of those areas. Nadella said that Microsoft's experience with such public cloud services as Xbox Live, Office 365, Microsoft Dynamics, and Bing helps improve the cloud services they provide to consumers.
"The strategy is simple," Nadella said. "First party [cloud expertise] to third party… we're not resting on our laurels." Nadella then went on to explain how the cloud is emerging as a supplement to on-premised resources, with some IT shops choosing Windows Azure as an expansion vehicle for SQL Server capacity, or as a backup service in the cloud for on-premise Windows Server installations.
Nadella also fielded questions from the journalists in attendance about whether or not he was in the running to be Microsoft's new CEO (in the wake of current CEO Steve Ballmer's forthcoming retirement), but gave a noncommittal answer. My own opinion here: Given that the Cloud and Enterprise group at Microsoft has consistently delivered solid profits and is arguably one of the best-managed and highest-performing divisions within Microsoft, overlooking Nadella for the CEO job — in lieu of flashier, higher-profile candidates rumored to be in the running like Ford CEO Alan Mulally and former VMware CEO Paul Maritz — would be a mistake.