Microsoft CEO Satya Nadella announced the launch of Microsoft Office for iPad at a press event in San Francisco this morning. This was the first major announcement in the "software, software, software" era since Nadella was named CEO of Microsoft, and plays to Microsoft's traditional strength: software.

Microsoft needs to deal with mobile devices in a variety of form factors that are available now and will be released in the years to come.  Ubiquitous computing with ambient intelligence is one of the goals of Microsoft. "Everything that we do is going to be digitized," Nadella said. Therefore it makes sense for Microsoft  to make their core productivity software available to customers on all kinds of devices and operating systems, letting them access and use cloud-based services like Office 365. In a blog post, Nadella said "I don't think of the cloud and mobile as two things. They are two facets of one thing. The cloud was created to enable mobility. And mobile devices are really uninteresting without the cloud."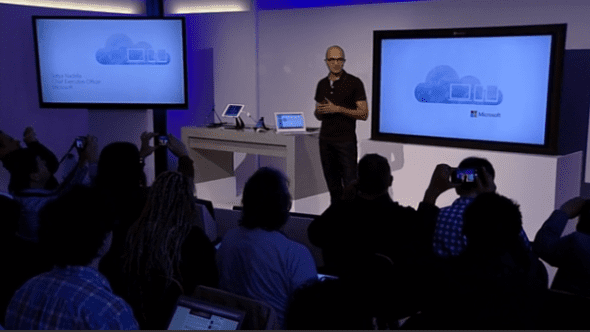 Satya Nadella launches Office for iPad in San Francisco (Source: Microsoft)
Starting today you can download Word, Excel, and PowerPoint for iPad from the Apple App Store. You can view documents and do presentations with these free products. With an Office 365 subscription, you can also add the ability to create new documents and edit existing ones on your iPad. That Office 365 subscription entitles you to install Office on up to 5 PCs/Macs and also up to 5 tablets. Formatting will be consistent across device and operating system types, and synchronized using OneDrive, OneDrive for Business, or SharePoint.



Editing in Word on the iPad (Source: Microsoft)
In addition to the iPad announcement, Office for iPhone and Office for Android phones are being made free for everyone. The UI has been custom designed for the form factor and touch interface. It looks very clean and simple, bringing forward those key editing features that most people use everyday. Excel also features a custom numeric keypad to make data entry into cells nice and easy. PowerPoint makes the most of the touch UI for presenters. You can use touch to swipe, "laser point," and highlight sections in your presentation.


Excel, bringing business intelligence to the iPad (Source: Microsoft)
Microsoft wants you to know that these are not ported apps from the iPhone. This is a set of custom-developed apps designed from the ground-up for the iPad, bringing the best of Microsoft software engineering to the most successful tablet on the market. The new Office app also supports noteworthy iPad features such as the ability to use wireless AirPlay to display presentations on a television and use voice dictation to create documents.
The following Office 365 plans feature the fully functional versions of the Microsoft Office apps for iPad: Office 365 Home, Office 365 Small Business Premium, Office 365 Midsize Business, Office 365 E3 and E4 (Enterprise and Government), Office 365 Education A3 and A4, Office 365 ProPlus, and Office 365 University. The new Office 365 Personal subscription offering will also include Microsoft Office for iPad when the plan launches later this spring.
Microsoft Office for iPad requires iOS 7.0 or later to run, and is available in 29 languages and 135 markets today.