Microsoft served up a handful of updates for its cloud data platform offerings, where the technology giant provided announcements for Azure SQL Data Warehouse, SQL Server 2016, and Power BI.
Azure SQL Data Warehouse in Limited Public Preview
Microsoft first announced Azure SQL Data Warehouse at its Build developer conference this year, where the company described the new offering as a "enterprise-class elastic data warehouse-as a service." You can read more about the initial announcement on the Petri IT Knowledgebase in my article, Build 2015: Microsoft Takes on Amazon with SQL Data Warehouse, Azure Data Lake.
Azure SQL Data Warehouse might be best described as an cost effective and economical offering compared to existing competing services, where the new technology lets users manage the separation of compute and storage, thus enabling users to pay only for what's needed. Additionally, Azure SQL Data Warehouse lets users pause the database at will for better cost efficiency, where again the user only pays for commodity storage costs. Rather than restrict users to a sole physical or cloud scenario, Azure SQL Data Warehouse also caters to users by providing hybrid solutions so users aren't forced to choose between the two.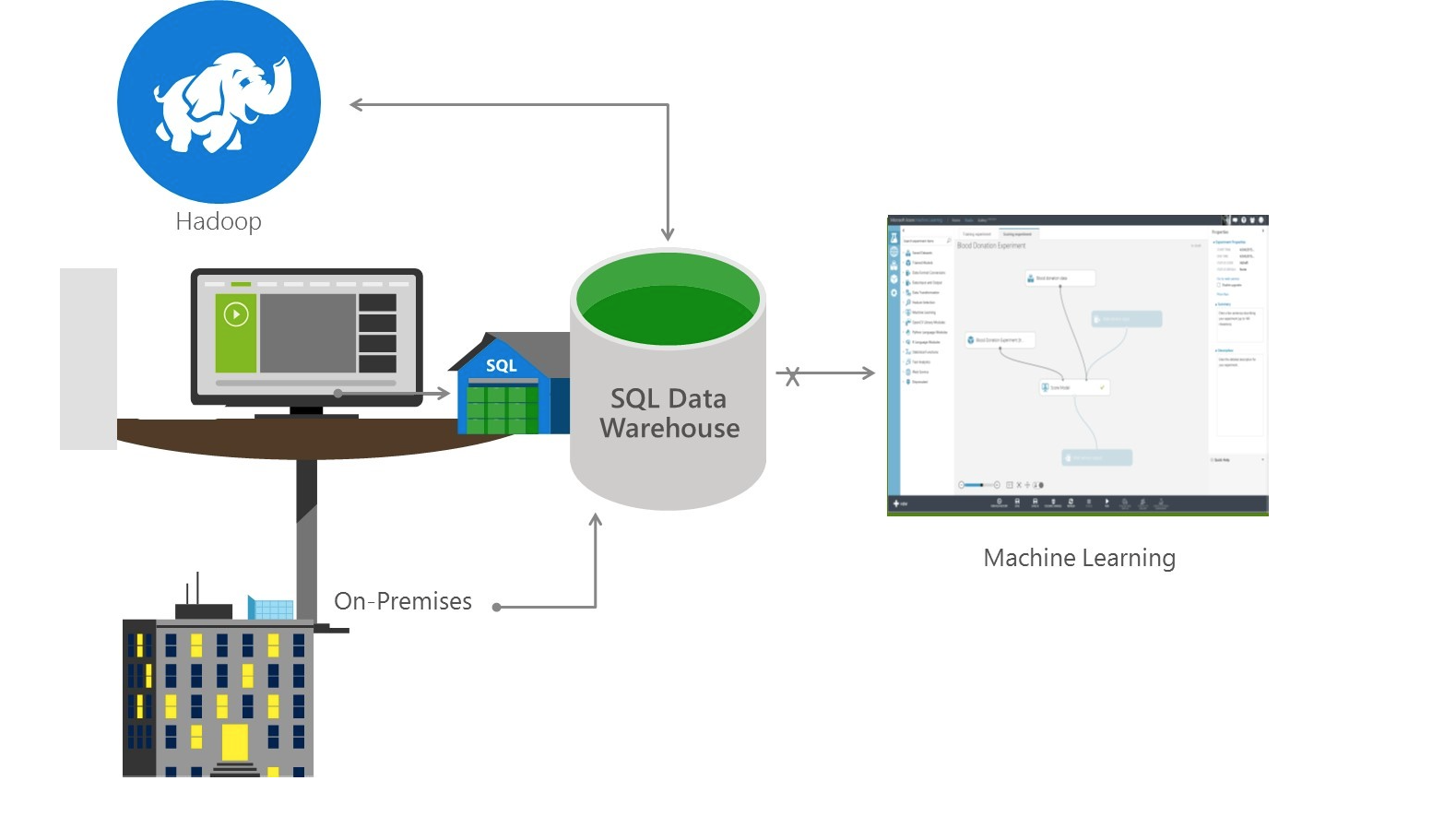 Microsoft is now announcing the availability of its Limited Public Preview for Azure SQL Data Warehouse, which users can sign up for on Microsoft's Azure SQL Data Warehouse informational page.  This preview is intended for data warehouses that range from five to 10 TBs, so that users can start testing and providing feedback on the new service.
SQL Server 2016 CTP 2.1 Now Available
Microsoft made the SQL Server 2016 Community Technology Preview (CTP2) available in May, where the company announced that it would be rolling out a non-traditional, rapid release model that lets users test the offering on on-premises SQL Server 2016 development and test environments. SQL Server users can expect rapid release previews to be released more frequently and of the same build quality as traditional CTPs. The SQL Server 2016 CTP 2.1 is now available for download today, which includes improvements to Stretch Database, Query Store, and performance enhancements to columnstore indexes. You can read more about the list of improvements on the Microsoft SQL Server blog.
Microsoft also announced that SQL Server Management Studio (SSMS) is now being offered as a stand-alone install outside of SQL Server, which lets Azure SQL Database users take advantage of SSMS features either in the cloud or on-premises SQL Server.
New Power BI Content Pack Generally Available
Power BI is Microsoft's analytics offering, which readily puts data in an organization's hands for better decision making. The company announced a new content pack for SweetIQ, which brings in data about listings, locations, rating and reviews to increase local search conversations.
Stay tuned for more updates on Azure SQL Database and SQL Server 2016 news from the Petri IT Knowledgebase. Are you hands on with the previews? We'd love to hear your feedback on the releases and how you're using them in your production or test environments in the article comments below.