I recently sat down with Mike Shutz — Microsoft's general manager for product marketing for the Cloud and Enterprise Division — at TechEd North America 2014. Schutz and I previously met and talked at a TechNet launch event for Windows Server and System Center 2012 R2 in Germany. This history paved the way for our most recent meeting, which wasn't the typical media Q & A session. Instead, this was a full conversation, in which we covered topics such as the hybrid cloud, Microsoft Azure, the future of the IT pro, and end-user computing. Due to its length, this article is part one of a two-part interview.


Interview with Microsoft General Manager Mike Shutz
Mike Shutz: Since [our previous meeting at the German launch event], as you've probably seen, we've focused a lot on hybrid cloud services that would light up both on-premises capabilities with Windows Azure and vice versa. One of the things we've seen is that customers' on-premises infrastructures are not going away any time soon. We think there's great scenarios for you to make use of the public cloud. How do we bridge that gap? Back in the fall we talked a lot about Window Server 2012 R2, System Center 2012 R2, and the Windows Azure Pack to build consistent clouds on-premises or with service providers.
And since then things like Azure Backup, Hyper-V Recovery Manager, and now Azure Site Recovery, allow us to use Azure as that failover location, and StorSimple provides really easy storage in the cloud. We're very focused on enabling those hybrid scenarios so that customers can pick and choose what applications and services they use the public cloud for without feeling like they're locked in, whether it's a lift and shift or an upgrade to the cloud.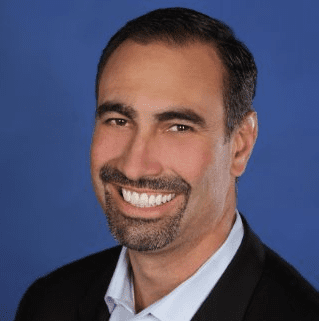 That's definitely been the strategy, and so today we're excited to bring some more light to those capabilities. ExpressRoute was something else that we announced the GA (general availability) of today; it's available in London as well as here in the U.S. after signing up big telcos like AT&T and BT. It'll be important for folks to help them take advantage of dedicated pipe to Azure. We're very excited about the steps we're taking today, and it feels like there are a lot of companies talking about hybrid (cloud). We're very much invested in both sides of the wire, to bring the cloud to our customers, instead of trying to push them into a cloud.
Aidan Finn: I think a lot of people are definitely interested, especially in ExpressRoute. I have seen a lot of medium-to-large customers who looked at site-to-site VPN, and thought "that's nice, but it doesn't work at scale." So certainly when we saw the BT announcement (for the UK and Ireland, the latter of which is my market), and now with the addition of Telecity [a data center/hosting company with locations across Europe], I think that whole hybrid solution where we can bring Azure into the WAN, rather than trying to push everything, as you said lift and shift up into a competitor's public cloud-only solution.
MS: How do you think that's going to land?
AF: [The Microsoft hybrid cloud message] has resonated well. I've been working with the Microsoft Ireland subsidiary (I work for a distributor of Microsoft products in Ireland), and I've been doing some road shows for Microsoft partners [system integrators]. I would have considered Microsoft partners to be skeptical of the public cloud story and Azure because potentially they are losing business. But what we've seen is something very different. We've seen partners realizing that they don't make much profit from selling "tin" (server and storage hardware), but their profit is in services.
When you work with Azure for the first time you realize that Microsoft isn't taking away that services business; they've probably made it easier. Yes, there's virtual machines that are made from already available templates with software installed. But, realistically, if you're building a production system for a company, whether you're an ISV or you're a systems integrator, you're still going to be doing the same work you did before; you're just doing it using a web browser, or a remote desktop client, or PowerShell.
MS: If you think about the evolution of the systems integrator and the value added services provider, they're not just plugging in Ethernet cables anymore. It's a much higher value service; they're a cloud integrator. There's so much work and value to be created and the cloud just accelerates that for partners. And I think it's great that you're starting to see them embrace that model.
AF: There was a phrase that Brad (Anderson, Microsoft corporate vice president for the Cloud and Enterprise Division) used in the keynote: "on ramp" (referring to gateway features of Azure that introduce IT pros to the offerings of Azure in a hybrid deployment). I think partners have seen those on ramps and certain things that they like the look of. They've had the message of disaster recovery is going to be something useful from Azure. Now we see with (Azure) Site Recovery that, yes, this is something that exists. I think that is going to be a very rapid on ramp for medium-to-large organizations that have System Center deployed. They're going to look at this and think, "Whoa! Is that disaster recovery without CapEx (capital expenditure)?"
MS: That's right, without buying a second set of stock…
AF: …with a very cheap rental, because Azure is a very affordable and high value service. I think that is going to be interesting. We've certainly see some interest in StorSimple and there are niche scenarios where people are struggling with storage, particularly in archive.
MS: Are you seeing that in Ireland?
AF: The interest is there. We haven't seen the appliances deploy yet but there is certainly interest. Where we've probably seen Azure having the most traction in Ireland is with the developer community. I think that's natural because Visual Studio and Azure go together so well. We've seen that today with Titanfall and the scale that they were able to reach (100,000 virtual machines on day one of sales to power the Xbox game). When you hear "100,000 virtual machines"… I can't even visualize that and I'm a Hyper-V guy. When you talk about cloud scalability instead of data center scalability, one of the interesting messages for customers, especially small/medium enterprises, is that you no longer have to let IT limit your growth. You let infrastructure grow and be elastic with your business, whether you're using the website functionality, deploying virtual machines, or using PaaS.
MS: One of the customers here, ABM, they replaced VMware with (Windows Server 2012) R2 and then they use Azure where they don't have IT, where they don't have sites. They view it as, instead of going through all the CapEx and work to go open an office, create IT, and a data center in some other location, they just use us (Azure) for that. But they are also building Azure-consistent (private) clouds where they already have IT and then offer that in the same way. If you think about System Center managing that all in one seamless cloud for them, it's not an "either/or," it's "how do we use Microsoft where you have additional needs?" but also keep running what you already have or make it better with our technology.
Part two of this conversation will kick off with a question that some IT pros are asking: Is Microsoft trying to steal their jobs?