Steven Martin, General Manager of Microsoft Azure, announced in a blog post yesterday that Microsoft is lowering the pricing of Azure services to customers. This is following a promise to price-match with Amazon, who earlier reduced their prices to compete with Google's new reduced infrastructure-as-a-services (IaaS) costs. Martin says that Microsoft is "…cutting prices on compute by up to 35% and storage by up to 65%." These are huge decreases and this is great news for current or prospective public or hybrid cloud customers. Some new virtual machine and blob storage options were also announced.

Cloud Competition
Martin is quick to remind people that Microsoft doesn't rely on pricing to compete, writing that "…there are three key factors at play in cloud computing: innovation, price, and quality. Innovation and quality will prove far more important than commoditization of compute and storage. Vendors will ultimately extol their track records for building and running services far more than their prices and SLAs."
Microsoft is in a unique position when it comes to the big 3 public cloud service providers (also Google and Amazon); Microsoft is the only one of these public cloud service providers to also offer on-premise private cloud solutions (Windows Server Hyper-V and System Center) and partner hosted public clouds (Windows Server Hyper-V, System Center and Windows Azure Pack). This is why you will hear a different story from Microsoft; Microsoft does not say that you must move your entire compute and service stack into Azure. Instead, Microsoft will urge you to jump onto their Cloud OS and use a single consistent platform across Azure, partner clouds, and your on-premise private cloud. In other words, the Microsoft Cloud OS allows you to have your cloud cake and eat it, too.
New Azure Virtual Machine Specifications
Not only are prices coming down, but Microsoft will be offering new options. A new general purpose specification virtual machine referred to as Basic (extra small A0 to extra large A4) will be launched on April 3rd. These new instances are similar to the specifications that are available now (referred to as Standard) but they will be 27% cheaper. This is made possible by stripping some of the additional Azure services such as load balancing.
The pricing of A5-A7 memory intensive specifications will also be coming down by up to 35% for Linux machines and up to 27% for Windows machines on May 1st. Basic specifications of the A5-A7 options will be made available in the future (dates unannounced).

Microsoft Azure Storage Updates
Locally replicated blob storage (LRS – with 3 copies within the data center) will be made 65% cheaper and geo-replicated storage (3 additional copies replicated to a remote data center) will be reduced by 44% on May 1st.
A new kind of redundancy for this blob storage (where we store virtual hard disks) is being added at an unannounced date. Zone redundant storage (ZRS) will store "…an equivalent of 3 copies of your data across multiple facilities. These facilities may be within the same region or across two regions." ZRS will be 37.5% cheaper than GRS.
Microsoft Azure Regional Pricing Changes
This news is a mixed blessing. Microsoft will have varied pricing for Azure depending on what region you deploy your services in. That's great news if you're using a lower cost region, such as US East or EU North (actually in Ireland), but it's bad news if you're deploying to higher cost regions, such as Japan East or West. It would appear that the realities of climate, local costs, and property prices are impacting the pricing structure of a global cloud such as Azure.
The below table illustrates the new regionalized pricing for Basic (compared to Standard) and A1-A4 virtual machines. You can also see how Azure compares to Amazon based on price.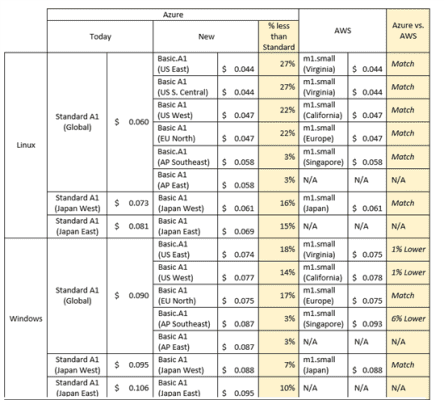 Regionalized pricing for Basic A1-A4 virtual machines (Source: Microsoft)
The next table shows the pricing for memory intensive Standard A5-A7 virtual machines and their price reduction, as well as the price comparison with Amazon.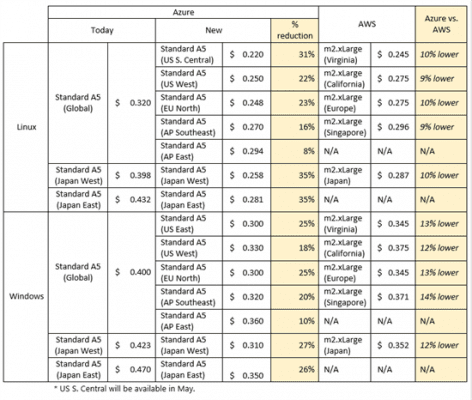 Regionalized pricing for A5-A7 Standard virtual machines (Source: Microsoft)
The final table lists the new pricing for the GRS, ZRS, and LRS blob storage plans, as well as pricing from Amazon: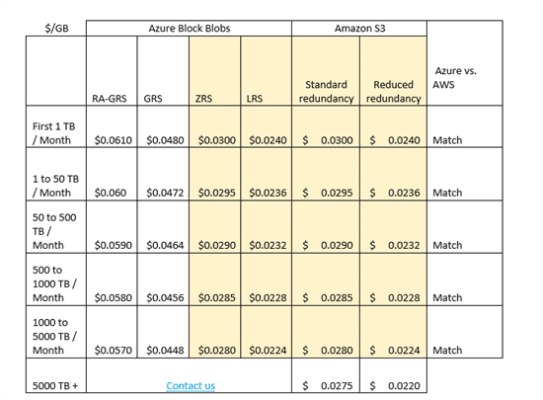 New pricing for GRS, ZRS, and LRS blob storage on Microsoft Azure (Source: Microsoft)

Overall, this is a good news story. We all like lower prices. However, I think cloud pricing (from each of the big 3) are complicated enough without introducing regionalization. Those who are selling SaaS products globally have no choice but to geo-locate so they will have more complicated calculations. They will also have to figure out how to pass on those varied costs to their international customers. Those who are implementing hybrid cloud will also have to ask themselves which is more important: reduced latency and data location or lower costs. If I was a budget-focused CIO in Japan then I think I'd prefer to run my workloads US East or Europe North if compliance issues and the laws of physics didn't prevent it. Sadly, the real world is complicating the ideal of a border-less public cloud.