Microsoft Updates Cloud OS Strategy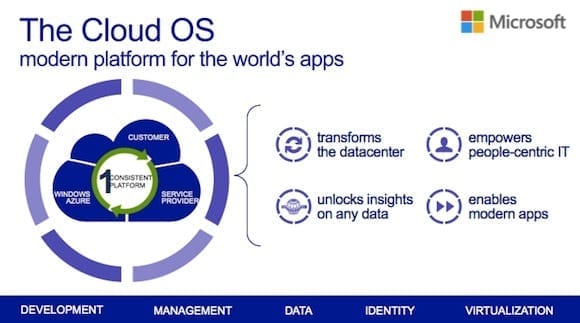 Microsoft took another step deeper into the cloud recently, announcing a host of updates, add-ons, and improvements to System Center 2012, Windows Intune, and Windows Azure designed to give IT managers more control of private, public, and hybrid cloud IT resources. The announcements are part of Microsoft's recently articulated "Cloud OS" strategy, which not only attempts to unify cloud resources but also — and perhaps most importantly — makes cloud computing much more accessible and understandable.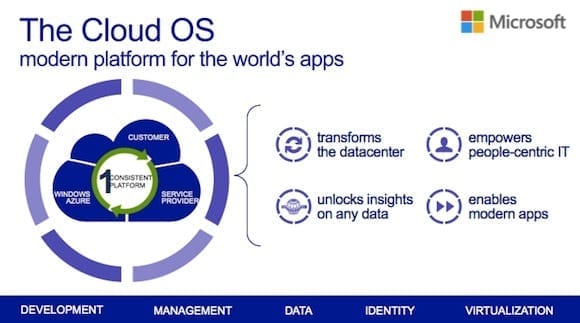 Microsoft's Cloud OS platform strategy 
Microsoft Updates and Announcements
The key products Microsoft has updated or introduced included the following:
Windows Intune
Microsoft's cloud-based systems management and security service, Windows Intune, also received some substantial updates related to Microsoft's Cloud OS push. Updates include integration with System Center Configuration Manager 2012 SP1, Windows 8 support, enhanced mobile and remote device management features.
Windows Azure Services for Windows Server
Of special interest to vendors who provide cloud services to IT customers was the introduction of Windows Azure services for Windows Server. While in beta for several months, this service is also now available. Using this new service, hosters can use System Center to manage hosted environments from a single management console in System Center. Hosting providers can now use Windows Azure, Windows Azure Services, and Windows Server 2012 to offer web site hosting solutions, provision and manage virtual machines, and it includes service management APIs and a service management portal.
System Center 2012 Service Pack 1 (SP1)
The first service pack for System Center 2012 is loaded with dozens of new features and improvements, including enhanced support for Windows Server 2012 and SQL Server 2012. Microsoft says that with SP1, the Virtual Machine Manager (VMM) component of System Center can now support up to 8000 VMs on clusters of up to 64 hosts. SP1 also provides support for software-defined networking (SDN) and can manage Hyper-V switch extensions for easier VM migrations, as well as enhanced management support for IP virtualization, logical switches, isolated tenant networks, and more of the advanced virtualization features introduced in Windows Server 2012.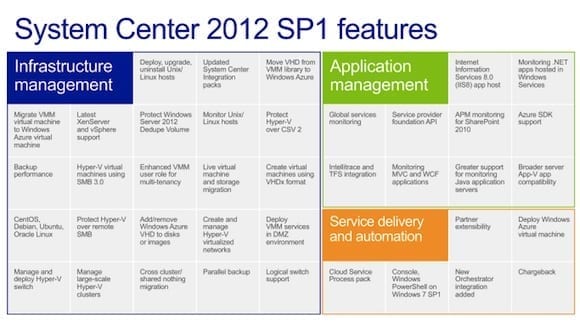 New Features in System Center 2012 SP1
System Center Global Service Monitor (GSM)
Microsoft also introduced a new cloud-based service called the System Center Global Service Monitor (GSM), which leverages Windows Azure and System Center to monitor applications throughout your organization. Microsoft says that companies can use this Windows Azure-based service to monitor the performance of applications, identify problems, and provide real-time reporting of what end-users are experience with deployed applications.
All of these products are part of Microsoft's Cloud OS strategy, which attempts to marry the on-premise capabilities of the Windows Server and System Center product families with the cloud-based services and functionality offered by Windows Intune and Windows Azure. It's an ambitious strategy, but it's one that Microsoft believes they can implement better than anyone else.
During a press conference yesterday, Michael Park, Microsoft's corporate vice president of marketing for the Server and Tools Business, claimed that Microsoft's knowledge of how to create and manage public clouds was formed by managing Microsoft cloud service offerings like MSN, Bing, Xbox Live, Office 365, and Outlook.com for millions of customers across the globe. Park also said that "Microsoft server software runs on 75 percent of the world's on-premise servers," a figure that Park argued — when combined with his company's extensive experience providing cloud services — gives Microsoft more experience and expertise in providing those solutions than any competitors do.
So what do you think about Microsoft's cloud-focused product updates? Drop me an email with your thoughts.