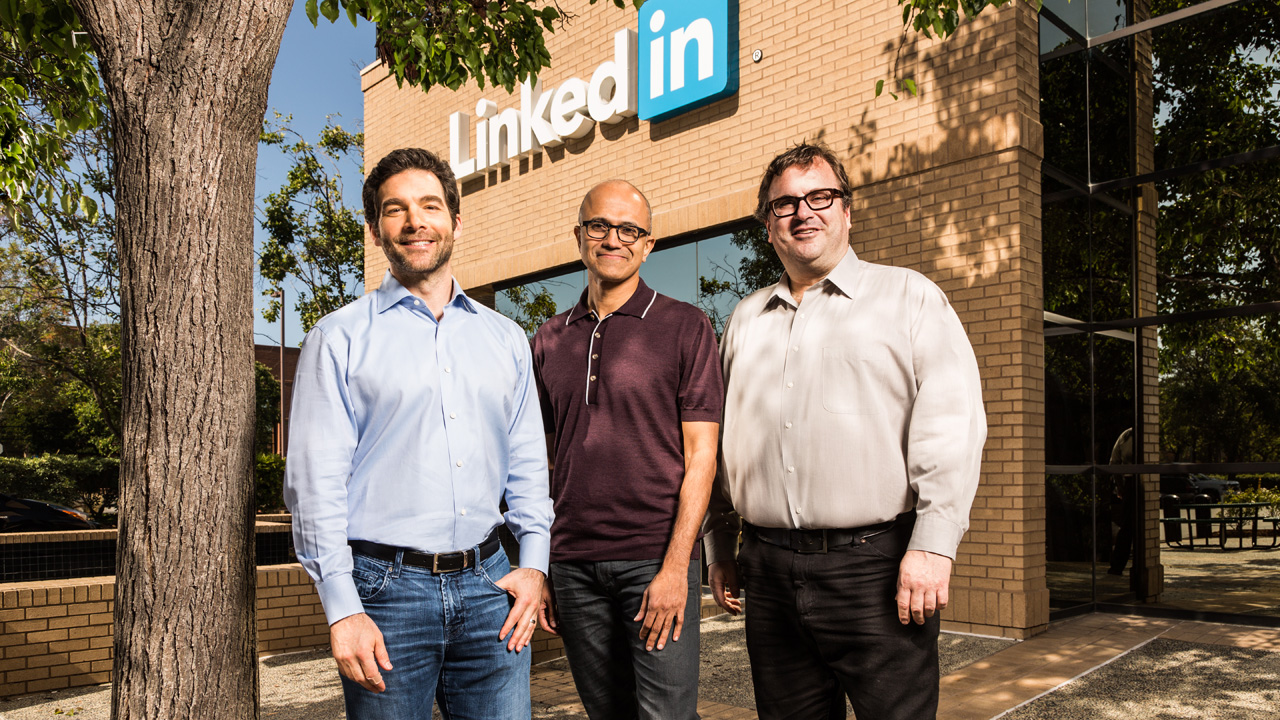 Yesterday, Microsoft pulled the trigger on the blockbuster purchase of LinkedIn in an all-cash deal valued at an incredible $26.2 billion. This isn't just Microsoft's biggest acquisition ever, it's one of the biggest tech acquisitions of all time. And it raises plenty of questions.
Though I was traveling yesterday, I was able to speak with a Microsoft representative, select Microsoft employees (privately), and others in the industry in an attempt to understand why exactly Microsoft would acquire LinkedIn, and do so now in the wake of its disastrous $7.2 billion acquisition of Nokia's devices and services businesses, and the resulting several thousand layoffs.
I still have plenty of questions. But I think I can now offer a more nuanced view than my initial knee-jerk reaction to this acquisition, which came before any of this communication.
First, it's helpful to analyze how Microsoft explains the deal, and how LinkedIn might fit in with Microsoft's commercial offerings. In a call with financial analysts and press, and in the accompanying documentation, Microsoft refers to the "common missions" of the two firms, where both are "empowering people and organizations." Microsoft has traditionally done this via its software offerings, but in the Nadella era it has evolved into a major supplier of commercial cloud services. LinkedIn, meanwhile, is the only major social network for "professionals" rather than consumers.
I don't recall Microsoft ever referring to its commercial (e.g. business-focused) cloud services as a "professional cloud" before, but it is doing so now in order to more closely align itself with LinkedIn. This may seem like semantics, but I think the difference is important: A commercial cloud benefits enterprises and other large companies, whereas a professional cloud benefits the skilled workers—the "professionals"—who work at such companies. Ideally, Microsoft's cloud would benefit both, and the language change also helps to position it as doing so.
"This deal is all about bringing together the world's leading professional cloud and the world's leading professional network," Microsoft CEO Satya Nadella said during a TV interview with CNBC on Monday. "If you think about how people work today, it's split between these two worlds. They're using [Microsoft] Office on a daily basis, they're using systems like [Microsoft] Dynamics for CRM [customer relationship management] and human capital management. And then of course they're using their professional network. And the dream I've always had is, how do we make this come together so that we can serve our customers? When I think about reinventing productivity and business process, this is really about completing that scenario."
As Microsoft evolves, and in turn evolves how it thinks about and communicates its various offerings, its revenue drivers—previously traditional software offerings like Windows, Windows Server, and Office, most obviously—are changing as well. And in the subscription services world that Microsoft is now engineering, connecting professionals is arguably as important as connecting enterprises more generally from a processes perspective: Microsoft wants to be a leader in productivity, and making individuals more productive has always been part of that vision.
On that note, Microsoft sees a great synergy between the two companies that goes beyond their similar missions. It can explain how data from LinkedIn can be integrated seamlessly into Microsoft's various products and services in ways that will benefit many customers and drive engagement across the two firms' offerings.
Consider the term "human capital management," which Mr. Nadella mentioned in his CNBC interview. Via products such as Microsoft Dynamics and Office Delve/Graph, the software giant already offers ways for professionals to find others within their organizations who have specific expertise. This works well when the needed skill set can be found internally, but by integrating LinkedIn data, Microsoft will be able to give its commercial customers the tools they need to find the right professionals no matter where they are. LinkedIn is, in many ways, the public cloud version of some of the private cloud functionality they've already delivered.
That is, Microsoft sees a future in which a professional's profile will be everywhere that matters, and available to anyone looking for their expertise. It sees an intelligent newsfeed that bridges Office 365 and LinkedIn and provides professionals with only the information they need to stay productive. It sees Cortana integration, so you can find out more about the professionals you interact with. And so much more, around social selling, organizational insights, and just-in-time social learning. It's all about the data, stupid.
But there are questions about LinkedIn as a company, and whether Microsoft will simply be absorbing yet another loss along the lines of Nokia or aQuantive. This is a valid concern, though Microsoft's history is of course no real indication of how well this deal will perform.
LinkedIn claims 433 million members, 105 million of which are active every month. By comparison, Microsoft claims 1.2 billion active Office users, 70 million Office 365 commercial seats, over 8 million paid Dynamics seats, and over 5 million organizations managing their environments with Azure Active Directory.
LinkedIn, like Microsoft's Office 365, Dynamics, and Azure businesses, is growing in some ways: Its membership ranks grew almost 20 percent, year-over-year, for example, and its revenues are up 35 percent YOY. But LinkedIn isn't profitable, and its stock price has nosedived since last year, a fact that likely made the Microsoft acquisition both possible and, from LinkedIn's perspective, more agreeable. There are fears that Microsoft—as usual—is jumping in to save a company that is actually on the verge of collapse.
There are further questions about Microsoft's ability to integrate technology from a company that it allows to operate independently. Here, Microsoft has a troubling precedent in Skype—previously its biggest acquisition, at a cost of $8.5 billion—which operates far too independently, as if it were a separate company. Skype is horribly unreliable and getting more so as Microsoft integrates it deeply into its client and cloud offerings. And it should serve as a living warning to Microsoft, which has incredibly agreed to let LinkedIn operate in the same fashion. This is, I think, a huge mistake. (Yammer, which provided more traditional social networking features, was subsumed directly into SharePoint, and is perhaps the better model.)
There's no way to gauge whether the $26.2 billion Microsoft is paying for LinkedIn "makes sense" because the long-term impact of this firm, its technology, and its user base is unclear. But the synergies are there, and LinkedIn, as an online service, speaks very much to the future of Microsoft, where it dominates productivity and allows other poorly-performing product lines to die off naturally over time.
Ultimately, the only way to view the LinkedIn acquisition is through the lens of Mr. Nadella's sweeping changes to Microsoft. He is serious about transforming Microsoft and setting it up for future successes, even as the foundation of its past successes tumbles away. And he is willing to do so quickly, aggressively, and decisively. LinkedIn is a huge bet for Microsoft, and whether we agree with this direction or not, it's clear that Mr. Nadella's imprint on the firm will be felt for decades to come. And that's true whether this acquisition succeeds or fails.