Windows 8.1 and the MakerBot Replicator 2 Desktop 3D Printer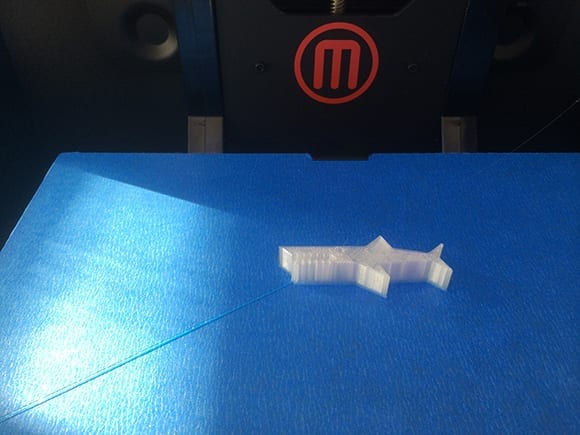 One of my favorite new features of Windows 8.1 is its built-in 3D printer support. Combined with Microsoft's free 3D Builder app, users can now explore the world of 3D printing quickly and easily. Practically every PC user now has the ability to produce widgets, trinkets, and whatnots right at their desk. Always the pragmatist, I've obtained a new MakerBot Replicator 2 3D Desktop Printer and am hooking up to my Windows 8.1 Pro PC just to verify that everything goes as easily as the marketing folks at Microsoft make it sound.
Preparing the MakerBot Replicator 2 3D Desktop Printer
The first step is to unbox and prepare the MakerBot Replicator 2. There's a number of advantages to this particular 3D printer. It's well constructed, uses relatively inexpensive PLA filament, comes with preloaded 3D print objects on an SD card, and has excellent support from the factory and its great user community. Plus it's one of the 3D printers Windows 8.1 supports out of the box.
MakerBot has gone to great lengths to make setting up the Replicator 2 easy and fast. Unbox the printer, remove some shipping stabilizers, connect a few parts, and the printer is ready to power up. The Replicator 2's LCD panel runs a startup script that guides the user through leveling the build platform, loading the PLA filament, and producing a 3D printed test object from the included SD card. In less than 20 minutes, the printer is ready to run. Another 20 minutes after that I was pulling my completed "MR JAWS" test object off the printer with a very satisfied smile on my face.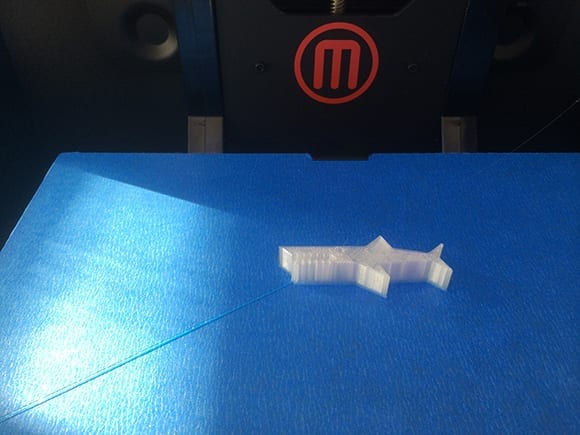 Here, fishy fishy: My first test run of the MakerBot Replicator 2 Desktop 3D Printer is a success.
Getting the PC ready is just as simple. Begin by plugging the USB cable from the Replicator 2 into an open USB port on the computer. Since Windows 8.1 has native support for the Replicator 2, the necessary drivers will be identified and installed automatically. To install the 3D Builder app, open the Microsoft Store and search for "3D Builder." When the app is displayed, a couple clicks will have the app downloaded and installed. As I mentioned, this is a free and native Windows 8 app so there's very little risk to giving it a whirl.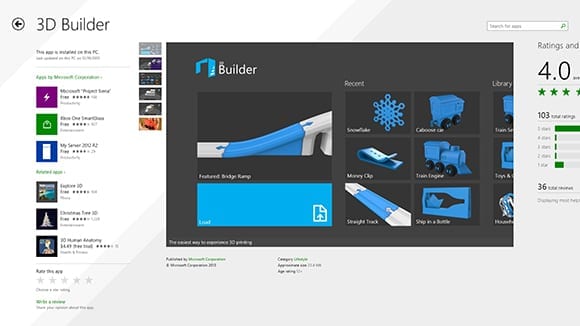 Checking Out MakerBot's "Thingverse"

Once installed, running the 3D builder app presents the option to choose any number of included objects to work with or an OBJ, STL, or 3MF file can be loaded into the 3D Builder app. One of the best resources I've found for these type of files is MakerBot's user community called "Thingverse," which allows downloading objects created by other users around the world as well as sharing any creations of your own. Thousands of different objects are available – everything from a turtle keychain to a case for a Raspberry Pi computer.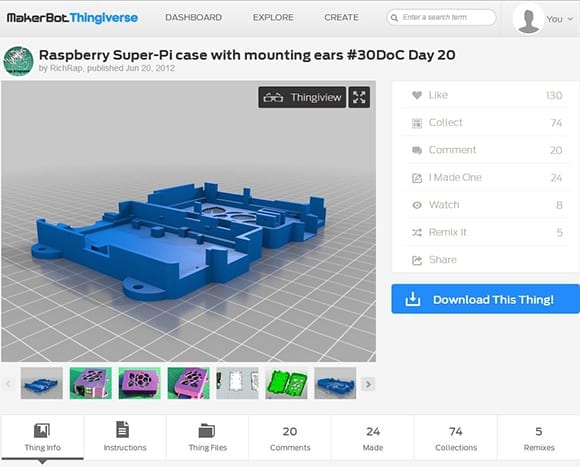 Printing with 3D Builder

There's no faster way to get going than to select one of the objects included with 3D Builder. My daughter loves giraffes, so I'll select the Cookie Cutter Giraffe from the All library. The file opens displaying a 3D representation of the object.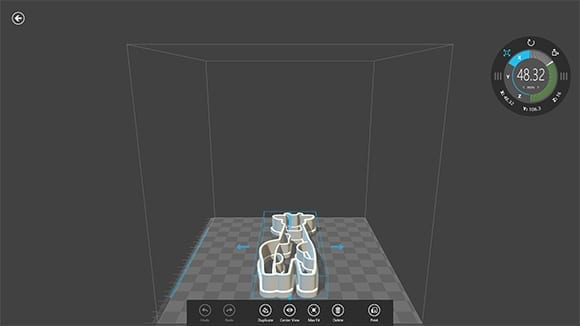 Now click Print, select MakerBot Replicator 2, adjust any options desired, and click print.
One of the best features of the 3D printing model in Windows 8.1 is that it's built on the newly designed and thoroughly tested 2D model. Therefore it offers all the advantages of the 2D Windows print interface model as well as making the entire printing process very intuitive and familiar for users.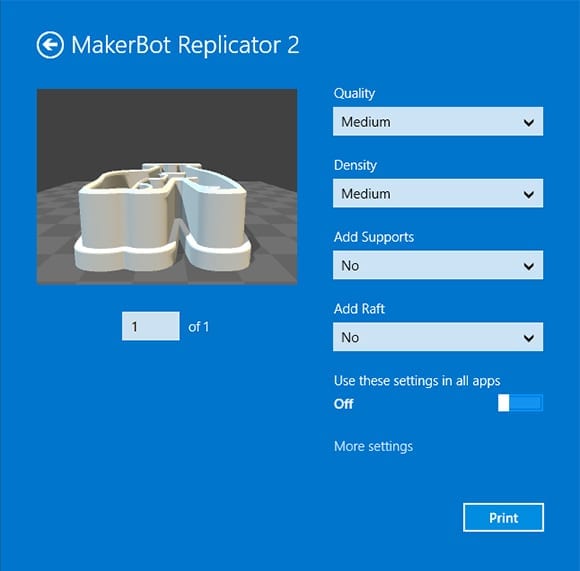 Print options include changing the quality and density of the printed object as well as adding supports and rafts. Supports are used when there is a gap or overhang in the object. This prevents trying to print into thin air. The support material is removed when printing is complete. A raft, on the other hand, is used to improve adhesion of the object to the build plate, which in turn results in a higher-quality object. Increasing quality, density, adding supports, or using rafts increase the total print time for the object. For the Cookie Cutter Giraffe I'll leave the settings at the default then click Print to get the party started.
After clicking Print, a popup in the app displays that the job was submitted to the 3D printer, but it may take a few moments before printing starts. This is to allow converting the object into the necessary format to submit into the print pipeline. My Cookie Cutter Giraffe took about 30 seconds before the printer came to life and began heating the extruder. The printer was off and running about a minute or so after that.
One hour and seventeen minutes later, my Cookie Cutter Giraffe was complete and ready to remove from the build platform.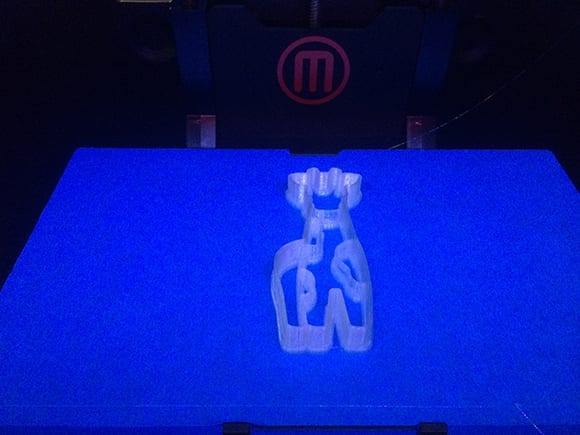 To drive the point home, Windows 8.1 pops up a nice alert on the screen.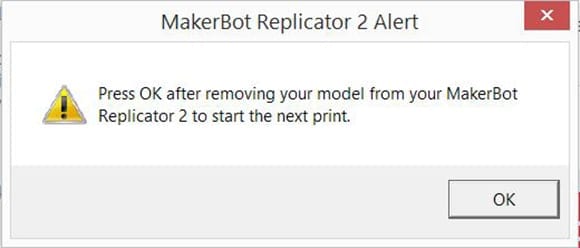 3D Printing Tips
Now let me share a few tips to make the 3D printing process as smooth as possible. The extruder is what melts the plastic filament, so that it can be printed through the device's nozzle. Obviously this means it gets hot – really, really hot! For instance, according to its LCD display the Replicator 2's extruder runs at around 230 degrees Celsius. Therefore I recommend keeping any and all body parts away from the extruder while it's running and give it a few minutes to cool down after printing completes before reaching in to get your object. If you have kids, keep a close eye on them around the printer when it's in operation.
Another tip comes straight from the MakerBot manual: Cover the build platform with painter's tape to improve adhesion of the object being printed. As with using rafts, better adhesion results in a better quality 3D printed object. My final tip is specific to the Replicator 2. Take advantage of the excellent tutorial videos found at MakerBot's site. MakerBot has produced videos covering everything from unboxing and initial setup to routine maintenance. Definitely a great resource!
I'm convinced that Microsoft's native 3D printing support in Windows 8.1 really is as easy as they make it sound. I'm sure it will go a long way toward getting new users up and experimenting with their 3D printers. For advanced functionality, MakerBot's free MakerWare application is a great tool to have. It goes way beyond the functionality of 3D Builder app and is available for virtually every currently popular operating system.
3D printing is a breakthrough in the way society produces parts. Engineers, inventors, tinkerers, and regular Joes alike can now produce almost anything they can imagine right at home and very inexpensively. Just spend a few minutes at Thingverse to see what I mean. Combined with Windows 8.1's built-in support and freely available apps, I expect the technology to show up in more organizations. Whether prototyping parts or just experimenting for fun, 3D printers are an exciting technology!
Watch for a future Petri IT Knowledgebase article where I'll take a look at using MakerBot's Digitizer to turn an object I already have into a 3D model I can replicate on my 3D printer. Until then, I have a list of handy objects from Thingverse that I'm excited to make a reality!