In this article I will review the new ThinkPad S1 Yoga, the business version of Lenovo's critically acclaimed Yoga Ultrabook. This is the first Lenovo that I've used in several years, and frankly, the last experience was pretty dreadful. Will things have changed?

Ultrabook or a Hybrid?
When you are considering the Lenovo ThinkPad S1 Yoga then you have to understand what this machine is. Is it a hybrid machine that spans the laptop and tablet worlds? Is it a tablet? Or is it an ultrabook laptop?
The Yoga has a nice trick up its sleeve. Imagine taking your laptop out of your bag and opening it. Keep pushing the screen back and eventually it stops at around 150 degrees (almost flat). The Yoga keeps going thanks to a double-jointed hinge that connects the touch screen to the base. This gives you:
Laptop mode: The normal usage scenario where you use the mouse/keyboard and occasionally touch the screen.
Stand mode: The screen is pushed beyond the norm. The keyboard sinks into the base into a locked position and is placed facing down onto a desk or your lap. You interact with the touch screen.
Tent mode: This one is useful on a plane. Say you're crammed into a plane and have very little space to move, but you still want to watch a movie. Simply push back the screen and place the Yoga standing on its edges with the screen facing you and the keyboard facing away from you.
Tablet mode: The screen is rotated all of the way around, with the back of the screen resting against the base of the laptop. They keyboard is locked so you use the touch interface.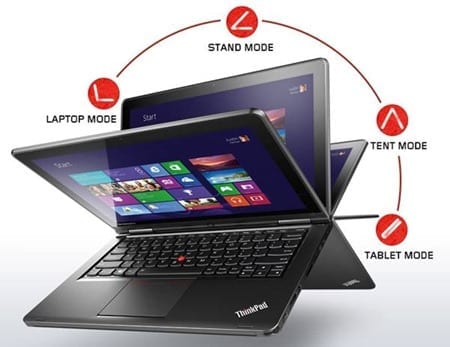 The different ways you can view the Lenovo ThinkPad S1 Yoga.
This machine is a 12.5-inch ultrabook; it even sports the official Intel logo. It is not a hybrid and it is not a tablet. It just so happens that it can fold the screen back, but don't fool yourself into thinking that this isn't a work machine first. In in my opinion, reviewing the Yoga as anything other than an ultrabook does this computer a disservice.
It is a ThinkPad, Lenovo's business brand. The keyboard is the typical Lenovo quality built-for-work interface. And it is a solidly assembled machine.

ThinkPad S1 Yoga Specs
I went for a custom specification, based on the ThinkPad Yoga 8GB Touch & Pen:
Intel Core i5-4200U Processor (3MB Cache, up to 2.60GHz)
Windows 8.1 64
Touch & Pen, FHD (1920 x 1080)
Intel HD Graphics 4400
8GB PC3-12800 DDR3L on MB
ClickPad without NFC antenna & module
720p HD Camera
1TB Hard Disk Drive, 5400rpm
16GB M.2 Solid State Drive Double
Battery (LiPolymer 47Wh)
Intel Dual Band Wireless 7260AC with Bluetooth 4.0
2 * USB 3.0
1 * Mini-HDMI (not Micro-HDMI)
SD card reader
By default the machine has a 128 GB SSD. I had an option to upgrade that to a 256 GB SSD, but I wanted more storage capacity so I opted for hybrid storage comprised of a 1 TB 5400 RPM drive with 16 GB SSD cache. Yes, it is slower to boot up than an SSD, but I don't boot up Windows laptops very often. They sleep when I close the lid. The 16 GB SSD cache compensates for the 5400 RPM drive for lots of common little operations.
The battery gives up to seven hours. That is disappointing for a "Haswell" generation computer, but few models out there offer the expected 10+ hours. Are manufacturers crippling battery capacity to save money?

This model comes with a stylus that docks into the front-right corner. You read that right: docked. I really dislike machines where the stylus cannot be docked – end users will often lose styluses (also grammatically correct: styli), and they are not cheap to replace. On the ThinkPad S1 Yoga, the stylus experience is good. You have palm blocking when the stylus reaches within a couple of inches of the screen. And it works nicely with OneNote and whiteboard apps in the Windows Store.
On the side you will find the power, volume rocker, and auto-rotate-lock buttons. There is also a physical Windows button on the base on the screen. Lenovo appear to put a lot of thought into how users will use their machines; these buttons are all in the right places for a Windows tablet. Remember that you can fold the screen back into tablet mode.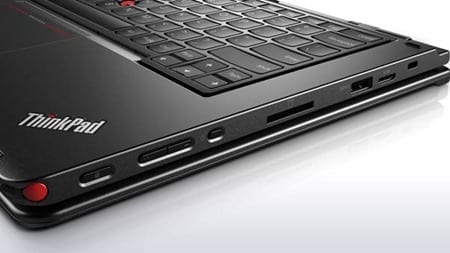 The docked stylus and some of the buttons shown with the Yoga in tablet mode. Note the locked keyboard.
My Experience
I've been using Windows 8.1 for a while so setting up the machine was easy. My apps were synchronized from another machine of my choosing. SkyDrive was configured automatically. Office 365 Click-To-Run (via our account at work) had me connected in a matter of seconds.
The 1920 x 1080 screen resolution is perfect (for me) on this size of machine. I really don't understand the fascination with QHD screens with crazy pixel resolutions. In my experience, you must scale QHD screens down to make them usable, so why on earth would you want to pay an extra $400 for one of those machines?
I love the build quality. The keyboard is a joy to use, much better than my previous Asus UX31E (bad, but still better than the wet paper experience of the Acer S7). The touch pad is… unusual. There are no clearly delineated buttons, and the touch is a mechanical push and click. It takes some getting used to, but there is a reassuring feeling to it (I think).
I've been using the laptop in a few non-work ways too. I connected up to my TV via the mini-HDMI port and played video (using VLC) with no issues. The mini-HDMI port gives a solid connection. I can't say the same for micro-HDMI ports where the cable is prone to falling out if one of your neighbors sneezes.
I've also been using the machine on the couch to play a few games. Hills of Glory and Shark Dash are fantastic on larger-than-tablet screens. No one should ever buy the Yoga as a tablet, but it's nice on the couch for the occasional touch/play/browse. Obviously, the Yoga is heavy compared to a tablet. It's not a machine to be hand holding for long, but then, it's a laptop first and not a tablet. If you need a tablet, then consider a 10- or an 8-inch companion device! Thanks to Windows 8.1 and SkyDrive (and other cool things like SkyDrive Pro or Windows Server 2012 R2 Work Folders), you can sync your content easily between primary device and companion device.
Lenovo ThinkPad Yoga S1 Wrap-Up
Pros: The Yoga is a solid business ultrabook. It's quite light, if not the lightest in its class, and it is built to last. The flexible use cases make it a more interesting machine. The addition of a stylus is great for note-taking or presenting, and you have the choice of SSD or HDD.
Cons: There are no RJ45 or VGA ports meaning that users will have to carry dongles – which means that IT must stock spare parts. Consider stocking generic USB devices. This isn't a pretty machine and there are lighter options, but this is a very strong business machine.
Bottom Line: I happily recommend the Thinkpad Yoga S1. It's built to last and it's built to work the way I want to work: laptop first, with touch (nice for reading), and it gives me options in how I use the device.