It will come as no surprise that Android and iOS continued to dominate the global smart phone market in 2014, with Windows Phone stuck in a very distant third place. But there are big questions for 2015. Can Apple's fourth quarter gains turn into something non-temporary and reverse the firm's historic market share slide downward? And will Windows Phone—or Windows 10—ever succeed in this market?
To frame these questions, consider the two major trends that defined the smart phone market in 2014:
More than one billion Android smart phones were sold. For the first time ever, device makers sold over one billion smart phones running Google's Android OS. Strategy Analytics estimates that 1.04 billion smart phones sold in 2014—about 81 percent of the market—were Android devices.
Apple broke records in Q4 2014. Apple sold an astonishing 74.5 million iPhones in the fourth quarter of 2014, a record. That equates to just 19.6 percent of the 380.1 million smart phones that were sold in the quarter, of course, but it's a big jump from the 51 million units—and 17.6 percent of the market—that Apple commanded in the same quarter a year earlier.
Using Strategy Analytics' data, The Wall Street Journal constructed the following chart which is illustrative of how things are changing in this market. Here we see the world's biggest maker of smart phones, Samsung, being challenged by the iPhone.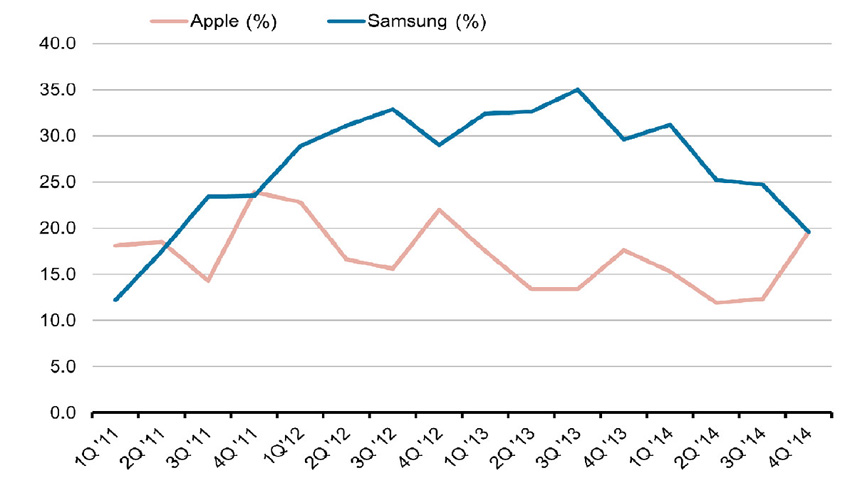 What you can see clearly in this chart is the seasonable and temporary market share bump that Apple gets each year when it launches a new iPhone model. Oddly, the bump from the record-setting iPhone 6 of 2015 doesn't really look all that different from the one Apple got in 2013 when it released the iPhone 5S and 5C. In fact, the iPhone 5 bump was bigger … from a percentage basis.
The real news there, of course, is that for the first time Samsung is experiencing an ongoing market share freefall. This is due partly to Apple at the high-end, but also to a host of low-cost/high-quality competition from China.
Looking at the market more broadly, however, and things don't look so bleak for Android: In addition to selling more than a billion smart phones in 2014, the platform also saw share rise, year-over-year, from 78.9 percent of the market in 2013 to 81.2 percent in 2014. The question is whether Apple can for the first time experience a non-temporary market share bump past the last quarter of 2014. That is, what will the next few quarters look like? We'll need to wait and see, but Apple CEO Tim Cook last week said he saw plenty of unit sales upside to early 2015. And my expectation is that Apple claws its way upward overall in 2015 for the first time since Android exploded.
Regardless, Apple of course owns the lion's share of profits in the market, thanks to its premium pricing strategy, well-heeled and loyal customers, and a focus on quality. Too, Apple's online store sales far outstrip those of Google's, in part because iPhone users simply spend more money on apps. And in part because a large chunk of Android users aren't even using Google's stores or services. This "fragmentation" aspect of the Android story is one that needs to be further explored to understand the real differences between the two big mobile ecosystems.
Looking past the big two—Android and iOS combined to own 96.2 percent of the smart phone market in 2014—and we see one platform left standing: Windows Phone. With just 3 percent market share for the year on 38.8 million unit sales—95 percent of which were Microsoft/Nokia devices—Windows Phone actually lost share year-over-year: it owned 3.6 percent of the market in 2013 on sales of 35.8 million units. So while Windows Phone sales actually grew in 2014 by 3 percentage points, they did not grow as fast as the market overall.
Windows Phone's struggles partially explain why Microsoft is killing that brand in lieu of the simpler Windows name. But it's not just about branding: Windows 10 phones will be able to run much of the same software as Windows 10 tablets and PCs, thanks to a new universal app platform, and users will access a single store for all of their apps and content. This, in tandem with free OS licensing and an ongoing effort to bring high-end smart phone features down to inexpensive devices, explains Microsoft's mobile strategy for 2015.
Will it be successful? Here in the skewed US market, iPhone dominates and Windows Phones are rarely seen (well, outside of the Redmond, WA area or Microsoft trade shows). And that situation won't change in 2015. Instead, Microsoft's biggest chance for success—its reach for the next billion to 5 billion users—will come in emerging markets and with new customers who have never owned a computing device of any kind. In these volume/low-end markets, Microsoft should in fact see both unit sales and market share growth in 2015, though it will see big challenges from Google's One Android initiative.
More problematic is the high-end of the market. And though Microsoft will not ship another Lumia flagship smart phone until the arrival of Windows 10 in late 2015, it's unlikely that such a device will see great success anywhere given how entrenched iPhone, Samsung devices, and other Android handsets are in established smart phone markets. In many ways, any Windows Phone flagship device is simply an aspirational handset to show off platform capabilities, and not a driver of meaningful sales. That certainly won't change in 2015.