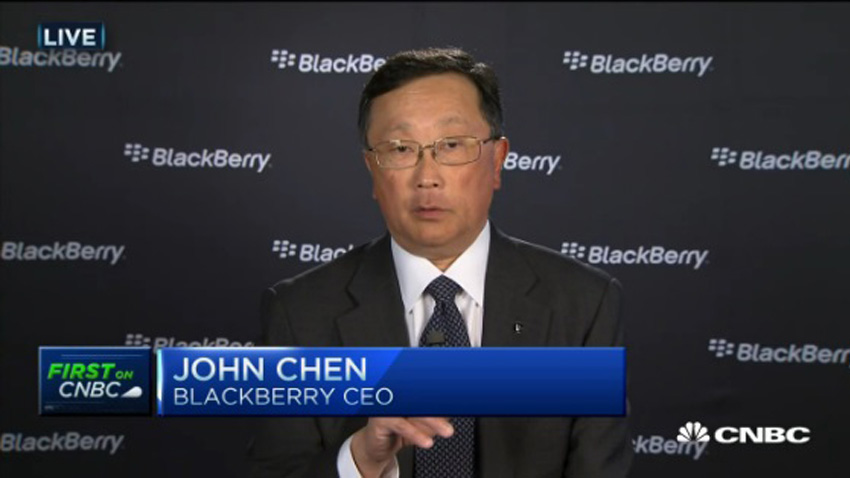 Blackberry CEO John Chen admitted this week that he is considering moving his firm's devices business to Android. But Blackberry may have more fundamental issues to surmount in the short term amid mounting losses.
Mr. Chen's comments came during an interview with CBS News. Noting that Blackberry only sold fewer handsets than ever in the most recent quarter, the interviewer asked whether Chen would ever consider making a "pure Android phone." (Blackberry currently offers some Android app compatibility in its latest phone designs.)
"We only build secure phones," he answered, "and Blackberry is the most secure phone. So if I could find a way to secure the Android phone, I will also build that."
That's an interesting admission. On the one hand, you might argue that the initial qualifier—if he could find a way to secure Android— rules out this possibility . But he very clearly states that the firm will build Android phones too. No Microsoft executive, for example, has ever admitted that they would build Android phones if they could just overcome some hurdle; instead they stick by Windows Phone.
Of course, Chen is fashioning a future for Blackberry where handsets are no longer the primary focus. He'd like to see Blackberry turn into more of software and services company, one that yes, also sells some hardware. To reign in the costs on the hardware side of the business, Mr. Chen has now contracted with several outside device makers to build Blackberry's handsets. So while Blackberry will still design these devices, they will be built by others.
Chen told CBS News that Blackberry still has two advantages: the security and privacy of its systems, and what he calls "the Blackberry experience," which is a lot more nebulous and harder to quantify. But the trouble for Blackberry is that its software and services sales aren't making up for the rapid fall of its handset business. The firm posted a $28 million loss in the most recent quarter as handset sales fell to just 1.1 million units.
"We have grown our software business year-over-year," he said, echoing statements he made during a recent post-earnings conference call. "Our BES [Blackberry Enterprise Server] 12 server business grew 20 percent year-over-year, and this is the second quarter [it's done so] in a row. Overall, our software growth is pushing 30 percent." BES has done particularly well in health care and the financial industry, Chen said.
Looked at from a revenues perspective, revenue contributed $137 million, or about 21 percent of Blackberry's $658 million in overall revenues. But the hardware business, which is in freefall, still contributed fully 40 percent of Blackberry's revenues. Service revenue was contributed the remaining 38 percent of the firm's quarterly revenues.
Regarding the future of Blackberry's handset business, it's clear that none of the phones it's released in the past year—the Blackberry 10 devices, including the Passport and the traditionally-styled Blackberry Classic—have done anything to turn around sales.
"We like the phones we're designing," Mr. Chen said. "We'll make it a 'best college try,' and we believe that we can do it [succeed again in hardware]. But the market will tell us. I like [the phone business], but I'm not emotional it. We think we can make money on phone [hardware] … and we're breaking down everything related to cost in the phone business, and how to turn a profit and grow on top of that. First step first."
I do expect to see the first Blackberry-branded handset by the end of this calendar year. But it's pretty clear that Blackberry will emerge from this ordeal—assuming it stays independent—as a much smaller business. One that quite possibly doesn't make handsets at all, regardless of the underlying platform.