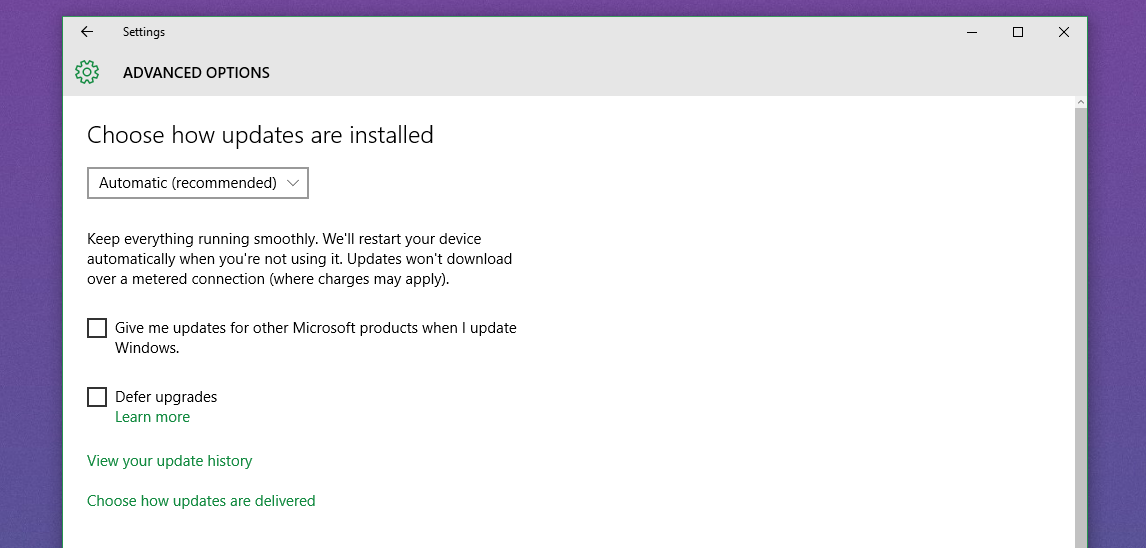 At Build 2015, Microsoft announced a new feature for corporations to help control the update process with Windows 10. The feature, called Windows Update for Business, is a set of tools that allow administrators to delay updates and deploy patches on their own schedule to better optimize timing and delivery.
The idea is quite simple but profound. By being able to target the deployment of new patches to groups of machines, you can avoid having the accountants' computers updating during month end or you could time a mission critical machine update during known downtime. The problem with Windows Update for Business is not what the feature offers, it's that Microsoft went silent after Build and provided little information about when the tools would arrive.
Based on the initial announcement, it appeared like Windows 10 would ship with these tools but on July 29th, Windows 10 was released and Windows Update for Business was no where to be found. At an event held on Microsoft's campus last week, I was able to ask Jim Alkove, CVP Enterprise and Security about the status of this service.
While Alkove was non-committal on a date, he did say that Windows Update for Business would arrive before the end of the year. When thinking about Microsoft's release plans for the remainder of 2015, this likely means that it will arrive with Threshold wave 2, which is expected to arrive around the month of October.
During the same conversation, Microsoft acknowledged that they will revisit their stance on not providing change-logs with each update to Windows 10. While they did not commit to reversing this decision during the meeting, I was able to voice my concerns about how IT admins are strongly against deploying patches without knowing what bug was being targeted. I was not alone in voicing this concern to Microsoft, which has led to them to reconsider their stance on the logs.
I expect that Microsoft will reveal more about Windows Update for Business in the coming weeks and when they do, a deep dive will be in order.