Windows 10 Version 2004 (20H1) – Cortana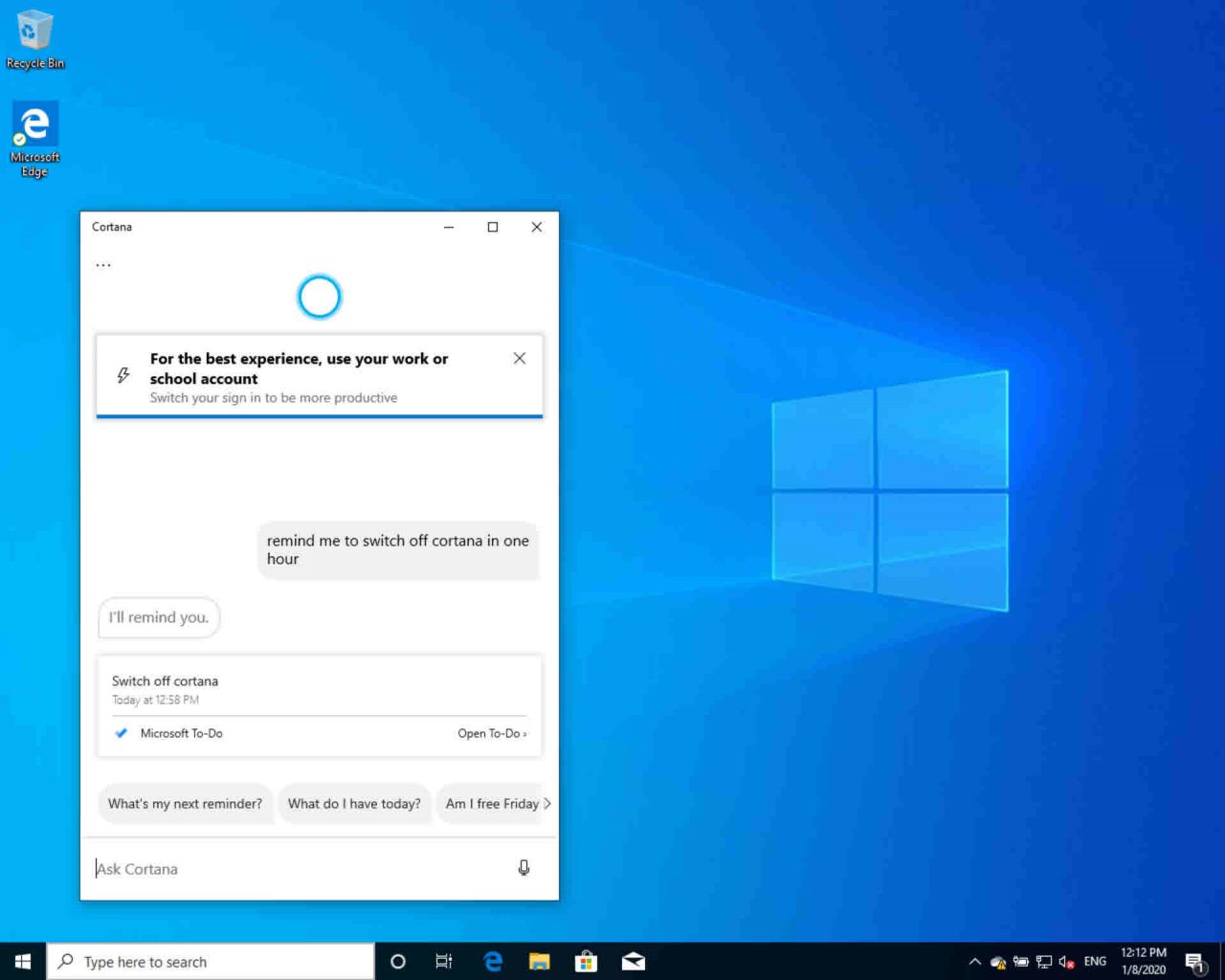 Windows 10 version 2004 (20H1), is the first major feature update to Windows 10 in a year. The Windows 10 November 2019 Update, otherwise known as 19H2, was a minor upgrade and it brought a few tweaks and improvements for both users and IT professionals.
Developers get the Windows Subsystem for Linux 2 (WSL2) in Windows 10 version 2004. You can find out more about it in What is Windows Subsystem for Linux 2? on Petri. Windows Sandbox also gets some minor improvements. From a user perspective, the major changes are to Cortana and virtual desktops.
In this article, I'm going to look at how Cortana is changing in the next major feature update for Windows 10.
Cortana is now a workplace personal assistant
So, you thought that Cortana was dead and buried? In the consumer space Cortana never really took off. As is usually the case with Microsoft's consumer efforts it was too little, too late. Alexa, Siri, and Google Assistant have this market sewn up with thousands of devices including built-in support. Instead of flogging a dead horse, Microsoft decided to reposition Cortana as a workplace personal assistant that connects to Office 365.
Introducing the new Cortana in Windows 10 version 2004
As part of the plan to reposition Cortana, Microsoft has separated its personal assistant from the OS and will include it as an inbox app in Windows 10 version 2004. Going forwards, Cortana will be updated via the Microsoft Store. This allows Microsoft to make changes to Cortana more frequently as development of the app isn't tied to the core OS.
The biggest visual change is that Cortana now uses black text on a white background by default if you have Windows set to the standard theme. Cortana also supports light and dark themes if that is your preference. I've never been a fan of dark themes. While they look cool, it is harder to read and scan information. If you need to save your eyes at night, use the Night Light feature. It is accessible from the Action Center.
Another noticeable and welcome change is that when you type in the Cortana window, instead of processing your commands in real-time, Cortana now waits until you press ENTER. While that might sound like a slower experience, Microsoft has improved performance and language models so that there is less lag between sending Cortana a request and getting a response. The Hey Cortana screen is also less intrusive to improve your workflow should you have that feature enabled.
There is still a Cortana icon on the taskbar to the right of the search box. Cortana is docked to the taskbar by default, but it can be detached and moved around the screen like any other application window.
The Cortana user experience
Bearing in mind that Windows 10 version 2004 is still in testing and that the Cortana app is still in beta, there are understandably some issues. Despite that Microsoft is positioning Cortana as a workplace assistant, I couldn't sign in to Cortana using my Office 365 account. I double checked that Cortana is enabled in my Office 365 tenant. So instead, I used my MSA account for testing.
It's great that Microsoft has returned the ability to type commands into Cortana. I don't want to speak to my computer and I'm sure many feel the same. Setting a reminder was easy as you can see from the screenshot. There are also quick actions that provide an easy way to perform common tasks. If you don't provide Cortana all the information required to complete a task, you will be prompted to enter the rest. Either in the style of a form or by simply answering a question in free text. Cortana was also able to auto suggest email addresses when I started typing a name or email address.
Don't dismiss Cortana just yet
Microsoft says that not all Cortana's features have been ported over to the new beta. But all the basic interaction with email, reminders, and calendars seems to be in place. And that's what most knowledge workers will use Cortana for. Reminders are now integrated with To-Do rather than Cortana having its own reminders list.
Cortana was never properly realized in previous versions of Windows 10. But the new beta feels like a big improvement. And if it can provide answers to questions related to my Office 365 account and complete simple tasks related to email, tasks, and scheduling without me having to monotonously click through Outlook, then I for one will be happy.