Five Reasons to Deploy Exchange 2013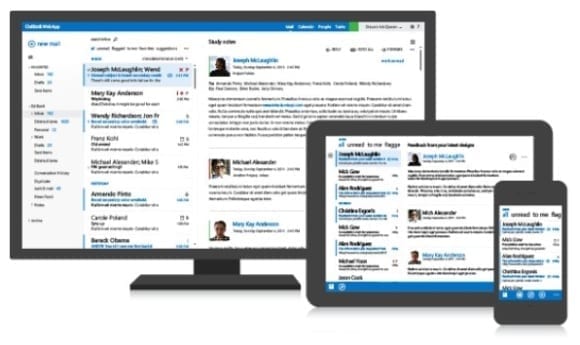 The arrival of Windows 8 has dominated news headlines over the last few months, but most IT professionals I've spoken with are adopting a wait-and-see attitude. Underneath the avalanche of media coverage, PR outreach, and advertising efforts for Windows 8, Microsoft has been steadily shipping significant updates to many of their server products this year, including Windows Server 2012, SharePoint 2013, and Exchange 2013. Aside from Windows Server — which forms the core of any Windows-oriented IT infrastructure — I'd argue that the next most significant server product line is Exchange, which still reigns as the internal e-mail server of choice for most IT professionals.
Given the vital importance of e-mail communication in most businesses and organizations these days, every new version of Exchange should be carefully evaluated before deployment, and Exchange 2013 is no exception. Exchange 2013 ships with dozens of news features and improvements, but I've singled out a handful that could have the greatest impact over earlier versions of Exchange.
Reason to Use Exchange 2013 #1: Outlook Web Access (OWA) Enhancements
While Outlook may be the preferred e-mail client for many using a desktop PC in the office, Outlook Web Access (OWA) has increasingly become the preferred way for many people to get their e-mail via a remote PC, laptop, tablet, smartphone, or other mobile device. I think we can agree that the earliest versions of OWA had a long way to go in terms of functionality; Microsoft seems to agree, and the company has spent lots of resources in making OWA a much more enjoyable and feature-comparable alternative to traditional e-mail access methods. OWA now included functional and attractive pre-defined interface options for desktop PCs, tablets, and smartphones, which makes OWA a pleasure to use on those devices.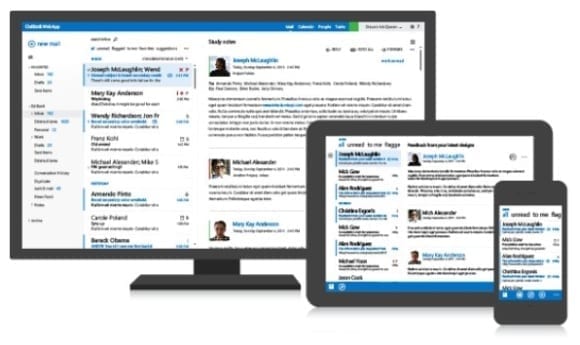 Outlook Web Access (OWA) in Exchange 2013 gets a makeover, with custom UIs designed for PCs, tablets, and smartphones. (Image via Microsoft)
Reason to Use Exchange 2013 #2: New PowerShell Support
Microsoft's love affair with PowerShell shows no signs of diminishing: The popular (and powerful) command-line feature was mentioned so many times by Microsoft executives at a press function last year that some fellow journalists and I contemplated turning it into a drinking game. "PowerShell? Drink!" While some IT pros may be put off by rolling up their sleeves and banging out PowerShell commands on the console, most IT professionals will probably be pleased to know that Exchange 2013 includes a host of new PowerShell cmdlets. Exchange MVP Tony Redmond discusses a few of the new Exchange PowerShell cmdlets if you want some additional details on a few of the more noteworthy ones, while Microsoft has posted a web page that lists all of the close to 200 new PowerShell cmdlets that were added to this release.
Reason to Use Exchange 2013 #3: Exchange Administration Center (EAC)
Most Exchange administrators have a love-hate relationship with the old Exchange Management Console (EMC), which sometimes was cumbersome to use and frustrating to navigate. Microsoft sought to address that with the new Exchange Administration Center (EAC), a central management console that streamlines and improves many Exchange management tasks. In a blog post in the Official Exchange blog, Microsoft touted the EAC by saying "the EAC brings a completely refreshed, seamless, integrated and unified web-based experience." That post on the Exchange team blog does an admirable job of spelling out what new features the EAC brings to the tablet, but saving Exchange admins lots of time and frustration would probably be at the top of my list.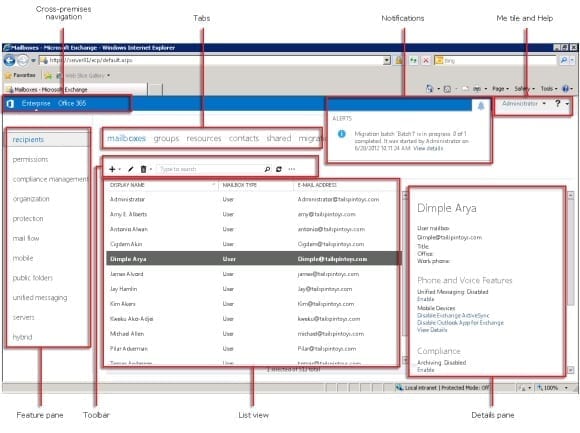 The spiffy new Exchange Administration Center (EAC) console in Exchange 2013 (Image via Microsoft)
Reason to Use Exchange 2013 #4: In-Place eDiscovery
Managing ediscovery requests — that is, when HR, management, or corporate counsel need access to employee emails and other digital communication — has traditionally been a major headache for Exchange admins. Microsoft has been steadily trying to make ediscovery easier for all parties, and Exchange 2013 serves up the best eDiscovery support yet in the form of the newly-named In-Place eDiscovery. Worthy of note: In-Place eDiscovery also integrates with SharePoint and Lync, making it much easier to search for documents and other communications created by and/or managed by those server applications. Find out more via the official Microsoft Exchange blog post about eDiscovery.
Reason to Use Exchange 2013 #5: Enhanced Security and Data Loss Prevention (DLP)
E-mail and message security is always on the minds of many system admins, and Exchange 2013 boasts some new and noteworthy features in this area to help admins sleep easier. Exchange 2013 now includes some integrated malware protection, and it can be configured to automatically scan incoming and outgoing e-mail messages for malicious software. Microsoft also added enhanced DLP technology to Exchange 2013, noting in an official post on the Microsoft Office blog that Exchange 2013 gives administrators the ability to "include rules, actions, and exceptions, and use the full power of Exchange transport rules. Upon identifying sensitive information, DLP can automatically take action such as applying Information Rights Management protection, appending a disclaimer, generating an audit log, sending the message for moderation, or preventing a message from being sent."
Are there any other Exchange 2013 features you'd add to this list? Tell me what you think! Add a comment to this blog post or reach out to me on Twitter.