With VMworld Barcelona underway in Spain, VMware used the occasion to announce a new addition to the VMware vCloud Suite and unveil several updates to the existing components in the suite. VMware vCloud Automation Center 5.1 is the newest member of the vCloud ensemble. VMware acquired cloud automation services provider DynamicOps in July 2012, and Automation Center is based on DynamicOps technology.

So what does vCloud Automation Center 5.1 actually do? According to Mahesh Kumar, VMware's Director of Enterprise Marketing Management. vCloud Automation Center is a service governor that allows IT administrators to provision private and public clouds using a policy-based approach in an automated fashion. "Following the launch of the VMware vCloud Suite in August, this new addition [to the suite] really focuses on the management and automation component," he said.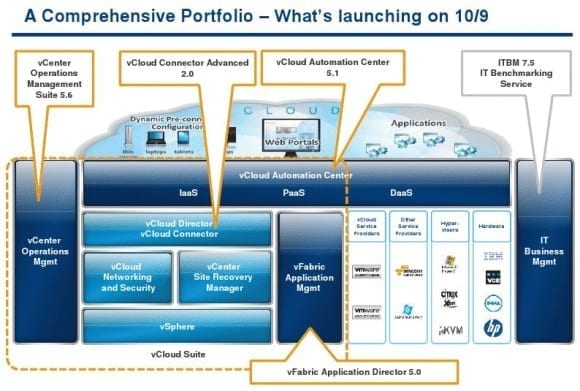 New additions and improvements to the VMware vCloud Suite explained.
Using a self-service portal, resources can be requested by service customers. Thanks to automation capabilities provided in vCloud Automation Center, these services can be spooled up and made available much more quickly and efficiently than via previous methods. Kumar also said that Automation Center integrates closely with VMware vCenter Orchestrator to automate IT workflows related to service provisioning and to integrate with existing corporate IT policies.

In a statement provided by VMware in support of the announcement, Raghu Raghuram, VMware's executive vice president of cloud infrastructure and management, touted the ability of VMware's vCloud suite to help enable IT departments serve more effectively as service brokers to business stakeholders. "VMware's cloud management offerings fundamentally recast management for the cloud era, allowing customers to operate at cloud scale and begin to act as brokers of IT services to the business," Raghuram said.
Several other components of the VMware vCloud Suite received some updates and improvements, including a new content sync function for VMware vCloud Connector 2.0 to help manage content across hybrid and private clouds, new application monitoring functionality in vCenter Operations Management Suite 5.6, and enhanced support for Microsoft applications like Exchange, SharePoint, and SQL Server in vFabric Application Director.
We've been covering VMware's new cloud strategy and new products from a number of different angles, including a VMware vCloud 5.1 deep dive by David Davis, my post about new VMware CEO Pat Gelsinger, and a discussion about the VMware Horizon Suite.
Are you currently using the VMware vCloud Suite? Let us know what you think by adding a comment to this blog post or reach out to me on Twitter.