VMware vCenter Operations Manager 5 - To Have and Have Not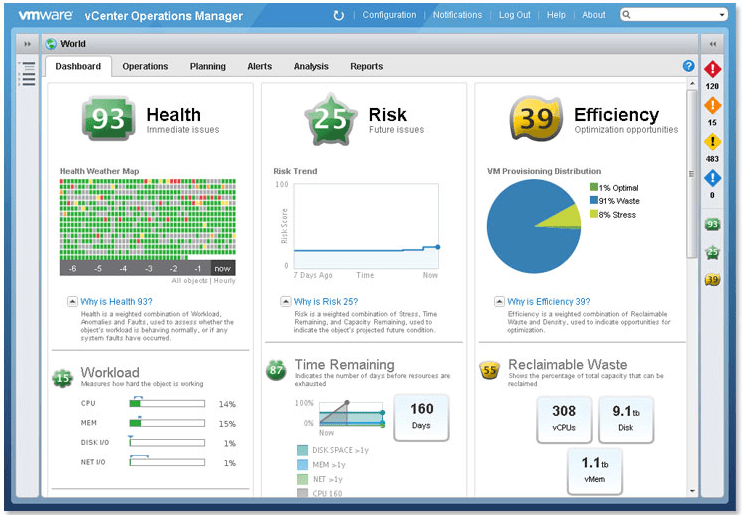 Overview
If you are using VMware vSphere then you need a performance and capacity management tool – bottom line. vCenter and the vSphere client can give you the basics of performance utilization (both real-time and historical) but, let's face it, it's just not ideal. Once you have hundreds or thousands of virtual machines across too many servers to count – you need help.
Originally, third-party performance and capacity tools popped up to fill this void (tools like vKernel vOPS, Veeam Monitor, and Quest vFoglight) but then, in February of 2011, VMware entered the market with vCenter Operations Manager (or vCOPS), a modified version of Integrien's Alive product (purchased in August of 2009).
Initially, I was afraid that vCOPS would be a "me too" tool from VMware – a tool that may just fulfill the minimum needed by VMware to say that they had a performance/capacity tool, without giving the third-party tools real competition. However, I am pleased to say that, the latest release has a lot to offer.
VMware recently announced their latest major revision to vCenter Operations Manager, which has now been rev'ed up to version 5 (all the way from version 1.0.1). Before I tell you my opinion of the new release, let's first explore the different flavors of vCOPS and what new features are included with each edition.
The Four Flavors of vCOPS 5
VMware offers vCOPS in four different editions – standard, advanced, enterprise, and enterprise plus. The higher the edition, the more features you get (and the more you pay). Here's how VMware matches the edition with the size of the prospective customer that should use it:
Standard – for small vSphere environments, offers performance statistics and dashboards, correlation with vSphere events, and basic dashboards but lacks some features you might expect like alarms, alerts, and reporting. Starts at $1,337 for 25 virtual machines.
Advanced – for large vSphere environments, offers the same as standard but adds trending, modeling, alerting, and reporting. Starts at $3,343 for 25 VMs.
Enterprise – for virtual and cloud infrastructure environments, offers integration with new vSphere infrastructure navigator (more on this in the next section), chargeback manager, and configuration manager. Additionally, it has customizable dashboards, extensibility to third-party applications, compliance for vSphere hosts, automated discovery, relationship visualization, cost monitoring/reporting, cost visibility for business teams, and cost analysis. Starts at $4,875 for 25 VMs.
Enterprise Plus – dubbed be as being ideal for "cloud and heterogeneous environments", enterprise plus builds on the functionality of enterprise and offers third-party adaptors, guest event correlation, compliance for VMs and guests, and remediation with rollback. To obtain cost for vCOPS enterprise plus, you have to talk to VMware sales or your reseller.
Top 5 New Features of vCOPS  5
The newly released version of vCOPS has a number of interesting and unique features. Here's my list of the top 5:
Dashboards – not just a bunch of performance graphs on one page, dashboards typically show vCOPS' trademark scoring to show health, risk, and efficiency across your entire virtual infrastructure.  These dashboards allow you to quickly see if and where you have a problem and then drill down to quickly find the cause of the problem (so that you can go remediate it).

Figure 1: vCOPS 5 Dashboard

Correlation of Events – so many supposed "performance issues" are caused by changes that are made in the infrastructure (adding more VMs, doing backups, shutting down a host for maintenance). By correlating the vSphere events (already recorded in vCenter), you'll be able to "connect the dots" (saving yourself time and preventing performance issues in the future).

Figure 2: vCOPS 5 Correlation of Events

Capacity Planning and Reporting – this is a must-have feature of these types of tools – something that vCOPS 1.0 should have had. Now that vCOPS 5 has this feature, it can really compete with the existing third-party performance tools.
Application Discovery and Visualization – a unique feature of vCOPS, the new (separate) virtual appliance, included with vCOPS enterprise plus, allows you to discover applications running on virtual machines and map the dependencies between them.

Figure 3: vCOPS 5 Application Discovery and Visualization

Heatmap & Strong UI – while it may seem trivial to some, I really am impressed with the user interface that vCOPS 5 offers. The heatmaps, dashboards, and visualizations are all very appealing – especially when you compare them to most other virtualization performance/capacity tools.

Figure 4: Heatmap & Strong UI
Besides the top 5 vCOPS features I listed here, you can read the full list of vCOPS 5 features over on the vCOPS product page.
vCOPS 5 – Good and Bad
Overall, vCOPS is a good performance tool. If I was a new VMware customer and was signing a large PO to buy the vSphere suite, it would be easy to just say "yes" and add in vCOPS as the performance tool in my umbrella licensing agreement (what VMware is hoping for, I am sure). If I had never used anything else and I had vCOPS enterprise plus, likely I would be quite happy. I could analyze my performance and plan my capacity. This is because vCOPS has a number of good features including:
Strong vSphere / vCenter integration
Runs as a virtual appliance
Impressive GUI
Unique scoring system and adaptive learning
Supported by VMware
New application awareness and mapping
Integration with chargeback and configuration manager
Nice introductory pricing, based on a per VM basis, that makes it look attractive
On the other side of the coin, vCOPS has a number of not so good qualities as well:
Per VM pricing means that the more VMs you have, the more you pay (as compared to other tools that you could purchase based on the number of sockets in your ESXi servers)
Other companies have a huge headstart and have been doing this for a long time. Their products are solid, customers have experience with them, and they are "entrenched" in them, across many enterprise companies
Perhaps the biggest issue is that so many of the powerful features are limited to the higher editions of vCOPS. Even the standard edition doesn't come with alerting and capacity reporting. These types of features are standard on other competitive products. Most of the new features in version 5 (like application mapping and integration with chargeback/configuration manager) are limited to the highest edition of vCOPS – enterprise plus – that VMware doesn't even offer pricing on, on their website.
Why Do Enterprises Need vCOPS?
No matter what size of virtual infrastructure you have, the performance and capacity tools in vCenter just won't cut it for very long. You need tools that can very quickly answer questions like this:
How is the infrastructure doing overall, and what is the trend?
How does your capacity look? Are you pushing the limits of your infrastructure?
Do you have wasted capacity? Or are individual virtual machines struggling because they need more virtual resources?
How many days until you run out of capacity?
What actions can you take to improve performance?
If you did have a performance issue, what was the root cause and is it related to something that someone did, as a VMware Admin, or inside a VM?
What applications are tied to what VMs? And what VM applications are tied to other VM applications?
Without an enterprise-grade virtualization performance and capacity tool, you will struggle to answer questions like these.
Conclusion
Like the Humphrey Bogart movie, "To Have and Have Not", you, as a virtual infrastructure admin or datacenter architect must decide if you need performance / capacity tools and which one to use. The question of whether you NEED a performance & capacity tool is a "no brainer". You NEED a tool like this in your infrastructure. The more difficult question to answer is WHICH of the tools to choose. Fortunately, every one of these tools I have seen has a free evaluation.
I highly recommend that you try these tools in your lab or production environment (they are almost non-intrusive so usually no harm in trying them on production) to see which one provides you the most value. My personal opinion is that vCOPS is a strong tool but there are also other strong tools that need to be considered to ensure you are getting the most value for your IT investment.