In our last post, we upgraded to System Center 2012 SP1 Virtual Machine Manager (VMM). Today we'll discuss some of the necessary and recommended post-installation steps for completing that upgrade.

Say you've just installed or upgraded VMM, and you have your console running on the VMM server. You have probably been tempted into adding hosts/clusters into VMM and creating a few virtual machines. However, you aren't finished preparing your VMM server for production usage yet. There are some things which you should do, and a few things you should consider implementing.
Configure Windows Update Patching
We normally consider Windows Update as a source of security fixes. That is the primary purpose of Windows Update, but it also is used occasionally to deploy other types of fixes. For the purposes of VMM 2012 SP1, ensure that the following products are enabled in your catalog synchronization:
Windows Server 2012: This is what VMM is installed on.
The version of SQL Server that VMM is using for the database.
System Center 2012 SP1 – Virtual Machine Manager
Synchronize the catalog, approve any updates, and force the newly installed VMM server to install/reboot until there are no more outstanding updates.
(Still need the System Center 2012 Suite? Download it here!)
System Center 2012 SP1 Update Rollup
Most people think that WSUS is the only source of fixes from Microsoft. This is far from the truth. Many products have regular updates. For example, Windows Server releases bug fixes for Hyper-V and Failover Clustering, two critical pieces of the cloud's compute resources. SQL Server releases cumulative updates. Note: Never apply a SQL Server service pack or cumulative update without first verifying that the application supports that update. For example, check the software requirements for System Center to see if the cumulative update has been tested/verified by the System Center group in Microsoft. Assumptions lead to unemployment.
The System Center group releases update rollups; these appear to be released on a quarterly basis. Each product has a release, and each release contains a number of bug fixes. At the time of writing, Update Rollup 2 was the latest release for System Center 2012 SP1.

Enable Deduplication
The VMM library should be on a data drive, such as a second VHDX of a SCSI controller in a Hyper-V VM, and formatted as the D: or E: drive. This gives you the ability to grow this drive (particularly useful for the upcoming hot resizing in Windows Server 2012 R2). Another benefit of not placing the library on the C: drive (beyond just basic disk management best practices) is that you can avail of an under-promoted money-saving feature in Windows Server 2012.
With just a check box in Server Manager, you can enable per-volume disk deduplication without any hardware requirements. It is widely reported that moderately used libraries can experience 50% space savings by enabling disk deduplication. This could be more in public clouds with large collections of specialized virtual hard disks stored in the library share(s). That's a lot of data center grade disk (read: expensive) saved by just checking a box in Server Manager. You can see what your potential savings might be by running a tool called DDPEVAL.EXE without affecting your data. Don't worry:
Disk deduplication is transparent to applications.
The performance hit is negligible and probably unperceivable to VMM.
Backup tools like System Center 2012 SP1 – Data Protection Manager can leverage deduplication to reduce the length of backup windows and data transfer over the network.
Windows Server 2012 (and later) and hardware deduplication are compatible and (apparently) even complement each other.
You should strongly consider enabling deduplication on the drive(s) that store your VMM library share(s) to greatly reduce your disk usage/costs.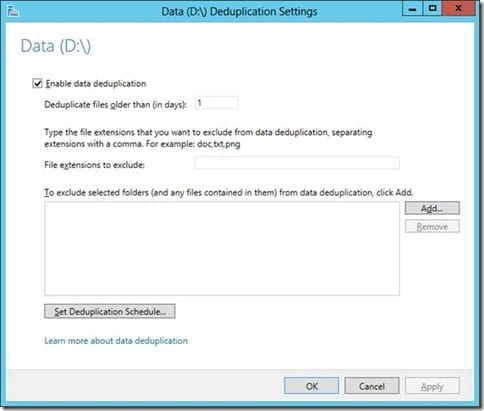 Note: You might use cheap disks now for VMM 2012 SP1 because there are no benefits to storing the library on a SAN. This changes with VMM 2012 R2 when it adds support for Offloaded Data Transfer (ODX) for rapid data copy within the same SAN. That means you'll use more expensive disks and you'll want to reduce the actual raw disk usage by the library.
Install the VMM Console on Administrator PCs
Once VMM is installed you should only log into the VMM server when you need to do local troubleshooting. You can install the VMM console on your PC and manage VMM without using Remote Desktop or any KVM tools. This also allows VMM administration to scale out beyond the 2 administrator logins to a server.
Check the software requirements for the VMM console to ensure that your PC has everything that is needed. Insert or mount the VMM 2012 SP1 media and run the installation tool, choosing to install just the VMM console. When you first run the console it will ask for the name of the VMM server and it will assume that you are using the default VMM console port (TCP 8100). Enter and change the details, then enable network communications (firewalls/filters) as required. Once completed, you will have the full VMM administration experience, depending on your administrative rights in VMM.

Get an ISO Creation Tool
Installing software in a VM is best done by mounting an ISO from the VMM library:
A single, possibly de-duplicated, repository of ISO files for all of IT: This allows the few people with access to download official ISOs the ability to provide controlled access to licensed software. Administrators (full or delegated) can mount ISOs in a virtual machine from the library share to deploy applications without waiting on a download.
Self-Service Software Installation: Cloud users expect easy access to software. Administrators can provide selective access to user roles in VMM and allow users to mount ISOs without administrator intervention.
For the most part, Microsoft makes it easy to populate the library. You can download ISOs for a production cloud from the Microsoft Volume Licensing Servicing Center. However, sometimes service packs or add-ons are provided only as self-extracting executable files, MSPs, or MSIs. The same applies to third-party vendors. The best way to make this software available to administrators and self-service users is to download once, "burn" the file to an ISO, and share the ISO via the VMM Library. Do it once and save time in the future.
You should find a tool that you like and trust for creating ISO files and install it on your PC. You can create the ISOs locally (maybe in a secure Windows 8 Client Hyper-V virtual machine) and upload the resulting ISO to the VMM Library for sharing.