The best part of a Windows 8 Professional tablet is – obviously – that it runs Windows 8 Professional. No longer are we required to compromise between powerful apps and portable convenience. Now it's possible to use touch-friendly, tablet-designed apps or full-blown Windows software. The choice is finally ours. Using Windows 8 Pro tablets every day in the IT trenches, I've developed a list of must-have favorite apps I can't do without. Some are Windows Store (or "Metro") versions, while others are the same versions I run on my laptop.
1. and 2: Get the party started with RSAT and Office
What's the first app to install after firing up a new Windows 8 Pro tablet? That's easy: The Remote Server Administration Tools for Windows 8. Okay, really this is a bunch of apps all rolled into one installer. It allows you to manage Active Directory, use Server Manager, take care of business with MMCs for DNS, DHCP, Print Management, and more. Having the RSAT installed on any PC is a boon to productivity, but on a tablet… well, that's a game-changer. (Download RSAT for Windows 8.)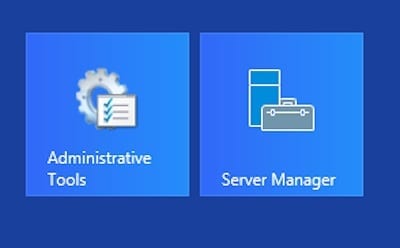 Microsoft Office is next to get installed. Creating documents in Word, reviewing spreadsheets in Excel, preparing presentations in PowerPoint are among my daily activities. These pale in comparison, though, with my favorite Office app to have on my tablet: Outlook. Every iPad user who relies on Outlook on their PC bemoans the lack of this tool on their tablet. Again, the beauty of a Windows 8 Pro tablet is that Outlook isn't some watered-down version of its computer-based self. It is exactly the same version with no changes and no compromise. (Download Microsoft Office.)
3. Storage is easy with SkyDrive
With each passing day, I become fonder of Microsoft SkyDrive. There are many cloud storage services available, each with its own set of pros and cons. The tight integration between SkyDrive, Microsoft Account, and Windows 8 make it uniquely powerful on a Windows 8 Pro tablet. By using SkyDrive and a Microsoft Account, my network settings, browser favorites, and more synchronize between my Windows 8 desktop and my tablet. I get a consistent experience regardless of the device I'm using so operation is naturally faster.
Out of the box Windows 8 Pro has the Windows Store SkyDrive app installed. This app makes working with SkyDrive files and folders a dream using nothing but your finger. Perfect for a tablet, but there are shortcomings. The real secret behind my love affair with SkyDrive is to install the desktop version of the software right alongside the Windows Store version. Now I'm able to access the SkyDrive folders from any app through the desktop version's File Explorer integration. For example, I create a network diagram in Visio and save it to my SkyDrive via its desktop software. Later, when I'm in the field and need to take a peek at the diagram, I open it and am able to zoom in, move around, and find exactly what I need – all by leveraging the speed of the touch interface of the Windows Store version of SkyDrive. (Download the SkyDrive app.)
4. CamCard for Contact Management
In IT, it seems I have more business contacts to keep track of than software downloads. To ensure I know whom to call and by what means, I simply use CamCard by IntSig, my favorite Rolodex replacement app. Sure, I keep all my contacts in Outlook, but sometimes when I'm given a business card I just don't have time to key in the information. Compounding the problem is the fact I often like to keep an image of the business card. Maybe a map of directions is on the card or possibly operating hours. Heck, I could just like the logo or font. CamCard is the solution to this problem.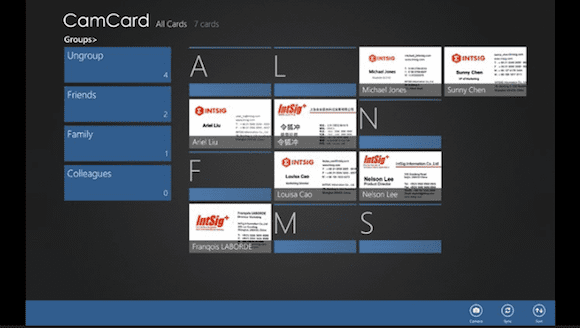 CamCard allows me to utilize my tablet's camera to snap a picture of any business card. A quick run through its OCR engine and the details are all ready to go in a new contact record. Fair warning, though: It's rare that the details will come through without any errors. However, cleaning up a few misspellings takes far less time than entering it all from scratch. Once the record is ready to go, you can save it to CamCard's internal database as well as any Contact folder from your Exchange mailbox that you have configured on the device. In fact, I regularly save the card to CamCard's database, a contact folder in my work Exchange mailbox, and a contact folder in my personal Exchange mailbox. All with the press of a single button!
I use the CamCard database for a couple reasons. First, it stores an image of the front and back of the business card along with the contact information. The Windows 8 native app organizes these images tile-style, allowing me to flip through them with a few finger strokes just as if I was rifling through a Rolodex. The second advantage of the CamCard database is that a free account allows me to sync with their cloud service. Using this, I can add a contact on either my Windows 8 Pro tablet or my iPhone and have the information show up on the other device almost immediately. (Download the CamCard app.)
5. Protect against data loss
Whether saved on local storage or synced there via SkyDrive, my tablet has plenty of personal and business data on it. With a tablet I carry almost everywhere, data security is more than just a minor concern. To put my mind at ease I rely on Absolute Data Protect from Absolute Software. In the event I forget my device somewhere or – gasp! – lose it, I can use Absolute Data Protect to locate the device. I can remotely lock the device, preventing prying eyes from perusing my data. In the most extreme scenarios I can also remotely issue a secure delete command, wiping the tablet clean of all its sensitive information. Files, applications, photos, emails, and everything else are removed so I can stop worrying about my embarrassing prom photo falling into the wrong hands. (Download Absolute Data Protect.)
While I have a number of other apps on my tablet, these five get used every day. They turn my tablet into a tool I use not just for email and web browsing, but to get my "real work" done. In fact, I find myself reaching for my tablet more often than my laptop. The combination of cloud services, excellent hardware design, and an OS that ties everything together positions Windows 8 Pro tablets for success.