Six Reasons to Deploy Windows 8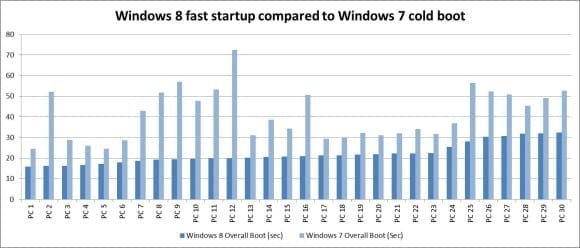 The retail release of Windows 8 is upon us, and many IT professionals are considering whether to adopt Microsoft's latest client OS or stick with Windows XP, Windows Vista, or Windows 7. Windows 8 is arguably the most significant update to the Windows client OS since the release of Windows XP in 2001, and the new Windows 8 UI – aka the Interface Formerly Known as Metro – is optimized for a new generation for touch and tablet devices.
But does Windows 8 offer enough new and improved features for business users to warrant an upgrade? Many IT pros have strong opinions on the topic, so in the interest of presenting both side of the argument I've decided to write two articles: This one, which provides six reasons why you should deploy Windows 8, and a second article to appear early next week that serves up six reasons why you shouldn't take the plunge.
So what are the most IT-friendly features of Windows 8 that would warrant an upgrade? Let's take a look.
1. Windows To Go
One of the most promising features of Windows 8 Enterprise is Windows To Go, a feature that allows admins to create bootable, self-contained installations of Windows 8 on USB sticks and other USB storage devices. The Windows To Go installation is fully manageable as a traditional client OS, and it can be moved to other PCs with the users settings, files, and other configuration data kept intact. It's a great feature for end-users and administrators alike, and I'm sure it will prove to be one of the most popular, IT-friendly features of Windows 8.
2. Client Hyper-V
Windows 8 marks the arrival of full-blown client virtualization to the client with Windows Client Hyper-V. Client Hyper-V is far superior to Microsoft Virtual PC, and provides IT administrators who have adopted Microsoft's enterprise virtualization solutions an efficient and powerful way to manage create and manage virtual machines on Windows 8 client PCs. For more information, see our multi-part series on Client Hyper-V by Jeff Hicks.
3. Picture Password
Password security and management has always been a big time sink for IT professionals, and Windows 8 introduces a new feature that should help users remember their password and improve security at the same time. Called Picture Password, this security feature requires users to choose a picture and apply a touch-based gesture to it in order to gain access to the system. As an example, a user might select a photo of his wife as the picture component, then draw a smile on her face with a finger gesture. It's an innovative way to improve security while potentially reducing the ubiquitous (and resource-sapping) "I forgot my password" routine that many IT help desks have to deal with.
4. Faster Boot Times
One of the biggest complaints that many users have had about Windows over the years is the sometimes-lethargic boot times that Windows PCs experience. You know, the "I get to work, turn on my PC, get some coffee, chat with co-workers, eat breakfast, and then check for the Windows desktop"-type boot speed. While that may be hyperbole, Microsoft has invested significantly in reducing Windows 8 boot times, as you see below in the Microsoft-provided chart that compares Windows 7 to Windows 8 boot times. See the 'Building Windows 8' blog for more information on how Microsoft was able to put Windows boot times on a diet.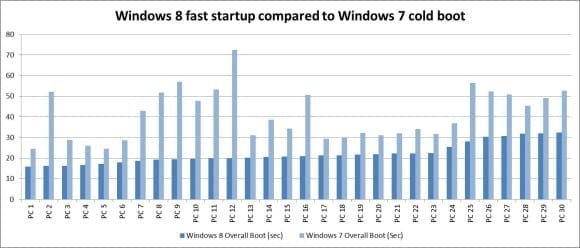 5. Longer Battery Life
The Windows development team has spent lots of time working on improving how Windows manages power consumption on laptops and tablets, and Windows 8 boasts the most efficient power management technology that Microsoft has ever developed. There's a lengthy, detailed post covering all the improvements that Windows 8 makes in the area of power conservation on the MSDN site — written by Windows Kernel Team Program Manager Pat Stemen – that is well worth a read if you want a deeper dive into the specifics. I've seen improved battery life on laptops running Windows 8, so Microsoft clearly has made some improvements here.
6. Reset and Refresh
Everyone in IT has had to deal with a PC that is pushing up daisies, whether from the installation of dodgy software via the Internet, or from being clogged with bloatware and other non-essential programs. Microsoft has sought to simplify and improve reset and restore operations by introducing two logically named features in Windows 8: "Refresh my PC" and "Reset my PC." The former allows you to perform a fresh install of Windows 8 while keeping your data and settings intact, while the latter does a complete clean-slate reinstall. Both features are slick, polished, and much easier to use than earlier Microsoft attempts at making data recovery and refresh more efficient and user-friendly on the PC.
Do you have any favorite Windows 8 features that you think are IT-friendly? Feel free to tell me what you think by adding a comment to this blog post or reach out to me on Twitter.