We're just a few days away from the inaugural Microsoft Ignite conference, starting in Chicago on May 4th. It's a time of great change in Microsoft, and it looks like Ignite will start some of those fires. Here's what I think IT pros should expect at Ignite.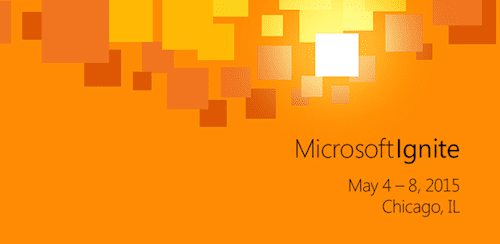 Wow! The Crowds!
I've been to TechEd North America and TechEd Europe, but nether comes close to the size of Ignite. It is expected that there will be around 20,000 delegates at the conference. Hotel rooms are few and far between in Chicago during that week, and what few rooms are free are going for several thousand dollars. A conference of this size can only be held in a few cities in the United States.
My best guess is that TechEd North America 2014 was half the size of what Ignite will be. Those attending a Microsoft conference for the first time can feel lost in the crowds. And getting into rooms can be an issue. too, as I've heard can be a problem at Microsoft's Worldwide Partner Conference (WPC). My tip is that if there's a session you really want to see, then get in the room early.
The Keynote
The keynote is where Microsoft typically lays out their grand plan for the coming years, and over the past two years, there's been lots of Office 365 and Azure mentions in those keynotes. 2015 to 2016 is a critical year for Microsoft, as Azure adoption rates must be increased, Office 365 needs to have more deployments in larger enterprises, and Windows 10 needs to be a success or Microsoft will face a slow demise similar to IBM.
There is a delicate balance in this keynote. Ignite is a merger of many conferences, so delegates will include C-level decision makers, IT pros, enterprise developers, application administrators, and SharePoint and Exchange types.
And Microsoft's solutions will span devices, cloud, on-premises, and hybrid-cloud scenarios. How does one talk about any one product? Well, that's the thing; Microsoft has to talk about One Microsoft and announce big unified solutions that only they can do, using pieces of all the scenarios and all of the areas to get all delegates excited about the week ahead.
The keynote is often the big reveal for a lot of previously non-disclosed content, so there may be many sessions that are under embargo until the keynote starts on the first morning. There also may be some big announcement the week before the conference starts at Build, Microsoft's developer conference that is taking place in San Francisco this week. Attendees should be sure to check the session builder again once the conference starts.

Windows 10
The latest version of the Windows client is coming this summer, and we know next to nothing about the enterprise features of Windows 10. Most of the talk so far has been about changes to the UI, which include a Start menu, a continuum adaptive UI for hybrid devices, and more dominance given to the desktop interface.
And to some extent there's been conversation about how Universal Apps and a single app store can unify all of the Microsoft-supported devices, which can hopefully increase the breadth and quality of available apps. But there's been no conversation by Microsoft about enterprise features:
Things that add value to the Enteprise edition, such as BranchCache
Pro features like BitLocker
Manageability, such as Group Policy
Tools for managing and deploying Windows 10
Some sessions that caught my eye are:
Managing Windows 10 Using Group Policy with In-the-Box, Microsoft, and Third Party Tools
Managing Windows 10 with Microsoft Intune and System Center Configuration Manager
Preparing for Windows 10 Deployment: Assessment, Compatibility, and Planning
What's New in Windows 10 Management and the Windows Store
Windows 10 Browser Management
Windows 10 Management Scenarios: Mark Minasi Helps You Have Total Control for Every Budget
Windows 10 Mobile Device Management (MDM) in Depth
Windows Server vNext
We know very little about Windows Server vNext apart from what was announced at TechEd Europe 2014, and most of that was Hyper-V related. Recent announcements have included:
Nano Server: The headless server operating system. Jeffrey Snover is presenting a session called The Future of Windows Server Starts Now.
Windows Server and Hyper-V Containers: A new way to rapidly deploy server applications. There is a session called Microsoft's New Windows Server Containers.
There are a number of very interesting storage sessions too. Storage Spaces and Scale-Out File Server play a big role, and you'll learn more about deploying cheaper storage, ensuring reliable performance with QoS, and Windows Server-native storage replication:
Enabling Private Cloud Storage Using Servers With Local Disks
Exploring Storage Replica in Windows Server vNext
Hyper-V Storage Performance with Storage Quality of Service
As a Hyper-V fan, I am obviously excited to see what Microsoft will be talking about with virtualization in Chicago. Hyper-V containers is quite new and interesting, but there are other sessions, too:
Platform Vision & Strategy (2 of 7): Server Virtualization Overview
What's New in Windows Server Hyper-V
I guess I shouldn't forget to mention that I am presenting The Hidden Treasures of Windows Server 2012 R2 Hyper-V on Tuesday at 5pm.
And there's lots of other new stuff, too:
RDS Improvements in the Next Version of Windows Server
Stretching Failover Clusters and Using Storage Replica in Windows Server vNext
Microsoft Azure
The rate of change for Azure won't be slowing down. As usual, there has been a constant drip-feed of new features and modifications in Azure. But it is events such as TechEd and Ignite where Microsoft likes to make significant cloud announcements that include plans for new features that shake up the industry, along with preview and general availability of new services.
As with previous TechEd conferences, there is a lot of Azure content:
Getting Started with Microsoft Azure IaaS: If you haven't looked at Azure, this is a great place to start.
An Overview of Microsoft Azure Networking Capabilities: I spend most of my time working with networking in Azure. These services are constantly evolving, so it makes sense to catch up with the latest and greatest.
Automating Operational and Management Tasks Using Azure Automation: I have attended this session before. Almost everything you do in Azure is better if you sprinkle in some Azure Automation.
Hybrid Partnerships – Enabling On-Premises Scenarios in Microsoft Azure: This is how I see most IT pros implementing Azure services for the first time.
Protecting Your VMware and Physical Servers by Using Microsoft Azure Site Recovery: Yes; even VMware customers can use Azure as a DR site!
End-to-End Azure Site Recovery Solutions for Small & Medium Enterprises: Of course, I have to promote my own community session on using Azure Site Recovery to implement disaster recovery solutions for SMEs!
Other Products
Microsoft Ignite is an amalgamation of lots of Microsoft conferences that are focused on enterprise customers. That means that you'll have lots of System Center, SharePoint, Exchange, Office 365, CRM, and even dev content to pick and choose from.
But don't worry if you're not able to attend this extra-large conference, as sessions are being recorded and Microsoft will post them soon afterwards, most likely the next day on Channel 9, if history is still a good indicator. I highly recommend that you watch as much content as you can, because this is where people like me and other bleeding edge Microsoft followers get our information, straight from the source.