Highlighting Some Office 365 Sessions at Microsoft Ignite 2019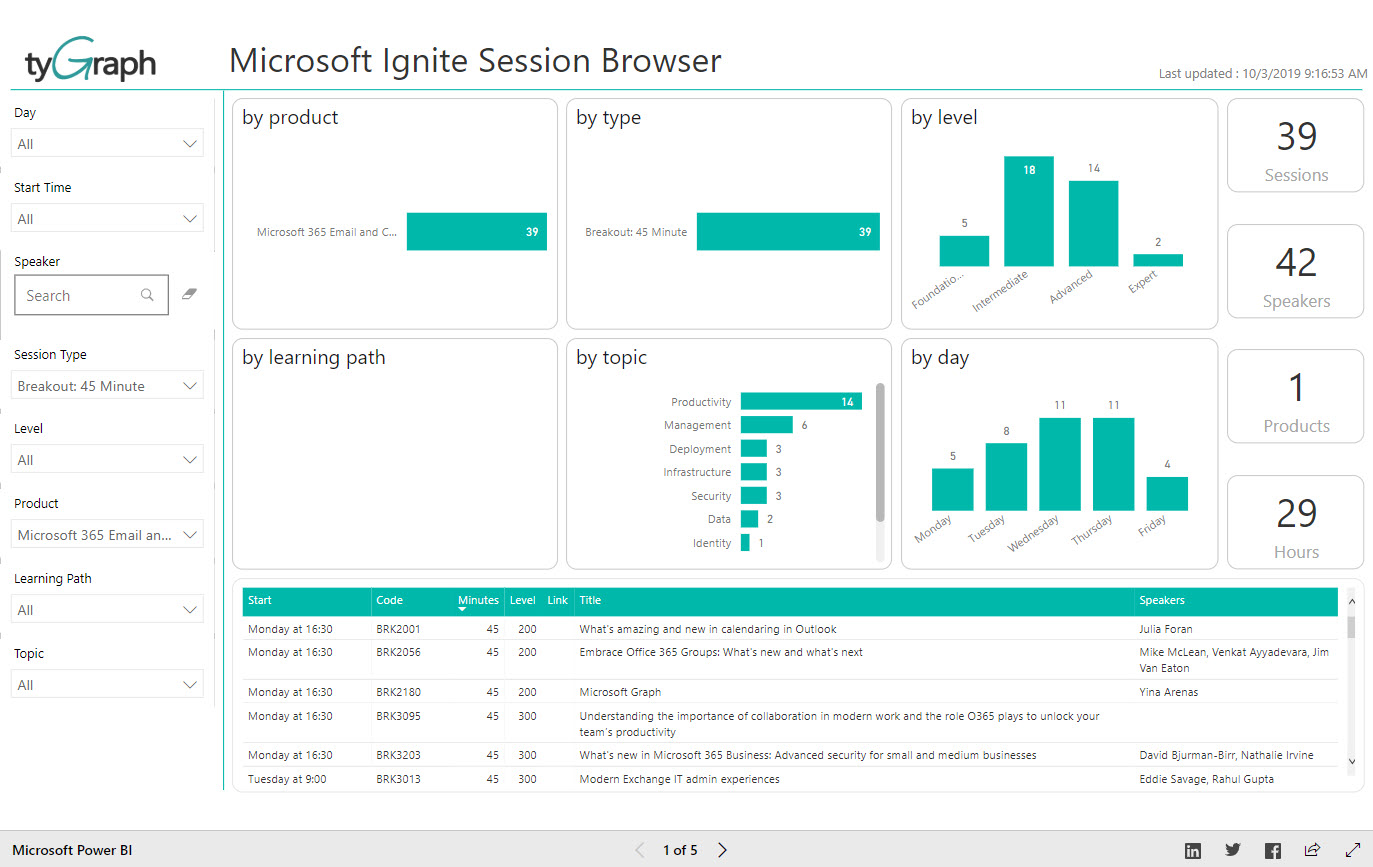 Breakouts, Theater, and Unconference Sessions at Microsoft Ignite 2019
The Microsoft Ignite 2019 conference session catalog is now online. As I write, some 1,444 sessions are available for browsing, which is a lot for anyone to get their head around (and Microsoft is likely to add some more). The Orange County Convention Center is huge, and it takes time to get around the different session rooms. We don't yet know where individual sessions will be held, but we can browse the catalog to highlight sessions that are must-see. My best attempt at finding good sessions to attend is below.
Sessions at Microsoft Ignite
Microsoft Ignite has 75- and 45-minute breakout sessions. The 75-minute sessions are usually reserved for Microsoft speakers while external speakers get the 45-minute slots. This demarcation started in 2018 and I can't work out quite why Microsoft feels that people without blue badges can't speak (coherently) for 45 minutes. In any case, it is what it is. Theater sessions last 20 minutes and happen in the theaters distributed around the exhibition hall. If you want to attend a theater session, go there early to claim a seat. Many of these sessions were heavy overcrowded last year. There's also a category called "unconference" sessions for expert-led discussions about topics.
All sessions will be recorded and will be available through the Microsoft Technical Community. A valid argument exists for staying away from Microsoft Ignite to watch and listen to recordings in the comfort of your own home. That's all very well, but the fact remains that much of the value of attending a large technology conference comes from the events surrounding formal sessions, like the technology exhibition, interacting with experts, participating in workshops, and so on.
In any case, here's my list of Office 365 sessions that I think are worth attending or listening to afterwards. These sessions reflect my interests, so please feel free to disagree.
General Office 365
How Microsoft manages its own employee Office 365 tenancy (THR2252): It's always interesting to hear how Microsoft uses its own technology. The disappointing thing is that this session is only 20 minutes and the theater area will likely be packed. The "Inside Exchange Online" sessions from previous conferences are easily among my all-time favorites. Get to this one early.
Microsoft Planner in Microsoft 365 (BRK2024): Why include a Planner session? Well, every year I hope for a breakthrough in Planner to lift it forward from the slow development process that the app seems to follow. OK, I'm an optimist.
Exchange Online Sessions
Office 365 email enhancements that makes your organization smart, safe, and secure (BRK3312): I hear that Microsoft has some surprising announcements to make here. The session notes don't give the game away, apart from saying that they are revamping Outlook's message recall feature "for the cloud." Message recall hasn't worked for years, so it will be good to hear how Microsoft plans to make it work.
Modern Exchange IT admin experiences (BRK3013): Two big topics will be discussed in this session: a revamp of the Exchange Admin Center (EAC), which is now old, tired, and disconnected from the approach taken in other Office 365 admin portals (even SharePoint Online is better these days). The other thing is news about how Microsoft plans to make some popular mailbox cmdlets better performing and reliable.
New, fast, and reliable Exchange Online PowerShell cmdlets (THR3003): And following up on the mailbox cmdlets, I have been asked to test the performance and validate the work Microsoft has done in this area. I'll reveal all during this 20-minute theater session.
Teams Sessions
Plan and implement a successful upgrade from Skype for Business to Microsoft Teams (BRK3232): Given the announcement that Skype for Business Online retires on July 31, 2021, the need for planning the transition to Teams is obvious.
Governance and security for Microsoft Teams (BRK3218): Teams supports several Office 365 compliance features like Data Loss Prevention, retention policies, and Information Barriers. It will be interesting to hear what's coming next.
Every team, connected: Develop Microsoft Teams apps with Microsoft Graph (BRK3226): PowerShell is probably the go-to tool for Office 365 administrators who want to automate different aspects of Teams. But the fact remains that a lot more can sometimes be done with the Graph, or even better, by combining the Graph and PowerShell. Expect to be challenged in this session.
A deep dive into managing Microsoft Teams (BRK3221): Microsoft's Jamie Stark is giving this session and he's responsible for a lot of what you see today in the Teams Admin Center. It will be interesting to hear his thoughts on how Teams management should be approached (even if I sometimes don't agree).
Will Microsoft Teams take over from email? (BRK2090): I've spoken about this topic at several conferences and now it's the turn of a Microsoft Ignite audience to hear my thoughts. The session is scheduled for Friday morning and hopefully some conference attendees will shake off the tiredness of the visit to Universal Studios on Thursday evening to come along.
SharePoint Online Sessions
Securing your SharePoint and OneDrive content with access policies and labels (BRK3007): Now that Office ProPlus for Windows has native support for Office 365 sensitivity labels, SharePoint Online and OneDrive for Business are likely the next areas to get a makeover to support sensitivity labels. Will we be able to apply a sensitivity label to a document through the SharePoint browser interface as easily as a retention label can be today? Come along to this session to find out.
SharePoint architecture behind the scenes (THR4003): Another theater session to throw some light into how Microsoft runs Office 365 applications. Always worth spending 20 minutes to listen and learn.
Office 365 Groups Sessions
Finding your collaboration sweet spot with Office 365 Groups, SharePoint, Teams, and Yammer (BRK2210): Customer-led sessions are always popular, especially when they address issues like how to make sense of Microsoft's often-confusing collaboration portfolio.
Embrace Office 365 Groups: What's new and what's next (BRK2056): Groups are the fundamental underpinning of Teams, Yammer, Planner, and many other Office 365 applications. They've been around for five years now, so I expect to hear some plans for how Microsoft will remove some rough edges from group management (like the improvements to the group expiration policy that are now in preview).
A Different View of Microsoft Ignite
Microsoft's session catalog is an OK tool for browsing. If you want to explore a different approach, check out the Power BI dashboard (Figure 1) created by TyGraph Solutions, who specialize in analytics tools for Office 365.
The Power BI dashboard makes the Microsoft Ignite session list easier to navigate. Between the two, you should be able to find some interesting sessions to attend.