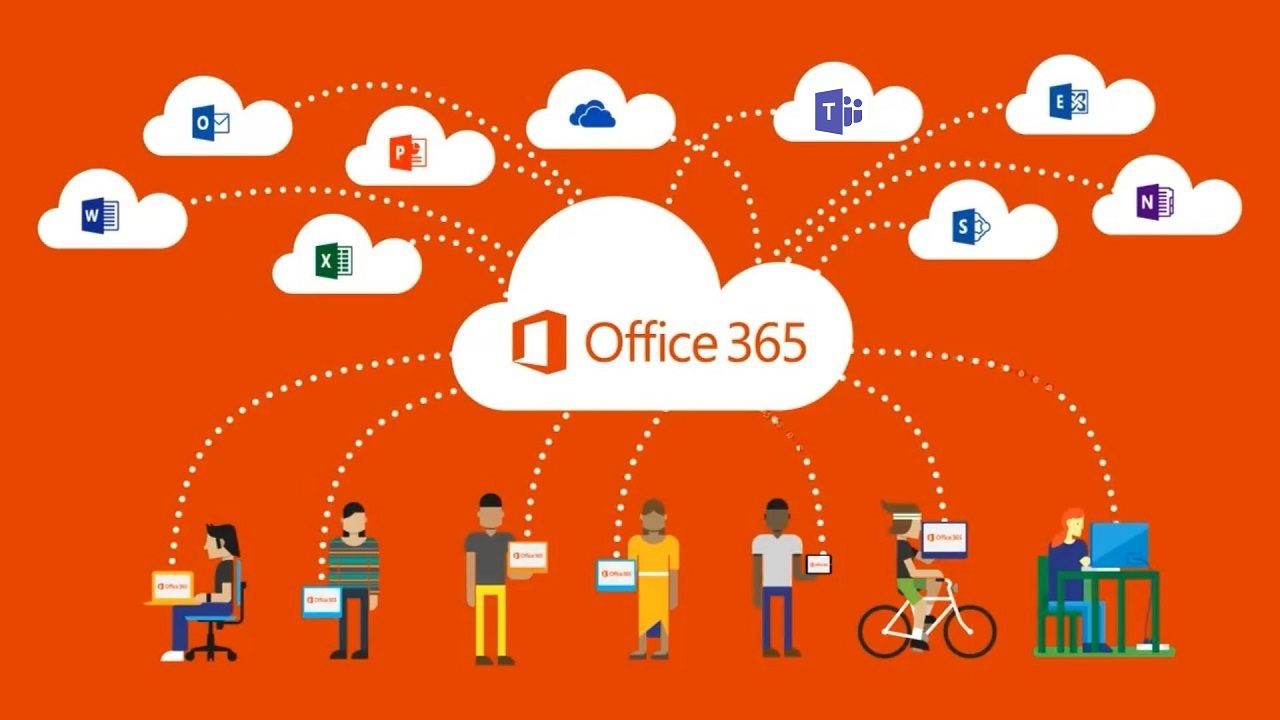 Random Office 365 Developments
Those who know my writing style might consider me verbose. I think of it as "detailed," meaning that I like to discuss stuff in some depth. In any case, Microsoft makes so many changes in Office 365 now that it is hard to discuss everything in a full-size article. To address the knowledge gap, here's some brief notes about recent happenings in Office 365.
Teams and Planner
Teams and Planner are both children of the cloud, so you'd expect them to be tightly integrated. Planner got some recent updates, which were nice, but now some updates for the Planner/Teams integration have shown up. I like the way that you can now see all the plans available to the Teams to which you belong (Figure 1), exposed through More options (…) menu in the navigation pane.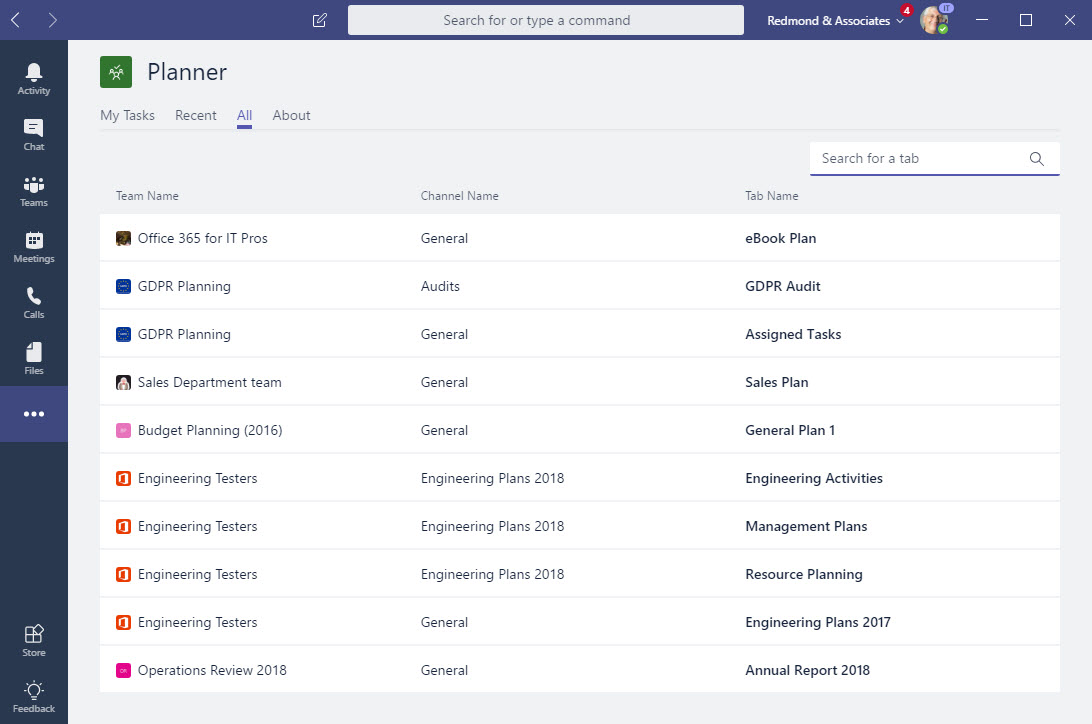 I also like the intelligent way that Teams allows you to remove a plan from a channel without disturbing the underlying Office 365 Group and any of its resources. Good work!
Planner's Complicated Link
But then Planner spoils things with a convoluted support article describing how to disable Outlook calendar sync for your tenant. I haven't seen the ability to use an iCalendar link to synchronize tasks to Outlook show up in Planner yet, so the support article might be an early version. Nevertheless, it allows me to chide Microsoft and say that this kind of complexity should be hidden from regular human beings.
Compliance and GDPR
Everyone's favorite topic continues unabated as the May 25 deadline approaches for the introduction of GDPR. On the upside, Microsoft's Compliance Manager is now generally available to help tenants understand how to approach GDPR. I think Planner and Teams can help here too, but it's really up to you how to figure out how to organize what needs to be done, including dealing with the problems of data spillage and eradication of pesky PSTs.
OneDrive Restore Shows Up
All the bits necessary to make the OneDrive Restore feature work have now appeared in my tenant. The feature works as advertised and allows users to select what documents to restore from a 30-day sliding window. I like this functionality a lot.
Keeping People in the Loop
Meantime, the Office 365 Admin Centre now allows administrators to share the news about an update with other people (Figure 2). It's a good idea. Simple ideas often have a good impact.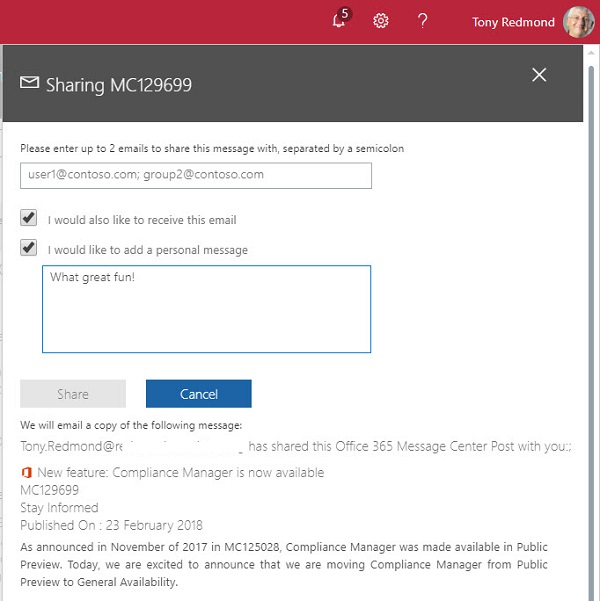 More Cookie Woes
The Office 365 Admin Center has enjoyed a checkered history of cookie woes. I had another this week (Figure 3). The only solution was to clear out all cookies and reload the page. Oh dear… I hope this isn't an omen of more cookie woes to come.

Unified CLP for Office 365
CLP apparently means Classification, Labeling, and Protection. Or so I hear. In any case, Office 365 has Classification Labels and Azure Information Protection Labels today. The bad news is that two sets of labels are confusing. The good news is that Microsoft is bringing the two together to achieve "consistent labellng and protection policies."
Simplifying peoples' lives is always good, but it will take time before we know how the merge between the two label sets happens.
Exchange's New Audit Action
Exchange has offered mailbox auditing for nearly a decade. It has taken Microsoft a while to figure out that it might be good to audit permission changes for folders. The new UpdateFolderPermissions action is now configured for owner, delegate, and admin operations on Exchange Online mailboxes:
PS C:\temp> get-mailbox -id james.ryan | select -ExpandProperty auditadmin
Update
Move
MoveToDeletedItems
SoftDelete
HardDelete
FolderBind
SendAs
SendOnBehalf
Create
UpdateFolderPermissions
Exchange on-premises servers do not support the new audit action. Maybe this will come with Exchange 2019.
Yammer Counts
Finally, I noted a couple of weeks ago that Yammer shows the count of people who have seen an item. At that time, the count was only visible to the authors of notes. Now it's available for everyone, but only for recent posts.
Follow Tony on Twitter @12Knocksinna.
Want to know more about how to manage Office 365? Find what you need to know in "Office 365 for IT Pros", the most comprehensive eBook covering all aspects of Office 365. Available in PDF and EPUB formats (suitable for iBooks) or for Amazon Kindle.