Office 365: How Does the New Office Tap Feature Work in Word and Outlook 2016?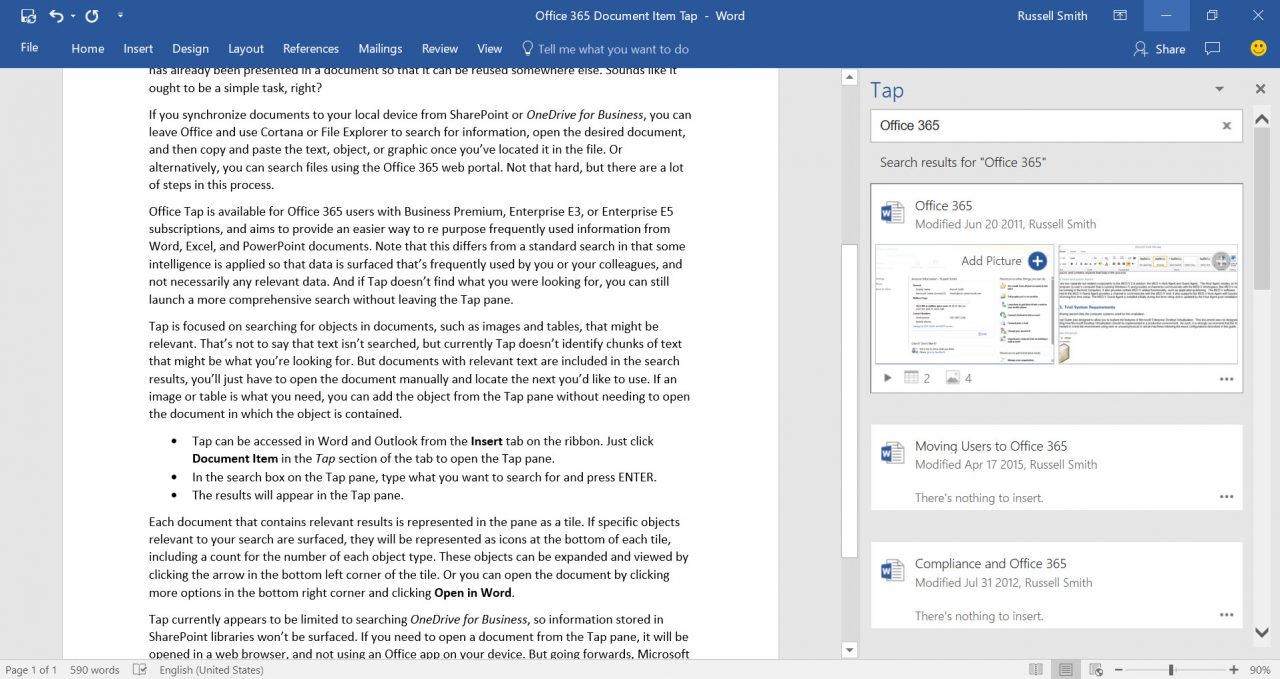 In today's Ask the Admin, I'll look at the new Tap feature in Word and Outlook 2016.
Microsoft recognizes that the real power of cloud services, such as Office 365, lies not necessarily in the client apps that we use to access and work with data, but in the ability to tap into data and use analytics and business intelligence (BI) to get insights for making business decisions.
Often knowledge workers don't need complex BI or analytics, but just access to company data that has already been presented in a document so that it can be reused somewhere else. Sounds like it ought to be a simple task, right?
If you synchronize documents to your local device from SharePoint or OneDrive for Business, you can leave Office and use Cortana or File Explorer to search for information, open the desired document, and then copy and paste the text, object, or graphic once you've located it in the file. Or alternatively, you can search files using the Office 365 web portal. It's not that hard, but there are a lot of steps in this process.
Office Tap is available for Office 365 users with Business Premium, Enterprise E3, or Enterprise E5 subscriptions, and aims to provide an easier way to re-purpose frequently used information from Word, Excel, and PowerPoint documents. A list of recommended objects is presented when you open the Tap pane, but if Tap doesn't recommend something useful, you can still run a more comprehensive search without leaving the Tap pane.
Tap is focused on searching for objects in documents, such as images and tables, that might be relevant. That's not to say that text isn't searched, but currently Tap doesn't identify chunks of text that might be what you're looking for. Documents with relevant text are included in the search results, you'll just have to open the document manually and locate what you'd like to use. If an image or table is what you need, you can add the object from the Tap pane without opening the document in which the object is contained.
Tap can be accessed in Word and Outlook from the Insert tab on the ribbon. Just click Document Item in the Tap section of the tab to open the Tap pane.
Look through the list of recommended results and select an object to insert.
If Tap doesn't surface anything useful, in the search box on the Tap pane, type what you want to search for and press ENTER.
The results will appear in the Tap pane.
Each document that contains relevant results is represented in the pane as a tile. If specific objects relevant to your search are surfaced, they will be represented as icons at the bottom of each tile, including a count of each object type. These objects can be expanded and viewed by clicking the arrow in the bottom left corner of the tile. Or you can open the document by selecting more options in the bottom right corner and clicking Open in Word.
Tap currently appears to be limited to searching OneDrive for Business, so information stored in SharePoint libraries won't be surfaced. If you need to open a document from the Tap pane, it will be opened in a web browser and not using an Office app on your device. But going forward, Microsoft will no doubt improve Tap to make it easier to use.