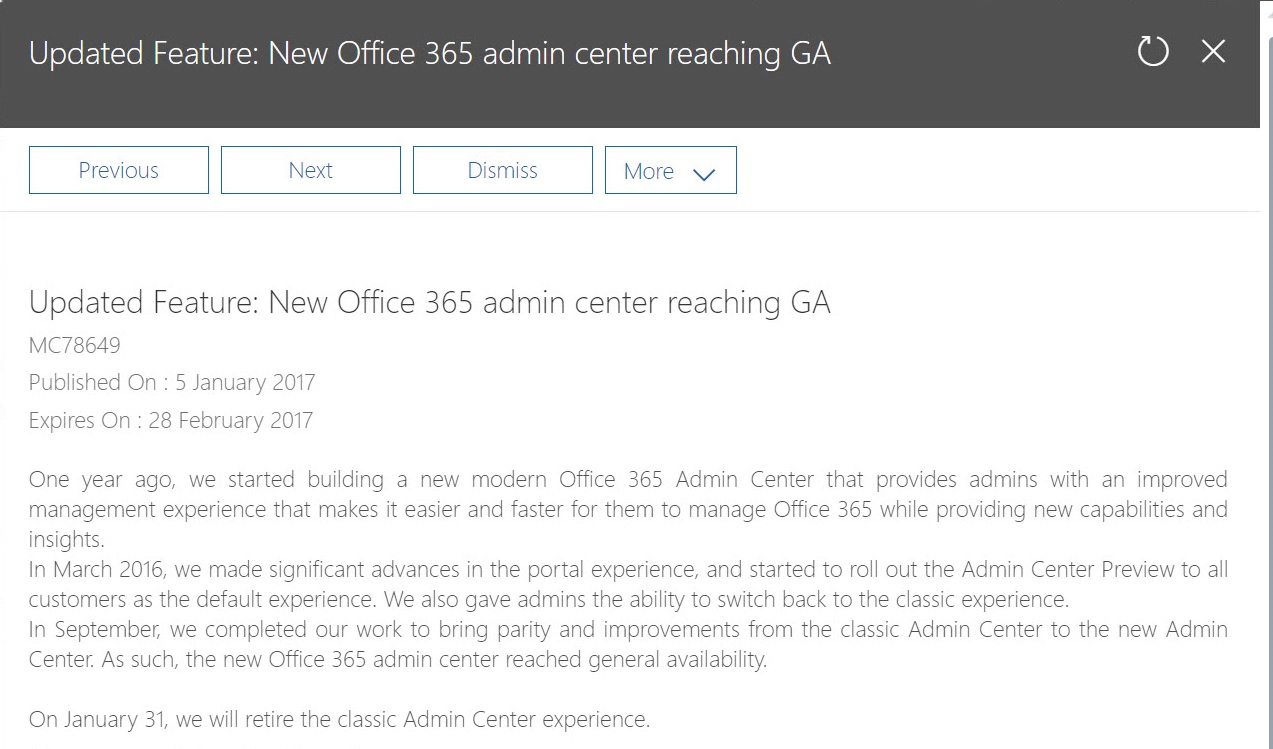 New Office 365 Admin Center Reaches General Availability
In a totally unsurprising move, Microsoft is retiring the old-style Office 365 Admin Center from January 31, 2017. The new-style Admin Center soon then be the only option for administrators to manage tenants.
Well, that's not actually true. As we've explored in the past, PowerShell is often needed to solve administrative challenges and get work done. In any case, the new admin console is now the default. That is, until it's replaced by a new design.
New Designs All Round
The "old" Office 365 Admin Center is the second version. The first version appeared when Office 365 launched in June 2011 (Figure 1) and was based on the then-current look and feel of the 2010-generation Office servers, like Exchange 2010. This was unsurprising because the applications running inside Office 365 were lightly "cloudified" versions of Exchange, SharePoint, and Lync.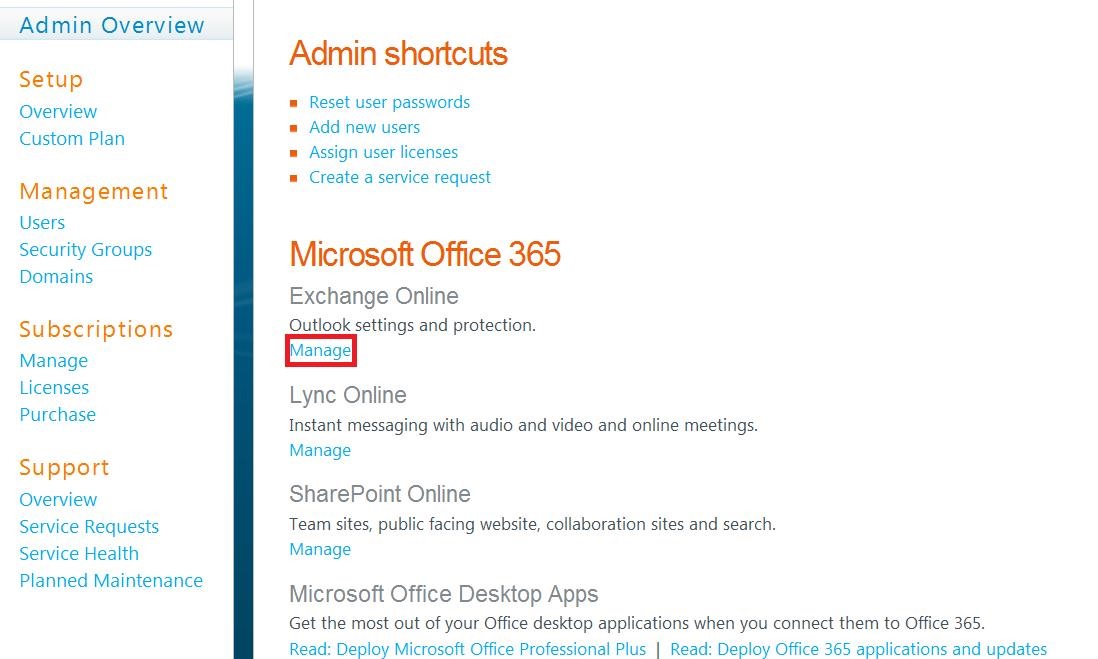 As Microsoft worked on the 2013 Office applications, they adopted the "metro" design language that favored large expanses of white space and a minimum of color. The look isn't to everyone's taste, but it is functional and works in many applications, including the now-deprecated variant of the Office 365 Admin Center (Figure 2) and Outlook Web App.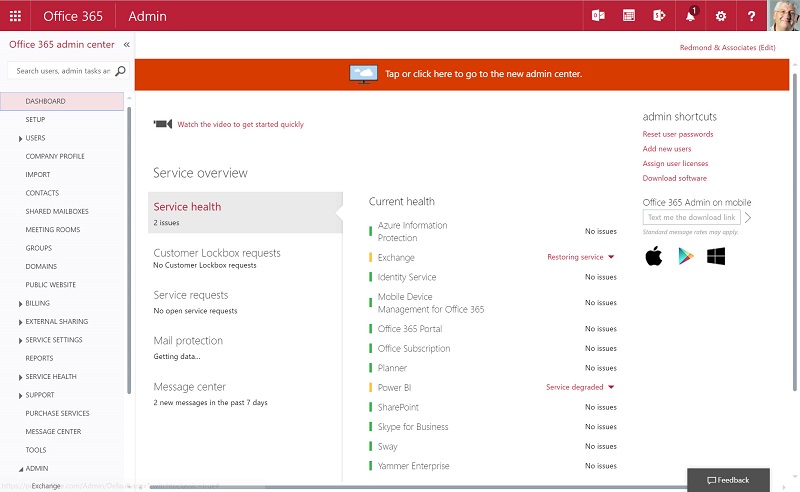 A New Service-Wide Approach
The new Office 365 Admin Center (Figure 3) appeared in preview in mid-2016. At that time, the new console was not as functional as the old but Microsoft has since been busy to add the missing options and to include new options, such as those required to manage Microsoft Teams or guest user access for Office 365 Groups.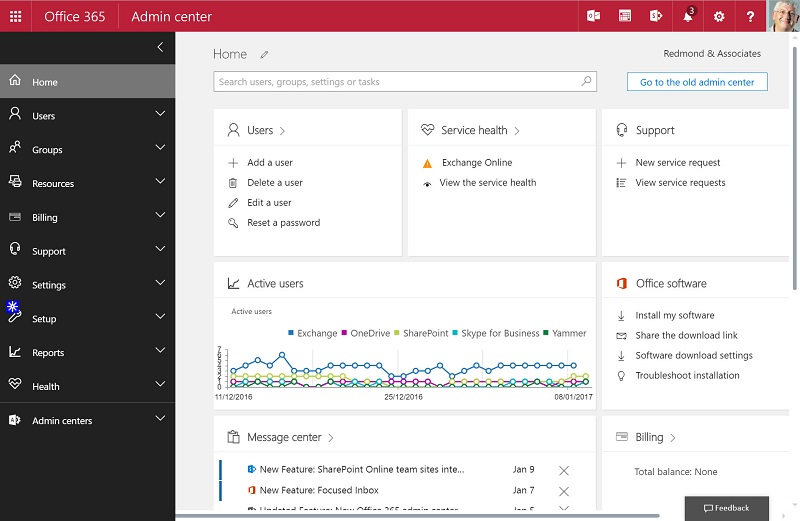 The new Office 365 Admin Center boasts a refreshed look-and-feel (aka, the "design language") that's also deployed in the Security and Compliance Center. Generally, there is not a lot to complain about in the new consoles. Options work as expected and their implementation is smoother than in the past, with data presented more logically and being easier to access.
Like all software, some bugs do exist in the new console. For instance, one issue I met recently was when I deleted a user account, the list of accounts did not refresh properly. The nature of the cloud is that bugs can be fixed as quickly as they appear so Microsoft might have squashed this bug by the time you read this article. No matter, a new bug will come along to take its place.
Time to Move On
It's appropriate to create a new console at a time when Microsoft has broken from its history of on-premises applications to focus even more firmly on the cloud. Office 365 still includes consoles inherited from on-premises like the Exchange Administration Center (EAC) and the SharePoint Admin Center. Yet the functionality available within Office 365 is becoming ever more divorced from on-premises. New features are now almost exclusively implemented for the cloud, so it makes sense to have administrative interfaces that reflect the reality.
Creating new features for Office 365 spans the development of completely new applications, like Planner and Teams, as well as new approaches to management frameworks. For instance, the eDiscovery features exposed in the Security and Compliance Center is firmly centered on cross-workload searches and holds instead of needing separate searches in Exchange and SharePoint. This work, which is part of a data governance initiative for Office 365, will expand to accommodate other data sources like Yammer over time.
Another example of how Microsoft is introducing service-wide functionality to replace workload-specific implementations is Unified Data Loss Prevention (DLP). The unified variant will eventually take over from the Exchange and SharePoint flavors of DLP.
It's also worth noting that Microsoft is transitioning some options from application-specific consoles to the new admin centers. The best example is the move of the anti-spam and anti-malware policies used to manage Exchange Online Protection to the Security and Compliance Center.
The Cookie Weakness
Nothing new is ever all sweetness and light. One flaw in the new Office 365 Admin Center is how cookies are used (or abused), which often causes administrators to have to clear cached cookies for portal.office.com to be able to work.
Microsoft says that they are fixing the problem and it certainly seems that I encounter fewer cookie issues than I did in the past. That being said, the problem was still present on Sunday, January 22. I'm sure it is must be difficult to track down recalcitrant cookies, so let's hope that January 31 is the dawn of a new day. For the Admin Center, that is.
Follow Tony on Twitter @12Knocksinna.
Want to know more about how to manage Office 365? Find what you need to know in "Office 365 for IT Pros", the most comprehensive eBook covering all aspects of Office 365. Available in PDF and EPUB formats (suitable for iBooks) or for Amazon Kindle.