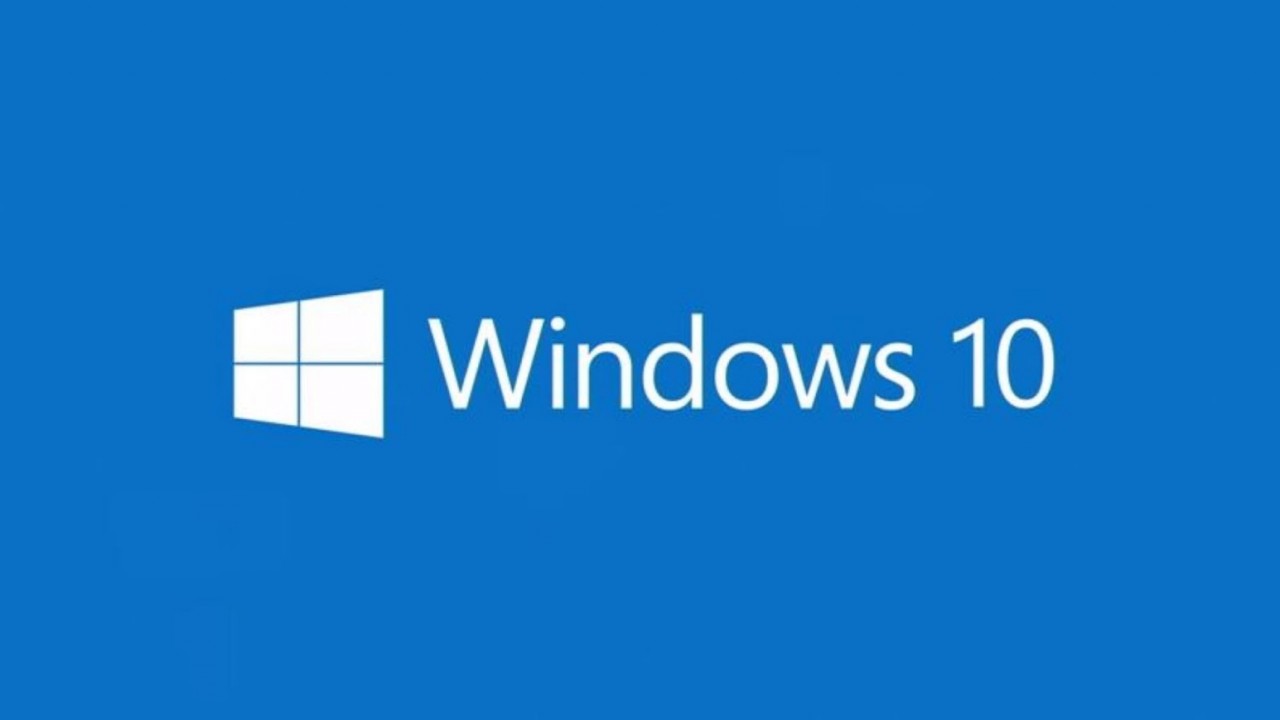 Microsoft announced the availability of Windows Virtual Desktop (WVD), a new service hosted in the Azure cloud, back at its Ignite conference in September. A new multi-user Windows 10 SKU will power the service. In this article, I look at how multi-user Windows 10 enables WVD.
If you want to provide users with a full remote desktop experience, the only available option in Azure is RDS on IaaS, which is complex and difficult to manage. And when Microsoft discontinued Azure RemoteApp, customers were left with the option of either deploying a full Remote Desktop Services (RDS) infrastructure in the cloud – RDS or Citrix on IaaS as Microsoft refers to it – or to use Citrix Virtual Apps Essentials, a Platform-as-a-Service (Paas) offering that has similar functionality to Azure RemoteApp.
But Microsoft's new multi-user Windows 10 SKU will allow organizations to deploy Windows 10 VMs that can host up to ten users simultaneously. While Windows Server has had this capability for years, the desktop experience isn't the same as in Windows 10. For example, there is no support for UWP apps or Edge, and some applications aren't compatible with RDS or have limited support. One example is Outlook, which has limited support for search in an RDS environment because the local Windows Search service depends on the machine ID and a user might be assigned a different VM each time they log in. OneDrive for Business is only supported when a persistent virtual desktop infrastructure (VDI) is used. Multi-user Windows 10 will for the first time give users a remote desktop experience that is indistinguishable from a local PC. And in some cases, Microsoft promises even better performance than a local device.
Optimized for Office 365 ProPlus
Microsoft wasn't giving much away at Ignite about how Office 365 ProPlus would be optimized to work in a WVD environment. What we did learn is that desktop search has been optimized for multi-user Windows 10 to make sure there's no performance hit over a single-user installation. The Windows Search index is also stored per-user, meaning that it can roam. Additionally, Microsoft showed how OneDrive works much faster because the data and VM can be located in the same datacenter, offering better performance than a local PC that will invariably be many hops away from the user's files.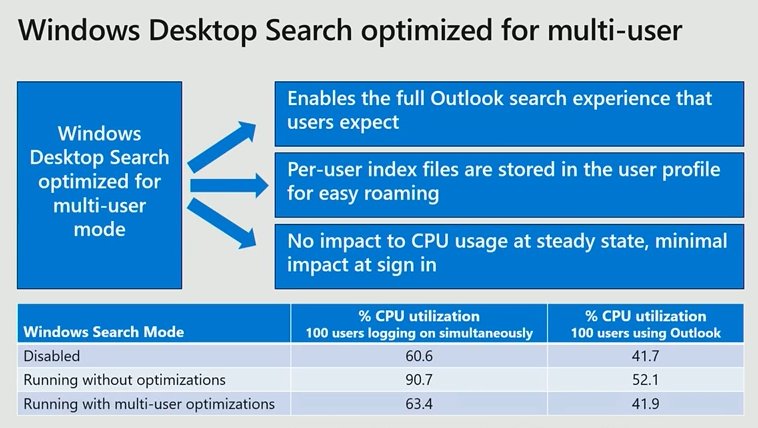 But in November, Microsoft acquired FSLogix, whose product Office Container solves some of the problems associated with running Office in a virtualized environment. It's not that Office can't be run in a virtual machine, but the software is designed to be used on a local device with lots of network bandwidth. FSLogix stores cache data from Outlook, Skype for Business, OneNote, and OneDrive for Business in a container that's kept on remote storage. The container can be quickly connected to a VM when a user logs in, providing a more performant experience.
You can find more information on Microsoft's FSLogix acquisition here on Petri.
Optimizations for Multi-User
Microsoft says that the multi-user Windows 10 SKU has been optimized to utilize server hardware when it is detected. There is support for up to 16 monitors and 4K resolution. The multi-user edition will also be updated on the semi-annual channel, meaning that it retains feature parity with the single-user edition. Although organizations can choose to opt out of feature updates for a period just like in other Windows 10 SKUs.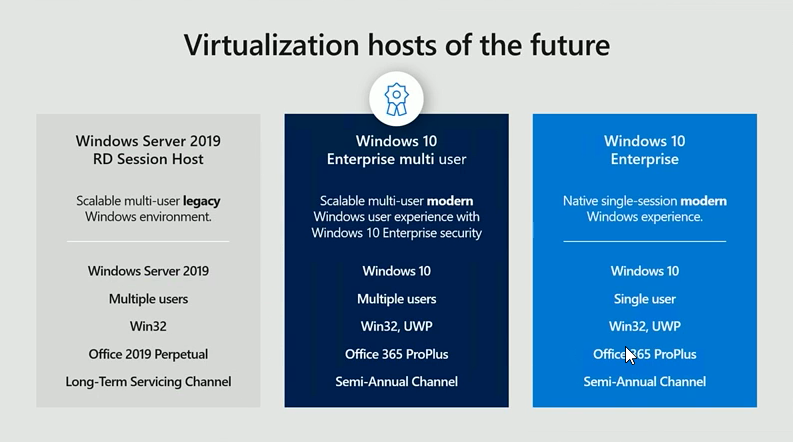 Microsoft has carried out extensive application compatibility testing and says that 99% of apps will work in the multi-user edition, including all apps that are currently compatible with Windows Server RDS. Multi-user Windows 10 can be managed using existing tools, like System Center Configuration Manager (SCCM) and Microsoft Intune. There's also a new user performance monitor (perfmon) counter that can be turned on if users experience any slowdowns. Microsoft is likewise working on web camera redirection so that WVD can be used for video conferencing.
Windows Virtual Desktop is Exclusive to Microsoft Azure
Because the multi-user SKU of Windows 10 will be exclusively available in Azure, Windows Virtual Desktop looks set to become the best remote desktop experience on the market. Amazon Workspaces offers Windows 10 desktops 'powered by Windows Server 2016', which as I explained above, looks similar but is an inferior experience to the desktop edition of Windows 10 that Microsoft will be offering in WVD. And when you add the built-in Office 365 optimizations provided by Office Container, WVD stacks up to be a compelling product for organizations that can move data to the cloud and want to use Office 365.
You can sign up here to be alerted of when the WVD preview becomes available. WVD is scheduled for general availability in the first quarter of 2019. I'll be covering WVD in more detail on Petri in the coming weeks.