MMS 2013: Microsoft and the Cloud-Optimized Business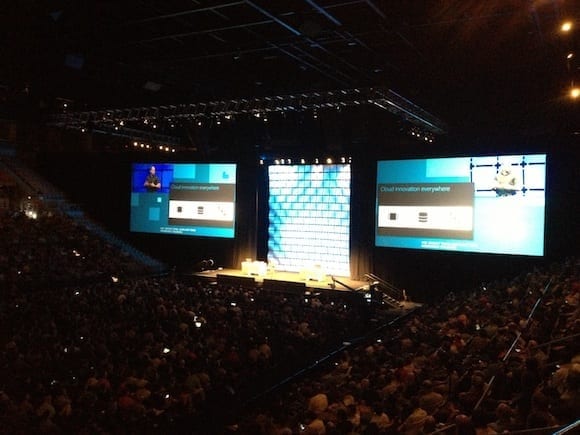 Now that another MMS 2013 has drawn to a close, it's a good time to look back over the major themes. I've cobbled together some thoughts on what transpired over the last week, and present them for you here. If you attended this year's MMS yourself, I'd love to get your perspective on the event as well, so please add a comment to this post or reach out to me on any of the social media platforms mentioned at the bottom of this post. You can also read my initial thoughts on Brad Anderson's MMS keynote and HP's private cloud in a glass box, the "Serverquarium."
Microsoft Is Back (Or, Is Windows Server 2012 the Dick Butkus of Server OSes?)
The last few years have been rocky ones for Microsoft, from the lukewarm reception to Windows 8 and a number of high-profile product failures (like the Kin, Zune, and Vista) to fierce and intensifying competition from VMware, Google, and Apple. I was beginning to think that Microsoft had lost its way, that the company was at risk of getting outpaced by younger, faster, and more aggressive competitors, much like how a leaner, mammalian Microsoft ran circles around the sclerotic and Jurassic-era IBM in the 1980s and '90s. For a while I've been kicking around the idea of an article about how Microsoft had "jumped the shark" (or nuked the fridge?), and that its glory days were behind it. But seeing Windows Server 2012, System Center 2012, and Windows Azure in action at MMS 2013 changed my mind — now I'm convinced that a bit of the old Microsoft has returned to Redmond.
Once you get past Microsoft's well-publicized struggles with Windows 8 and Windows Phone 8, Microsoft's Server and Tools Group — which is responsible for the development and marketing of Windows Server, System Center, and Windows Azure, among other core server products like SQL Server — has been steadily generating impressive revenues and releasing solid, vastly improved products.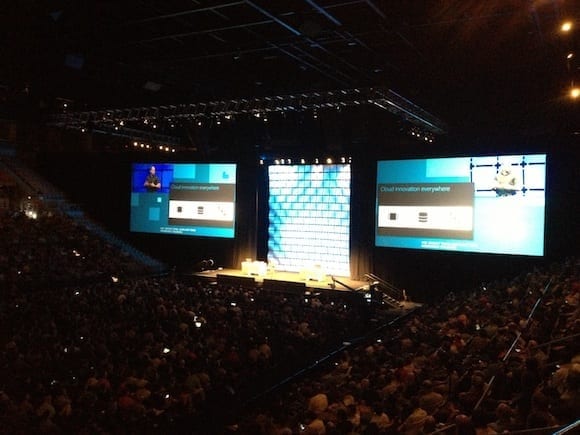 The stadium-style seating at the MMS 2013 keynote was an appropriate setting, perhaps a subtle hint to VMware that "the game is on" for the future of business IT.
While Windows 8 could be compared to a flaky, over-hyped quarterback who garners lots of headlines but can't win in the clutch, Windows Server 2012 has emerged as an understated OS superstar, a thick-limbed, yard-devouring, multi-dimensional linebacker who has relentlessly improved his game while helping keep the Microsoft enterprise business backfield safe from the likes of VMware. Windows Server may have sat the bench at times in 2003 and 2008, but Windows Server 2012 is guaranteed a spot in the OS Pro Bowl by virtue of finally putting some hurt on VMware's once-unstoppable virtualization game.
Windows Server 2012 isn't just a great operating system — it's arguably the most significant server OS release from Microsoft since Windows NT in 1993. VMware may still be the one to beat on the enterprise virtualization front from a market share perspective, but Microsoft is gaining field position inch by inch. And while the VMware offense may have historically smirked when the phrase "Hyper-V" was mentioned, those days are long gone. I'm guessing that Windows Server 2012 Hyper-V will lead to more than a few sacks of VMware's enterprise sales strategy in the months and years to come, a competitive development that will be good for customers, spectators, and, ultimately, for VMware and Microsoft as well. Strong competition brings out the best in football teams and global conglomerates alike.
To carry my painful U.S. football analogy a step further, Windows Server 2012 has been joined in the backfield by System Center 2012 and Windows Azure, making for a triumvirate of talent that is starting to finally give VMware's virtualization and private cloud business a real run for the money. Microsoft always works smarter, faster, and stronger when faced with an equally determined adversary, so Microsoft should thank VMware for inspiring them to push the virtualization and private cloud capabilities of Windows Server 2012 and System Center 2012 as far as they have.
During his MMS keynote address, Microsoft Corporate Vice President Brad Anderson — who looked the part of a burly football coach rallying the MMS faithful — stressed that Microsoft's expertise and experience with server OSes (via Windows Server) and the public cloud (via Windows Azure and Microsoft's 200+ public cloud services) gives Microsoft an edge that other companies can't match. Time will tell if that ultimately helps Microsoft displace VMware in datacenters and private clouds, but it's a compelling argument. There was tangible evidence at MMS that Microsoft's offensive strategy of presenting Windows Server 2012 with System Center 2012 and Windows Azure as an integrated IT solution is putting points on the board.
The Transformation of IT
I also had the chance to sit down with Microsoft's Mike Schutz, the general manager for product marketing for the Server and Tools Group, for a bit more info about Microsoft's strategy for transforming IT. Schutz grouped the changes impacting IT over the last few years into four transformative buckets: the rise of social apps like Facebook, the ongoing explosion of data that is being produced by organizations of all sizes, the consumerization of IT and BYOD, and the ongoing impact of the cloud on IT operations.
Schutz stresses that Microsoft was delivering real solutions with a blended approach to tackling all of the four aspects he mentioned earlier. "We're talking about the art of the possible," he says. "All of the products we're showing are real… all based on shipping code." Schutz also pointed to Brad Anderson's keynote as more proof that the Microsoft cloud is already delivering real-world IT impact. Anderson mentioned that Microsoft's 200+ cloud services and experience with the public cloud gives them experience that other vendors may not have. Other data points: Skype enables 2 billion minutes of calls per day, and Anderson claimed that Office 365 is now being used by 20% of all organizations worldwide.
Managing Devices Where They Live: Windows Intune
Another aspect of Microsoft's IT message centered around Windows Intune, Microsoft's cloud-based IT management and security service. Given that many mobile devices are strongly tied to cloud services, Microsoft is seeking to "manage devices where they live" by using the Intune cloud service as a key part of their strategy to manage mobile devices. Andrew Conway, Microsoft's director of product marketing for enterprise client marketing, told me that the the latest version of Intune (version 4, aka 'Wave D') added additional mobile device management functionality for Windows 8 devices. It also added a new direct management option that provides Mobile Device Management (MDM) features for iOS, Windows RT, and Windows Phone devices, and it doesn't require a link to Exchange ActiveSync (EAS) to manage them — MDM does that directly.
And there's more…
I have a bit more to report from MMS — including a fascinating chat with Microsoft's Jeff Woolsey about how Windows Server 2012 Hyper-V has loads of barely reported features that are worth a look — but I'll save that for next week.
Did you attend MMS 2013 as well? Drop me an email with your thoughts about the conference.