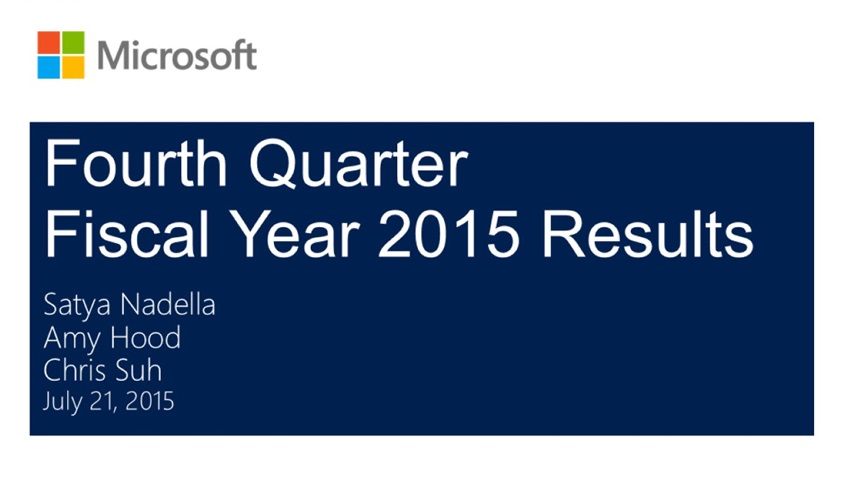 In many ways, it was a solid quarter for Microsoft, with the software giant posting revenues of $22.2 billion for the quarter ending June 30. But with over $8 billion in write-downs and other charges related to its phone business, Microsoft posted an operating loss of $2.1 billion.
For the full fiscal year, which also ended June 30, Microsoft posted operating income of $18.1 billion on revenues of $93.5 billion.
"Our approach to investing in areas where we have differentiation and opportunity is paying off with Surface, Xbox, Bing, Office 365, Azure and Dynamics CRM Online all growing by at least double-digits," Microsoft CEO Satya Nadella said in a prepared statement. "And the upcoming release of Windows 10 will create new opportunities for Microsoft and our ecosystem."
"We finished the fiscal year with solid progress against our strategic priorities, through strong execution and financial discipline, which is reflected in our results for the quarter and the year," Microsoft CFO Amy Hood added.
But here's the problem: Even without the phone losses, Microsoft still earned a smaller operating income and less revenues than it did in the same quarter a year ago. That's a troubling long-term trend for Microsoft and indicates it may have trouble overcoming ongoing slowing of its Windows business. A strong US dollar could have also played a role.
But the drama with phone will of course be top of mind. And the losses there—a combined $8.4 billion—are staggering. Microsoft spread this figure across a $7.5 billion non-cash impairment charge (e.g. a write-down) related to assets associated with the acquisition of the Nokia devices and services businesses, a restructuring charge of $780 million, and a charge of $160 million related to a previously announced integration and restructuring plan. Had this not happened, Microsoft's operating income in the quarter would have been $6.4 billion.
Cherry-picking data from a slide-deck that accompanied the earnings report, we see the following tidbits.
Business vs. consumer. In the quarter, Microsoft commercial licensing revenues were $13.5 billion, or 61 percent of all revenues. The remainder was consumer/devices/other.
Consumer revenues were down 13 percent year over year overall. But Surface was a bright spot, with revenues up 117 percent to $888 million. Xbox was up 27 percent, with platform revenue up 10 percent. Office 365 consumer subscribers jumped by 3 million new subscriptions to 15.2 million. Consumer was a financial bloodbath overall. Windows revenues from PC makers fell 22 percent, while Windows Phone staggered to a 68 percent decline despite Microsoft selling 10 percent more Lumias in the quarter, at 8.4 million units. And Office consumer revenues fell 42 percent.
Commercial (business) revenues were down 7 percent year over year, though Microsoft is pushing a constant-currency growth rate of 4 percent. Server was up 4 percent, but Office commercial was down 4 percent due to the ongoing migration to Office 365. And Windows volume licensing revenues fell 8 percent.
Microsoft also highlighted that it returned $6.7 billion to shareholders in the quarter through stock repurchases and dividends.