One of the blockers for my using Windows Phone as my personal smartphone of choice was the lack of a usable podcast solution. In this post I will review a podcast app for Windows Phone called iPodCast that I have been using nearly every day for the last two months.

Podcast App History
I am a strong believer that IT pros should not rely on training courses to keep their skills and industry knowledge up to date. There is a responsibility for every worker to maintain their tools. For the IT pro, the main tool is knowledge. IT magazines and tech books have come and gone; the rate of change in our industry has killed off static media. Now the best tools available to us are found online, including forums and blogs. But with so many sources, we need services such as RSS. I have a substantial set of RSS subscriptions that I check daily, but I, like many workers, spend two hours per day commuting to and from work. I have grown bored with the doom and gloom of talk radio and the shiny-happy teeny boppers of music radio. I can't read while driving but I do listen to podcasts, some of which are sports related and others which keep me updated on the world of tech.
A year ago I was using an iPhone 4 and its built-in podcast app to download, manage, and listen to various subscriptions. I had configured playlists that automatically categorized the podcasts and played them while I was focusing on not driving the car into a ditch. Later I was given a Windows Phone and I could not make the jump. That's because Microsoft, for the questionable excuse of "licensing issues," only makes podcasts available through the Windows Phone store in a tiny minority of countries. And even that would be an awful podcast experience. I tried every third-party app in the store at the time and they all were lacking. Eventually I switched to Android and found the DoggCatcher Podcast Player. That was a pretty good app, allowing me to search for, subscribe to, and play podcasts. Some of the controls were a little odd, but the app worked once you got used to them.
And then I bought the Nokia Lumia 1020, running Windows Phone. I was apprehensive about this because of my need for a good podcast app. Would things have improved?

iPodCast for Windows Phone
One of the first things I did with the new Windows Phone handset was search the store for new or improved podcast apps, and I quickly found iPodCast, listed as i Podcast in the Windows Phone store. The app is distributed in an unusual way. Normally you can get a free limited version of an app and purchase a full version in the store. With iPodCast app, the limited version is what you download from the store, and you perform an in-app purchase to unlock the reserved or premium features.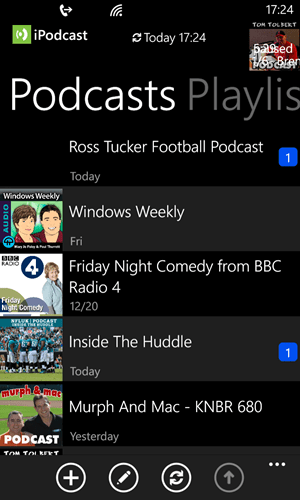 iPodCast's podcast listings.
The developers of iPodCast clearly read my mind when designing this frequently updated app. This is a feature rich podcast management solution. The basic features are:
Search, subscribe to, and download audio podcasts of any size
Manually subscribe to podcasts via URL
Create and edit playlists
Remember the position of where you paused a podcast and to continue where you left off
Continue podcast downloads in background
Sync and backup podcasts, playlists to cloud including all the metadata e.g. played, play position, etc.
Sync podcasts, playlists, and play status across multiple devices
Automatic background refresh with tile notification
Automatic download episodes at background when Wi-Fi is on
View podcast details and episode show notes
Play audio in the background
Play video podcasts
Stream episodes without downloading
Control audio with Bluetooth or other headphone remote controls
Display download history
Lock downloaded episodes
Import OPML
Show space usage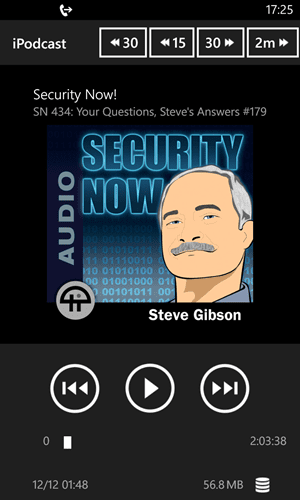 Playing a podcast on iPodCast.


The premium features, requiring a small one-time purchase, are as follows.
Sync and backup podcasts, playlists to cloud including all the metadata, e.g. played, play position, etc.
Sync podcasts, playlists, and play status across multiple devices
Automatic background refresh with tile notification
Automatic download episodes at background when Wi-Fi is on
Pin playlist to home screen
I have had no problem searching for and subscribing to podcasts and adding them into a playlist. The app is easy to use and the background update feature is nice – I hate getting into my car and having to wait for a 50 MB podcast to download before I leave the range of my home Wi-Fi. The NFL playoffs are in full swing right now and I have lots of 49ers podcasts to listen to. I've pinned my NFL playlist to the home screen and I can quickly jump into that stream of content without browsing through the app.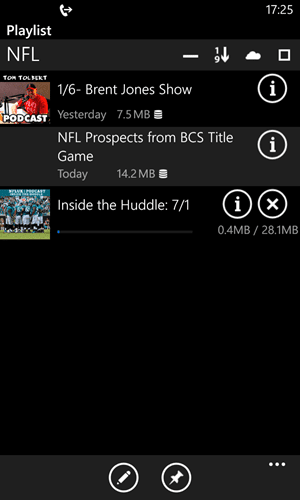 My NFL playlist on iPodCast.

This is one well-thought-out app, and I find it surprising that it took two years for someone to come up with something of this quality. Features that Windows Phone users expect from premium apps are there, such as an informative live tile, the automatic management works well, and frankly, the app just works the way I want a podcast app to work! The developers have not rested on their laurels; the app has been updated several times over the past few weeks with new features being added or existing ones being tweaked. So your investment in the premium edition won't be thrown away.
If you are a Windows Phone user and are a podcast listener or are interested in the medium then give the standard edition of iPodCast a try. If, like me, you find it useful, then it won't be too long until you choose to reward the developers with a purchase to upgrade to the premium edition.
What Do I Listen To?
I like a variety of podcasts. In the tech world I am a fan of the TWiT network. A lot of their content is more news than deep tech (with some exceptions) but I find TWiT to be informative and fun. Windows Weekly features the best two Microsoft journalists around, Paul Thurrott and Mary Jo Foley, who keep me up on what's happening in the world of Microsoft. Security Now with Steve Gibson gives you news on the world of IT security along with binary-level deep dives into the underlying technologies. If you want something a bit more infrastructure-related then check out RunAs Radio, which is hosted by Richard Campbell. Richard gets all sorts of expert guests from around the world on to talk about a wide variety of things such as fixing slow PC start-ups, Office 365 migration, Active Directory, SQL Server, virtualization… and who knows what tangents the show will go on if Mark Minasi is the guest?!
If I want some laughs, then I listen to BBC Radio 4 Friday Night Comedy (it does require some local knowledge of what's going on in the UK). For NFL news and analysis the Ross Tucker Football Podcast and the excellent NFL UK/Sky Sports produced Inside The Huddle podcast with Neil Reynolds and Jeff Reinebold do the trick, as well as some other content on the San Francisco 49ers from the KNBR radio station – the Jim Harbaugh interviews also offer some comedic value!
iPodCast App for Windows Phone Wrap-Up:
Pros: As I said above, I think the developers read my mind for the features I want in a podcast management and playback app. I can get in my car knowing that my feeds have been updated. I can open a playlist from the main screen on my phone and playback just starts.
Cons: I'm struggling here! Maybe those with extra-large fingers might struggle with some of the smaller controls, but isn't that true of all feature-rich smartphone apps? I'd like to see a version for Windows 8 and Windows 8.1 so I can continue playback on a tablet when I get home, but to be honest, I am already happy continuing playback on my phone via a wireless speaker.
Bottom Line: I've tried the rest and now I'm using the best podcast app on Windows Phone: iPodCast. Actually, I might even go on to say that this is the best podcast app that I have used on all platforms.
 
(All screenshots by Aidan Finn.)