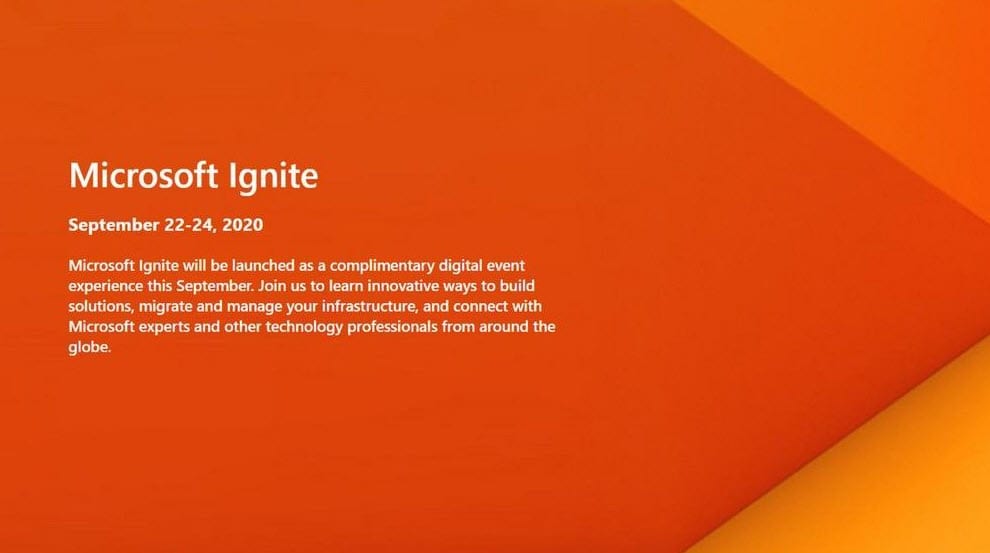 Welcome to 48 Hours of Free Technical Content
The annual Microsoft Ignite conference for IT Professionals was originally planned to run in New Orleans starting today. Due to the Covid-19 pandemic, Microsoft decided not to run in-person events through June 2021, and consequently Ignite 2020 is now a 48-hour online event run over three days that's open to all. You need to be registered to be able to stream live and access content on-demand afterwards.
I really looked forward to the old-style Ignite conferences. Even the ill-fated baloney lunches in Chicago at the 2015 event didn't remove the shine from getting together with friends, contacts, and other knowledgeable parties to discuss what's happening in the Microsoft IT space. I liked the bustle, organized confusion, and cacophony of multiple discussions happening concurrently. I disliked not being able to get into some of the most popular sessions, the horrible coffee, and poor Wi-Fi service. In addition, the marketing side of Microsoft exerted more obvious influence over Ignite as the years rolled by, and some of the announcements had to be taken with a grain of salt (and the software never appeared in production). But overall, Ignite has always been well worth the expense.
Ignite Costs
In-person Ignite conferences are expensive for everyone. Although Microsoft knowns how to charge hefty fees to ISVs to have booths in the technology exhibition and to attendees for access to sessions, massive costs are involved in renting huge conference centers and the logistics of executing the event. Not to mention the time for Microsoft employees to plan, prepare, deliver, and staff the conference. Conference organizers can make profits from technology events; I'm not sure if Microsoft does from Ignite.
Customers also incur substantial costs in time and money. For 2020, Microsoft planned to charge $2,395 fee for attending the full event. After adding in travel, hotel, and some other living expenses (sometimes a break is needed from conference food), the bill racks up fast. Add in a week or more away from the office, and it's clear that attending Ignite is a big investment.
Ignite 2020 is a free virtual event so the cost of attendance is no longer a factor. Although Microsoft's costs of running the event are much reduced, they're still pumping in tons of resources to deliver content over three rather than five days. Most of the sessions are prerecorded so that they can be easily repeated if necessary, and the formal presentations are backed up with virtual meet-the-engineer sessions and round tables hosted by subject matter experts.
There's lots of value in the virtual Ignite if you go looking and are prepared to spend hours listening to recordings. In fact, many dedicated Ignite attendees never attended many sessions despite being at the conference. They figured that they could always catch up when they returned home and their time at the event was better spent talking to people.
Some Misgivings About Marketing
Good as it is of Microsoft to run a free event, I have my misgivings. I suspect that the online nature of the event means that Ignite will have even more of a marketing focus than before. From a Microsoft 365 perspective, I can't wait to hear what the new "Year of" pitch will be to follow on from 2019's "Year of Yammer." To be fair to Yammer, most of what was promised in Orlando last November is appearing. Project Cortex was the other big thing announced in 2019 and that's still not generally available. Expect to hear lots about Microsoft Lists and how this warm over of SharePoint Lists will improve your life. And you'll be able to listen to a gazillion sessions about Teams and its march to absorb everything generated by Microsoft.
In passing, it's odd that Microsoft doesn't seem to have every session listed in the event catalog. Some only appear in the Microsoft Technical Community. That's just strange.
The important thing is not the announcements made by Microsoft because you never know when software will become generally available or if its licensing requirements make a feature a non-starter for your tenant. Instead, I'll be trying to figure out the strategic bets being made and how different parts of the Microsoft 365 ecosystem support where Microsoft is going with their cloud ecosystems.
On-Premises News
Those who haven't converted to the cloud will hope to hear something about the future of on-premises Exchange, SharePoint, and Skype for Business servers. Next year marks a full decade of Office 365 and despite the 248 million paid seats for Office 365 and 345 million Azure Active Directory users, there's still a substantial number of on-premises customers to keep happy.
Lesser Interactions
One big downside of a virtual event is that the interaction with developers and program and product managers from Microsoft engineering groups will be more restricted. I will miss the ability to quiz Microsoft speakers about what they really mean after sessions. I'll also miss the interaction with ISVs from little to huge companies. The sheer size of the technical exhibition is staggering and the availability of experts from so many ISVs makes it easy to investigate topics using information drawn from multiple sources. For instance, I like to check in with ISVs to discover how they are coping with the challenge of backing up (or more importantly, restoring) difficult Office 365 workloads like Teams.
Speaking of non-Microsoft experts, the lack of outside speakers is regrettable because they bring real-world experience to temper the optimism and promises of Microsoft presentations. There's no doubt that adding external speakers increases complexity for the event organizers, but good external speakers add enormously to the insight available to Ignite attendees about many aspects of the Microsoft 365 ecosystem from security to day to day management of different workloads.
I'll also miss some of the side sessions that make an in-person Ignite conference very interesting. There are no 20-minute theater sessions for people to make pitches about something which might turn out to be very important, or Microsoft Mechanics interviews that deliver an "ah-hah" moment of enlightenment. Two examples from 2019 were sessions on the Microsoft Graph PowerShell module (still incomplete, alas) and Jeffrey Snover's session on the Microsoft 365 substrate.
On to 2021
Enjoy your virtual Ignite 2020 experience. I'm sure you will learn something from the content. But let's hope that we can get back to some form of in-person conference for Ignite 2021 to enjoy the full spectrum experience that a high-quality, high-intensity technical event can deliver. Even though I would prefer less marketing and more hard news, Ignite is a great conference that's worth the investment to attend. Even virtually.