Are you headed to Microsoft TechEd 2014 in Houston, TX this year? Several authors and contributors for the Petri IT Knowledgebase will be there as well, and we'd love to get the chance to meet some of our readers in person in an informal setting. That's why we're planning the first-ever Petri IT Knowledgebase Author Meet and Greet (sponsored by Veeam Software and Proximal Data) at TechEd this year: If you're attending the show, you'll get the chance to meet Petri contributors like Daniel Petri, Aidan Finn, Phoummala Schmitt, J. Peter Bruzesse, and more.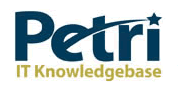 Author Meet and Greet Event Details
We're holding the event on Tuesday, May 13th, from 5:00 to 7:00pm local time (CDT) at the following location:
Andalucia Restaurant
1204 Caroline St #161
Houston, TX 77002
web: http://andaluciatapas.com


The Petri IT Knowledgebase Author Meet and Greet will be held at Andalucia in Houston, TX. (Source: Andalucia/Google Maps)

If you've ever wanted to ask Daniel Petri about thorny Active Directory problems, quiz Aidan Finn about the optimal Hyper-V configuration, or get Phoummala Schmitt's advice on thorny Microsoft Exchange issues — in person — this is your chance.
The following Petri authors, contributors, and editors should be in attendance:
Space will be limited, so we'd ask that everyone who would like to attend kindly request an RSVP ticket by clicking on the following link and registering for the event:
Chris Henley — a Microsoft IT professional evangelist from Veeam — will also be on hand to represent our sponsor of the event, and has kindly agreed to provide free USB drives (with free Veeam backup software) to readers that attend, and possibly will award other prizes to those that can make it (more details TBD). We hope to see you there!