A First Look at the Microsoft Cloud Platform System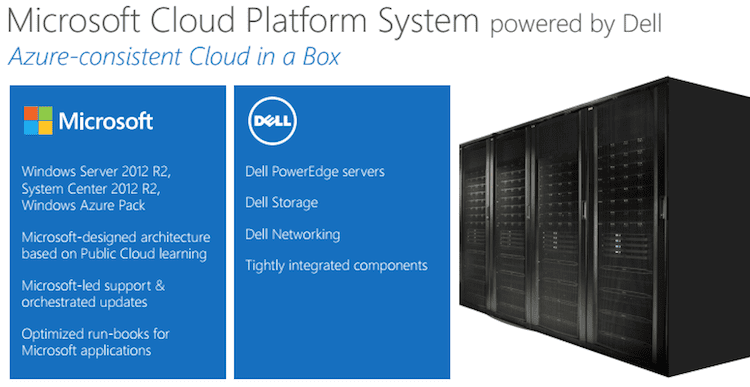 You might be familiar with the recent trend in converged infrastructure, where software and hardware are teamed up in a custom, generally available bundle. Oracle is famous for its Exadata kit which combines a rack of compute hardware and networking with a specially tuned release of its database software and sells it for hundreds of thousands of dollars.
Microsoft is jumping into this game with the Microsoft Cloud Platform System Powered by Dell. It is a preconfigured appliance that combines engineered hardware, storage, and networking provided by and engineered by Dell, with Windows Server and other software from Microsoft and others, in a defined configuration that is backed up by a high level of support with a single point of contact.
According to Microsoft, the idea behind the Cloud Platform System (CPS) is to have a common experience among multiple clouds, whether it is up in Microsoft Azure, a service provider cloud, or an on premises private cloud. By purchasing this CPS solution, you receive an Azure-consistent cloud in a box, using the same software that Microsoft runs its public cloud service with. As far as support goes, Microsoft can provide very prescriptive guidance about deploying typical workloads like Exchange, SQL Server, System Center, SharePoint, and even Linux on this hardware because it knows exactly what components are in play and precisely how to tweak every last ounce of performance out of this known configuration.
The Microsoft Cloud Platform System Explained
What is the CPS made of? The hardware is Dell PowerEdge servers, Dell storage, and Dell networking gear. Sold in increments of one rack a piece up to four coordinating racks, each CPS has 512 processing cores, eight terabytes of RAM, 262 TB of storage available for us (more is included to cover the overhead of the system), connectivity within the appliance of 160 GB/s and outside the CPS of 60 GB/s, all within a standard 42U rack. All of this is accomplished through 32 Dell PowerEdge C6220ii hosts for Hyper-V, four Dell PowerEdge R620v2 servers for storage and file services, and four Dell PowerVault MD3060e JBODs for the raw disks.
The software is Windows Server 2012 R2, System Center 2012 R2, and the Windows Azure Pack. This is the exact same code that powers Azure, Hyper-V—there is no "special sauce" from this software. The unique value proposition in the CPS lies in the integrated and validated testing Microsoft performed and the configurations and deployment that let the company stand behind the SLA they developed, all of which integrates the compounded wisdom from running these software packages at scale in Azure, something the company has deemed in the past its "virtuous cycle."
Windows Azure Pack is at the top of the stack and provides an administrative portal and a tenant portal, both of which are the same technologies that actually power the Azure public cloud. Customers can serve themselves using prepackaged solution offerings that administrators can configure.
What does all of this buy you? A single rack deployed in a common configuration will support 8000 VMs running two virtual CPUs and 1.75 GB of RAM a piece, and 7/10 of a petabyte of usable storage for tenants. There's a lot of power here.
Microsoft Cloud Platform System Features: A Deep Dive
There are several advantages to going the appliance route to the cloud:
It is certainly the quickest way to get the necessary configuration to deploy a private cloud. For a princely sum, you get a cloud delivered to you on a forklift. You plug it in and start playing, since Microsoft and Dell have done all of the dirty work around component selection, installation, and testing for you.
The appliance is generally redundant in many ways, making for a highly available solution. In this case, you can lose one instance of something (power, networking, or another components) within the CPS without the whole kit going down.
Make it easier to support without having a cycle of finding bugs in the operating system, drivers, hardware, log collections and more, and then lathering, rinsing, and repeating. Since the configuration of the appliance is known, engineers at support can get right to work diagnosing an issue, because component interplay is by definition ruled out. Customers of the CPS can call a single point of contact at Microsoft that will take the lead in any support problem, regardless of whether it is compute or software related.
There are other, more intangible benefits as well. For instance, one is the predictability of the supply chain. Microsoft knows from running so many systems that hard drives that are higher up in the chassis furthest away from the cooling system fail more predictably often than other drives positioned differently. The company only knows this because it operates at such scale that it can see these trends over thousands of systems. That knowledge and wisdom is baked into the CPS.
Additionally, with CPS comes the ability to perform orchestrated updates. CPS was designed in such a way that updates can be applied to the entire stack such that the customer SLA is maintained and the tenant workloads never go down regardless of how or when the update is applied. As it was described to me in the pre-release briefing last week, "you never know when Google is patched," and this system is designed for that seamless operation as well.
Thirdly, the CPS will provide a series of validated workloads or known good configurations with tweaks, customizations, and modified deployments that result in the best performance possible out of popular applications on the appliance. Customers can take Microsoft applications and deploy them in a totally supported way because everything about the boxes on which the software is deployed is known, right down to the patching level. When customers deploy Exchange, SQL, and others, there is directly applicable guidance and support. Microsoft confirmed that they support Linux running on CPS as well.
The solution is available for order starting today, and while Microsoft would not comment on price, similar converged hardware solutions from Microsoft and other companies for other purposes run well into the six figures, so expect the same here. An interesting solution indeed for companies with deep pockets that want a cloud in a box rather than piecing one together over several months.