Exchange Cumulative Updates and Distribution List Upgrades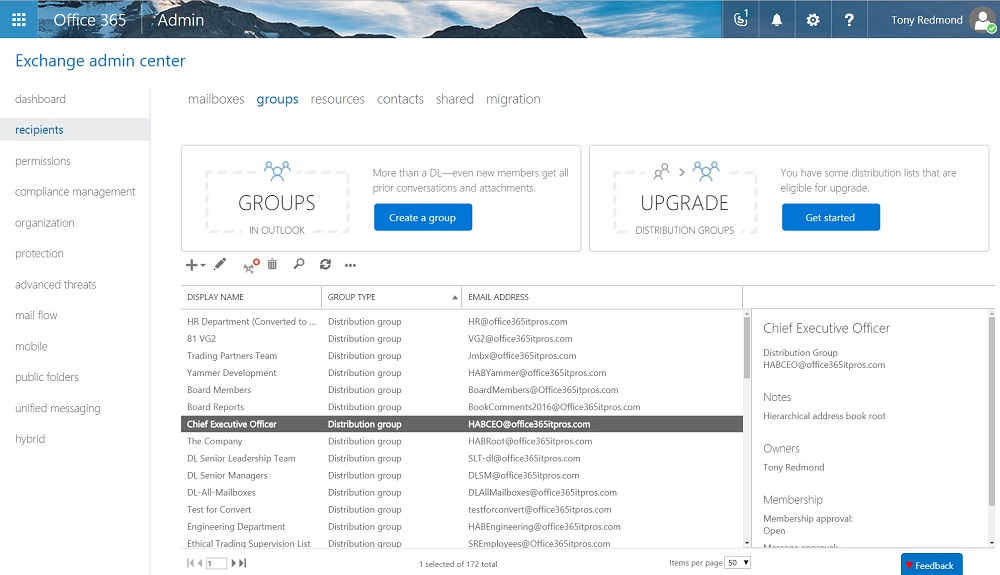 No Big News in June Exchange Cumulative Updates
As is their norm, Microsoft released cumulative updates for Exchange 2013 (CU17) and Exchange 2016 (CU6) on June 27. There is not much to report about these updates as Microsoft flagged the major feature upgrade for Exchange 2016 (Original Folder Item Recovery) two weeks ago. That is, unless you consider the fix described in KB4024650 that makes emojis appear as expected in email on iOS devices to be important. Which of course it is…
Customers running hybrid Exchange environments need to follow the requirement to keep their on-premises servers updated to match what runs in the cloud, but aside from that, the arrival of Exchange 2016 CU6 and Exchange 2013 CU17 is rather a non-event. Which is what you want updates to be.
The Sacred Database Schema
But an interesting nugget lurked deep in Microsoft's blog post when they said that some customers have reported issues after installing Exchange 2016 CU5 with backup products that support "brick level backup" or single mailbox restore. First, I wondered what these products are and why people still use brick level backup. Second, the reason cited is that Microsoft changed the database schema in CU5 (as they have done in the past) and it seems like developers ignored the warnings not to depend on the schema.
Microsoft notes that the Exchange database schema is not publicly defined and that programmers should use public interfaces like MAPI or Exchange Web Services to access mailboxes and their contents. Given that these public interfaces exist, it is reasonable to make this statement. After all, we are not in 1998, when companies like Sybari had to come up with weird and wonderful techniques to access Exchange databases to make anti-virus scale properly to deal with hundreds of mailboxes on a server (I know, a laughable amount in the context of today). In any case, understanding how the backup products you use access Exchange is a good thing to know.
Bulk Upgrades for Cloudy Distribution Lists
Back in the cloud, where Exchange Online eschews the need for backups because Microsoft relies on Native Data Protection to guarantee availability of user mailbox data in case problems occur, the crusade to convince Office 365 tenants to drop those nasty old distribution groups in favor of brand spanking-new Office 365 Groups continued. Microsoft now lets you convert distribution groups in bulk through the Exchange Administration Center (EAC). The option to convert individual DLs has existed in EAC for about a year.
When you now access the groups section of the EAC, the news that some of your DLs are eligible for upgrade jumps out almost as if you have won the lottery. It even looks as if Microsoft gives you some clip-out coupons for the upgrade (Figure 1).
Clicking the upgrade offer launches a wizard to display a list of DLs that EAC can convert (Figure 2). As you might recall, the main restrictions are that the conversion process can only handle DLs managed in the cloud and include nothing but mailboxes. Other restrictions exist, like no support for nested distribution groups, or those that have more than 10 owners.
In any case, you should check the DLs proposed by the wizard. As you can see, the first DL in the list shows the signs that the DL has been migrated before. Ending up with two Office 365 Groups from a single DL is probably not a good thing. Before you commit to conversion, ask yourself why these DLs exist, how people use the DLs, and whether you think they will work well as Office 365 Groups.
Painless Conversion
Once ready, click Start Upgrade and the wizard begins to convert the DLs in the background. The conversion process removes the old DLs and creates new Office 365 Groups that have the same membership and properties as their source DL. Overall, the conversion is painless.
EAC does not tell you when it completes the upgrade of the selected DLs, so you must check by selecting "Upgraded DLs" in the drop-down list and refreshing the list occasionally until conversion completes.
Later, if you use a naming policy for DLs to add a prefix or suffix to DL names, you might review the names of converted groups to decide whether any renames are necessary. For example, "DL Senior Managers" might be better as "Senior Managers Group."
The downside of renaming is that users must search the GAL to find the new group. The upside is that the new name might more accurately reflect the resources available to an Office 365 Group. Some organizations care a lot about naming policies while others do not give a jot. Perhaps conversion is the right time to consider how to name groups in the future.
The Way It Is
Exchange on-premises servers continue to move forward at their own measured pace. Speed is different in the cloud, where every week brings new features or things to discuss, like bulk DL conversion, or Teams supporting cloud storage services, or the snazzy new SharePoint communication sites. The gap between on-premises and cloud capabilities continues to widen. It is just the way things are now.
Follow Tony on Twitter @12Knocksinna.
Want to know more about how to manage Office 365? Find what you need to know in "Office 365 for IT Pros", the most comprehensive eBook covering all aspects of Office 365. Available in PDF and EPUB formats (suitable for iBooks) or for Amazon Kindle