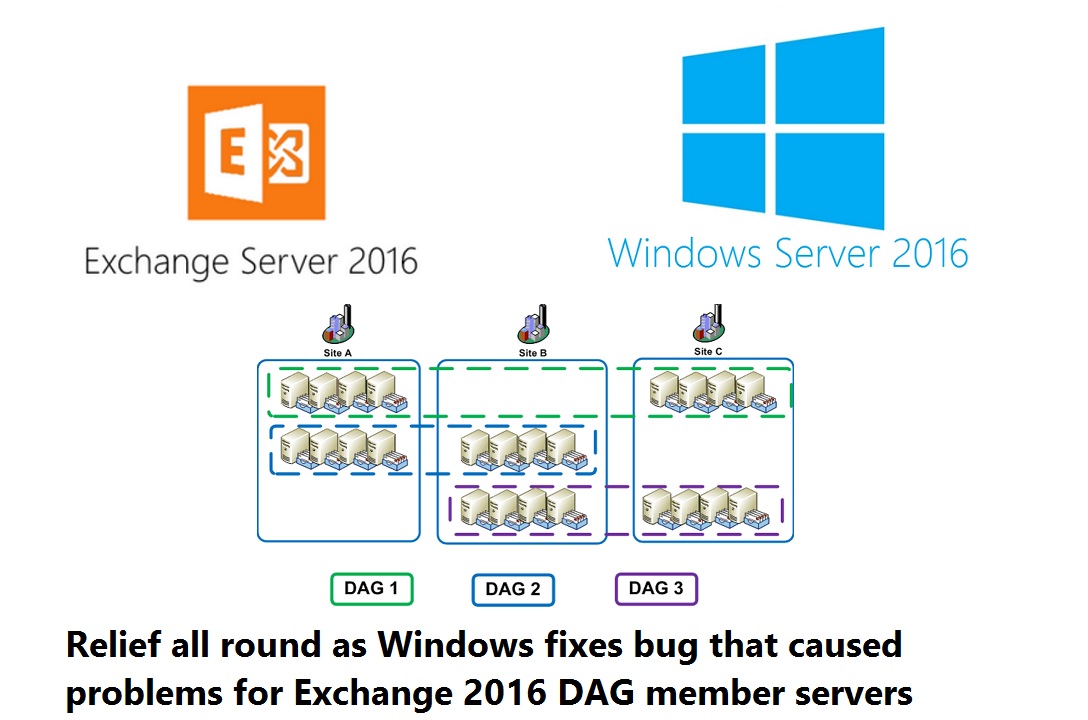 Windows 2016 Redux
Much to the relief of the Exchange development team, the Windows team has fixed the bug that caused some embarrassment after Exchange 2016 CU3 was released to support Windows 2016. The bug appears to have been pretty deep in the operating system and only surfaced in the form of IIS crashes when Exchange 2016 CU3 servers were deployed in a Database Availability Group (DAG).
Some questioned why Microsoft didn't find the bug during its testing of Exchange 2016 CU3. The simple answer is that the bug doesn't appear in all circumstances. Unfortunately, Microsoft didn't go down the path of provoking the bug in its six months of development and testing prior to the release of Exchange 2016 CU3. I know that the Exchange development group were gobsmacked when problem reports started to flow into Redmond.
All of this proves the difficulty of building software on top of components controlled by others, even inside the same company. Windows changed their software and Exchange paid the price. Such is life.
In any case, good order has been restored with the release of KB3206632. This update is required for all Exchange 2016 servers running on Windows 2016.
More Goodness
Reading Microsoft's announcement about the quarterly releases that bring us Exchange 2016 CU4 and Exchange 2013 CU15 reveals some interesting changes. First, there's support for .NET Framework 4.6.2, which can be installed before or after the Exchange updates if a server already runs 4.6.1. On the other hand, if servers run 4.5.2, you should install the Exchange quarterly update first and then upgrade .NET.
You might wonder if the order is important. Well, some do like to live life on the bleeding edge and ignore advice about software installations. If you're in that category, go ahead and see what happens. As for me, 30 years' experience of screwing up software deployment has convinced me to follow recommendations. So I will.
OWA is Framed
Joy! Exchange 2016 CU4 brings a new compose experience for OWA where "The body of the message is now "framed" and formatting controls have been moved to the bottom of the view". I can't believe that I just typed that sentence. What I meant to say is that Microsoft has backported the OWA compose screen used in Exchange Online to the on-premises product. But only that bit of OWA. And only to Exchange 2016.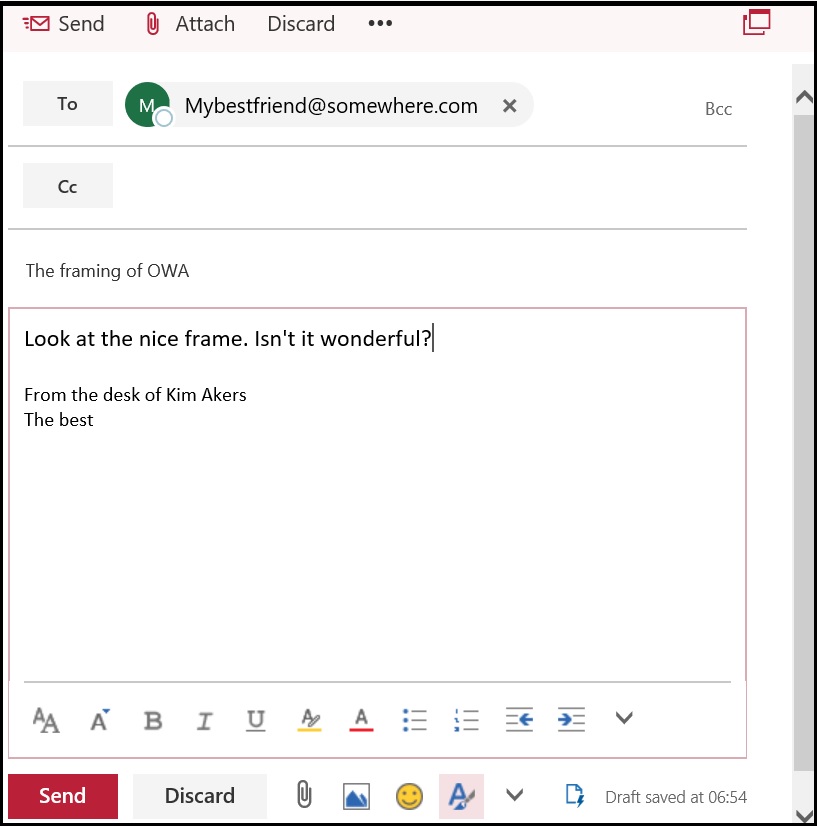 Desktop Experience or Media Foundation
In important news for those of us who live, sleep, and dream about the prerequisite Windows components that have to be installed before Exchange, Microsoft notes that the Desktop Experience is no longer required by Exchange. It seems like the development group is quite relieved because the Desktop Experience includes components that Exchange doesn't use but require frequent patching. In short, Desktop Experience increases the possibility that bugs could find their way into Exchange for no good return., so they're using the Media Foundation going forward.
The Exchange 2016 CU4 and Exchange 2013 CU15 installation procedures make the change. You can go back and make the same swap after you've upgraded your servers. It's just another thing to add to the list of things that you must do when time allows.
Other Fixes
Like all quarterly updates, Exchange 2016 CU4 and Exchange 2013 CU15 contain fixes for a set of recent bugs (and maybe some longstanding bugs). Full details can be found in Microsoft's EHLO post. It's also worth noting that Update Rollup 22 for Exchange 2007 SP3 and Update Rollup 16 for Exchange 2010 SP3 are also available.
No schema updates are required if you move to Exchange 2016 CU4 from CU3. However, if you upgrade from an earlier release, the CU3 schema update should be applied by running /PrepareAD. In fact, running /PrepareAD is good practice because it will ensure that all your RBAC definitions are correct before you upgrade to the latest version. Likewise, no schema updates are included in Exchange 2013 CU15.

I've said in the past that Exchange cumulative updates have become predictably boring. As soon as you say something like that, life has a nasty habit of kicking you in the rear end. That's what happened with Exchange 2016 CU3 and its support of Windows 2016. The CU looked good initially and then the bug struck and it's taken another quarter for a fix to arrive. With this in mind, don't rush these updates into production. Let others find the bugs for you while you concentrate on something more important. Like enjoying the Holidays…
Follow Tony on Twitter @12Knocksinna.
Want to know more about how to manage Office 365? Find what you need to know in "Office 365 for IT Pros," the most comprehensive eBook covering all aspects of Office 365. Available in PDF and EPUB formats (suitable for iBooks) or for Amazon Kindle.