Can Windows Virtual PC and VMware Workstation Coexist on the Same Computer?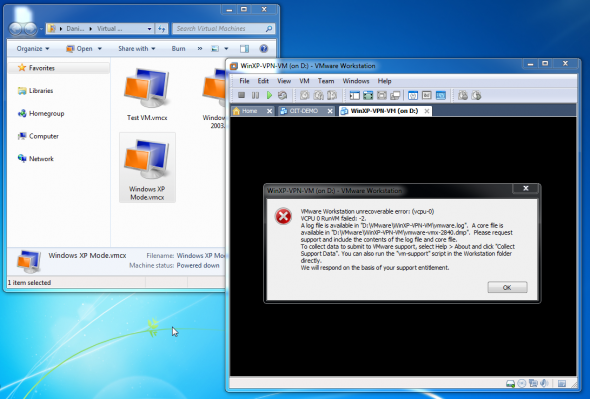 I really like VMware Workstation. I've been using it, on and off, for a long time now. I like the fact that it's robust, it's got tons of features, it supports USB devices (a long time before other vendors did), it uses a neat snapshot mechanism, it runs on 32-bit and 64-bit machines, and it lets you run 32-bit and 64-bit versions of guest operating systems. Also, it's got a bunch of other features like ability to drag and drop files, use shared folders, and a many other advanced settings and options.

Sure, it costs money, but if there was one software that was worth buying, that's it.
However, being a Microsoft Certified Trainer and all, and being an MVP and all, and above all this, having to do demos and a lot of presentations for Microsoft, I always had to have an alternative to VMware Workstation on my "work" laptop. You see, it sure doesn't look nice if I show up at a Microsoft conference, plug my laptop on the podium, and then fire up a VMware product to demo a bunch of virtual machines. Does it?
So what are my alternatives?
Microsoft Virtual PC is nice. It's free, has been ever since Microsoft bought it from Connectix. However, the older VPC 2007 doesn't seem to work nice on Windows Vista or Windows 7, and besides, there's the new version now – Windows Virtual PC. The new version has a lot of features that were not available so far on Microsoft products, mostly USB support and the cool "XP Mode" which allows you to integrate and run legacy applications that are installed on the VM, on your Windows 7 host. You can read more about Windows Virtual PC on my site.
However, the major drawback of VPC is that it won't let you run 64-bit guest operating systems. This sucks big time, mostly because for me, the need to work on and demo new technologies is a must. With VPC I cannot test and demo Windows Server 2008 R2, System Center 2008 R2, Exchange Server 2010 and many more products.
Another Microsoft-based alternative is Hyper-V. Running Hyper-V on my laptop can work, but then I need to install a server OS on it to use Hyper-V, and I lose hibernation. Sure, I can dual-boot, but hell, that sucks.
There's Sun Virtual Box, which is free, lets you run 64-bit OSs, and is pretty nice. It'll even let you use VHD files. But I found it lacking in customization options, and what pisses me off is that you cannot make any configuration changes to the guest VM while it's running.
So here I am, back at square one, using VMware Workstation again. Since I do want to evaluate Windows Virtual PC, I kept VPC installed.
But this time, when I tried to boot a VM in VMware Workstation, I got a nasty error: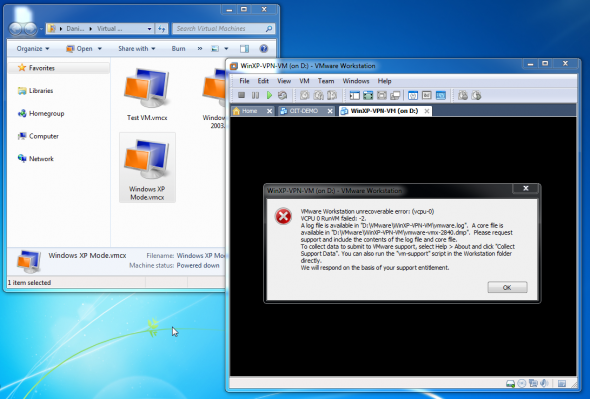 VMware Workstation unrecoveralbe error: (vcpu-0)
VCPU 0 RunVM Failed: -2.
A log file is available in … A core file is available in … Please request support and include the contents of the log file and core file.
And so on.
Clicking OK brought up yet another error:

Cannot find a valid peer process to connect to.
Needless to say this got me quite upset, mostly because I knew I needed the VMs that were configured on VMware Workstation much more than I needed the ones in VPC. BTW, all the VMs that were under VPC were completely shut down and not running.
Googling around I found no real solution to this alarming error that prevented me from using my VMware VMs. There was some stuff mentioning that you could not run with another virtualization product on the same machine:
"This issue occurs when you are running VMware Workstation and another organizations virtualization at the same time. Running Workstation and another organizations virtualization software simultaneously on the same system is not supported.
VMware recommends uninstalling the other virtualization software to allow Workstation to operate without errors."
I knew this was not completely correct because I did use it in coexsistance with older versions of VPC on my older laptop. However, because I could not find any other solution, I removed VPC from the laptop.
Removing VPC is done from the Programs and Features applet from the Control Panel.
Click on View Installed Updates on the left.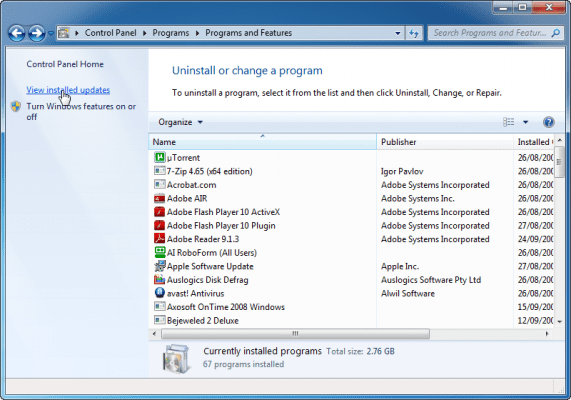 Select to remove KB958559.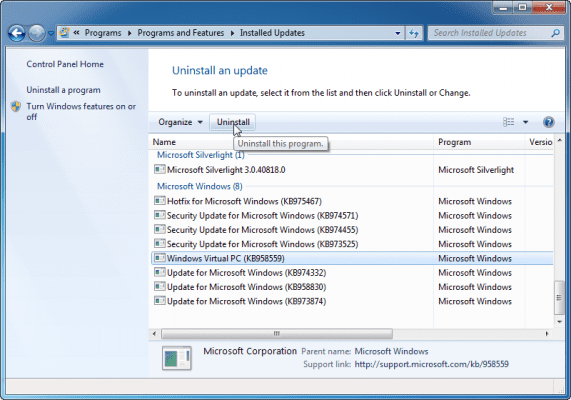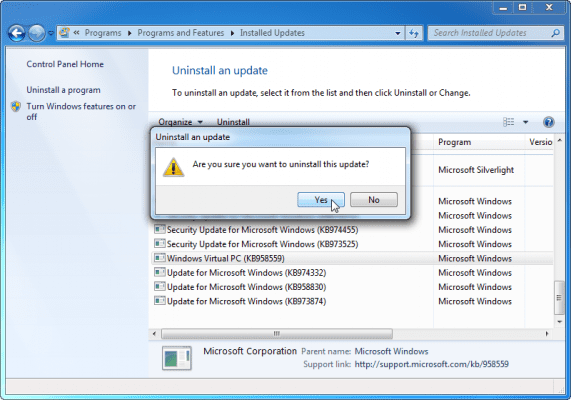 I had to reboot the machine.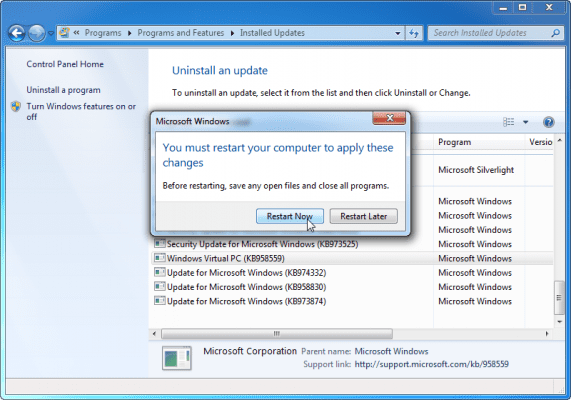 After the reboot, all VMware Workstation VMs booted up and worked successfully.
I really hope this issue is solved in the future, otherwise, I will need to say this whenever I am asked why I am using a VMware software on my Microsoft presentations, classes and demos…