While ultrabooks are a niche form factor in PC sales (the traditional laptop still rules), they are the headline-stealers, and they are the machine that the director or sales person will be interested in purchasing. In this article, I will discuss what I consider to be important features in an ultrabook, look at some of the premium Windows 8.1 devices for business customers on the market, and break down their pros and cons.

What Is an Ultrabook?
Intel designed the ultrabook specification to provide a sub-notebook that is based on the Wintel architecture, and is similar to the Macbook Air. Ultrabooks are intended to be premium, thin and light laptops, aimed at consumers who want high-quality machines, and mobile workers who require convenience (no searching for power, easy to store while travelling, and so on). The specification has evolved since it was first released in 2011, pushing manufacturers to improve customer experience, but broadly speaking it states that a machine is an ultrabook if it meets the following requirements.
Low power processor: A lower power variant of the Core I processor is used.
Size: The machine is thin.  The current spec (codename "Shark Bay," June 2013) allows 13.3-inch laptops to be a maximum of 20 mm thick and 14-inch laptops to be up to 23 mm thick.
Battery life: Should last nine hours (minimum) sitting idle and six hours when playing back HD video.
Resume time: Mobile workers expect to be able to take their laptop out of a bag, lift the lid, and immediately start working. Intel expects ultrabooks to allow this in three seconds or less.
Storage speed: 80 MB/s transfer rates (or faster) are required. You typically see SSD storage in an ultrabook, offering performance in a lighter and thinner chassis. Other times you'll see a SATA disk with a small SSD cache.
And more: Touch screens, WiDi, and other features have been added over time to improve the features of the ultrabook package.
When bundled together, these features make for a thin, light, and long battery-life laptop. These are not the usual run-of-the-mill $500 machines. They're premium machines, often costing more than $1,000. Manufacturers often go one step further by making these machines stylish, maybe with Gorilla Glass backs or brushed aluminum bodies, making the MacBook Air look like a dull plastic laptop. And that's why they're perfect for executives and mobile worker, not to mention that they are Windows laptops that you can deploy and manage using the same tools that you do for every other PC and laptop.

What I Look for in a Business Ultrabook
The ultrabook specification is a very high-quality definition, but you will often see manufacturers deliberately not use the term "ultrabook." This gives them the latitude to create their own brand or unique selling point (USP), and it also allows them to offer a lesser package at a lower price. Maybe they don't include touch. Or maybe they put in an Intel Pentium processor (no it, did not disappear with grunge music).
I fall into several of the target markets of the ultrabook. I am a professional worker that travels a lot and does a lot of presentations. My employer is a distributor of laptop brands, so I like to have an attractive machine; not just the usual grey or black box. My hobby is photography, so I also need a machine that is powerful enough to run PhotoShop and still thin enough to smuggle into my already over-packed carry-on baggage when flying.
Here are some of the things I want in an ideal business ultrabook:
Processor: A "Haswell" processor gives the promise of much better, all-day, battery life. To this day, some manufacturers are still not producing ultrabooks with this battery-focused processor.
All-day battery life: When I attend an event like TechEd, I take many notes and do lots of live-blogging. I do not want to be searching for oversubscribed power points.
1920 * 1080 touch screen: I don't get the fad for QHD screens that offer an unusably high screen resolution where even 200 percent zoom in Word doesn't make much effect. On the opposite end of the scale, 1366 * 768 is just too low, especially for a working professional. I need touch – I've just gotten too used to it for reading. Digitizer stylus support is also very useful for whiteboarding to a projector.
Decent keyboard: Productivity means typing. Some of the ultra-thin laptops have an awful typing experience, so bad that it actually affects your ability to type without mistakes at a decent speed.
Full-sized touch pad: Another space-saving sacrifice I've seen made by manufacturers is to include a tiny touch pad, or even none at all. This has a bad effect on productivity too.
TPM: A business machine should be encrypted and TPM gives the best security option.
Full-sized HDMI: I dislike micro-HDMI ports because the plug never sits in tight. One movement of the laptop dislodges the cable and interrupts a presentation or video.
Full-sized VGA port: I have yet to see a meeting room or conference center that is equipped with HDMI-ready projectors. You can use a converter or dongle, but that's something that will be lost by users. Watch out for daisy-chained VGA leads, because HDMI-VGA converters produce a poor result in that scenario.
RJ45: Ideally, you will have a built-in network port. Like the VGA port, this is rare to see because it adds thickness to the machine. Beware of expanding ports that cause the laptop to rock when a cable is plugged in.
Windows 8.1 Support: Windows 8.1 is realistically the touch OS that businesses will deploy.
Business Ultrabook Options
Just about every laptop manufacturer produces an ultrabook or something similar. For the purposes of this article, I am going to restrict the options to machines that are sold business-to-business (B2B). Some companies might have multiple options, so I will pick the premium option (because ultrabook is all about premium) that meets most of my needs. I will try to stick with machines that have an i5 processor; most business users don't need the power of an i7. These machines are presented in no particular order.
Dell Latitude 14 7000 Series Ultrabook
This 14-inch ultrabook from Dell measures in at 21 mm thick and weighs just 3.6 lbs. It has an attractive and sleek build – not something you normally associate with a Latitude business laptop. One nice touch is that the three-cell battery is replaceable; most ultrabooks are sealed in the factory and must be returned to have parts replaced.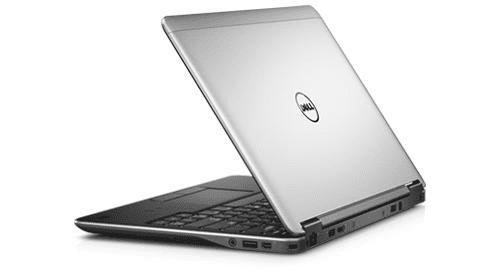 Dell Latitude 14 7000 Series Ultrabook
Only the i5 model with 4 GB RAM, a 256 GB SSD, costing $1,849, comes with touch support. There is a full-sized HDMI port and an RJ45 port, but no VGA port (a dongle is an option). There is a TPM chip, as you would expect from a Dell business laptop.
Unfortunately, there appears to be no option to add RAM, which is not a big deal for an executive, but a productivity power worker might like to expand to 8 GB. There is no SD card reader (a must have for multimedia fans) and there are no options to change the drive.
Dell have priced this Windows 8 Pro (preinstalled Windows 8.1 is not an option) machine at the upper end of pricing. As such, I would expect much more.
My view is that this is a very attractive machine, but it costs too much for what you get. There are better alternatives in this space.
HP Spectre Pro Ultrabook
When I think of the HP Spectre brand, I think style. That's not a phrase you normally would associate with HP business laptops, but it certainly applies here. The machine is just 15 mm thick!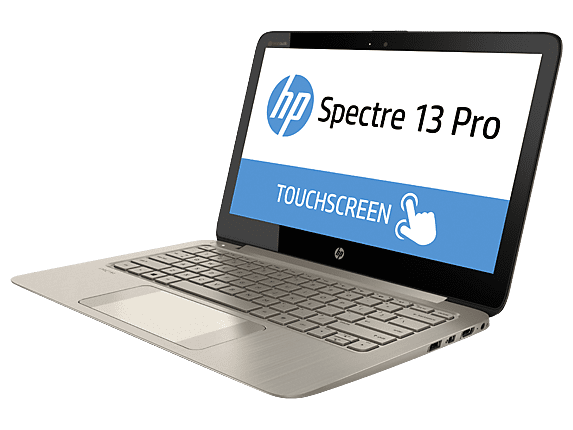 HP Spectre Pro Ultrabook
Businesses have the option of ordering this touch ultrabook with either Windows 7 or Windows 8.1. There are i5 and i7 models, with the starting weight being 3.3 lbs. A generous 8 GB of RAM is installed, giving you plenty of room to work with. Up to 256 GB SSD is included, and you have a choice of screen resolutions up to the crazy 2560 x 1440 QHD. A full-sized HDMI port and RJ45 ports are onboard. Like the Dell, there is only a mini-DisplayPort which would require a VGA dongle. A TPM is also supplied and an SD card reader is included. You will also get a four-cell battery built into the chassis.
This is a very nice ultrabook with little extra to ask for. I would be pretty happy if my IT employer handed me one of these machines from HP.
This machine is so new that there is no price listed on the even HP website. A lower "non pro" model is priced at around $1,000.
Toshiba Portege Z35-AST3N05 Ultrabook
I am a fan of the Z3x series of ultrabooks from Toshiba. (Disclaimer: I work for a distributor of B2B and consumer laptops). This is because the machines are extremely light, quite thin, and check most of my requirements boxes.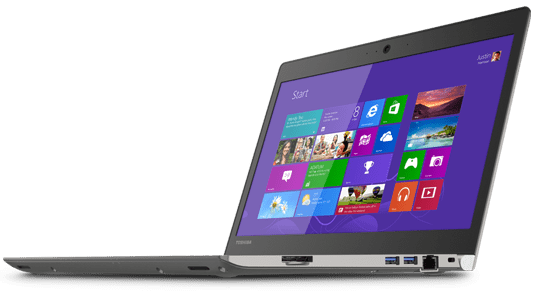 Toshiba Portege Z35-AST3N05 Ultrabook
There are a wide range of variations of the Z3x series. The Z30 models don't have touch and the Z35 do. The model that I selected from Toshiba for this article is an i5 Haswell machine with Windows 8.1 and 8 GB RAM. There is a full-sized HDMI port and an RJ45 port. As a presenter, what I love about the Toshiba Z3x series is the presence of a VGA port – there's no need for dongles or adapters that seem to cause problems more often than not, usually right as you are about to present. You will also find an SD card reader in the ultrabook.
One thing I need to call out is the battery. Toshiba are claiming a very impressive "up to 11 hours" with this machine. The Intel Haswell was supposed to bring this. Sadly, most manufacturers seem to have included less capable batteries in the new generation of machines to save money, or they won't give us any predictions on battery life.
The SSD is just 128 GB in size; I would prefer at least 256 GB. The thing that most disappoints me about this machine is the screen resolution, which comes in at a very low 1366 x 768. I could not work with this. It's a pity, because every time we show off this model, people are blown away by how light it is and the fact that it checks just about every other working professional's boxes. Hopefully Toshiba will come out with an improved model.
However, the relatively economic $1,049 price tag will help some people overcome the lower screen resolution!
Lenovo ThinkPad Yoga 8GB Touch & Pen
The Yoga brand has been quite the name-maker for Lenovo. The original Yoga was a "convertible" or "hybrid" ultrabook-style machine, in which the touch screen went back as normal but could continue all the way back until the back of the screen was flush with the base of the laptop. Now Yoga is a brand that has expanded, including Android tablets.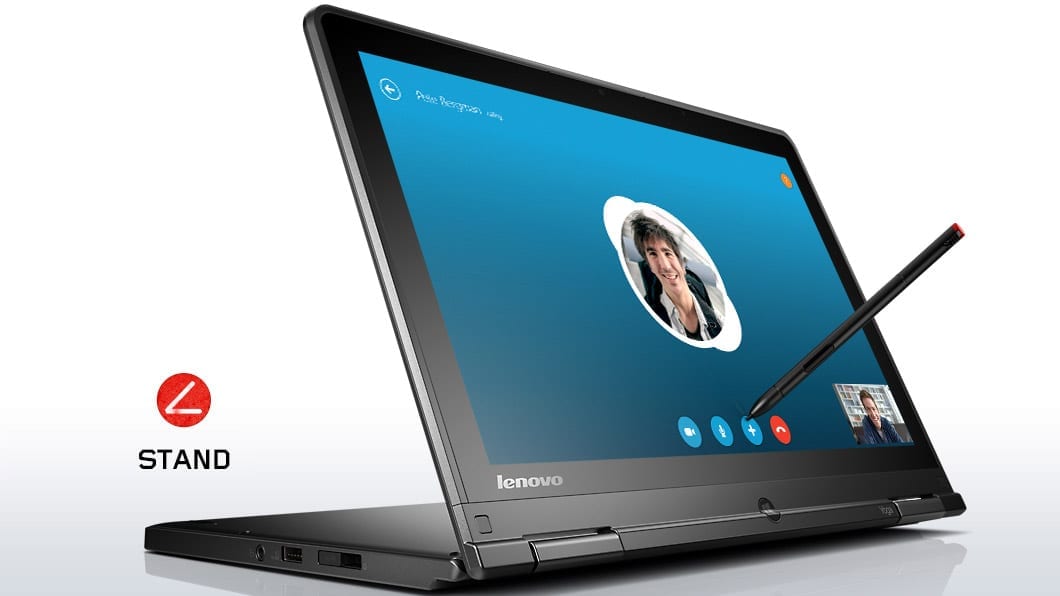 ThinkPad Yoga 8GB Touch & Pen
The 19 mm thick and 3.5 lbs Yoga 8GB Touch & Pen is a Haswell generation machine that follows up on the "hybrid" approach of the previous generation. However, I don't consider this machine a hybrid: there is no swivelling, disconnecting, or twisting. You just push the screen back.
This model has an i5 processor and 8 GB RAM. The storage can be customized; from a standard 500 GB hybrid (16 GB SSD cache) SATA drive, to a 1 TB hybrid SATA drive, and a 256 GB SSD. The model I have selected has a touch (10 point multi-touch) monitor running at 1920 x 1080 and a digitizer pen. That pen will prove useful for anyone taking notes, or in need of a flipchart or pens for a whiteboard. There is also a 4-1 multimedia reader. The battery is listed at giving up to eight hours.
This is a Lenovo ThinkPad. So you should expect a good build quality and the best typing experience one can get on a laptop; my old Asus UX31 Zenbook (an ultrabook) has an awful keyboard and I cannot wait to replace it.
On the downside, there is no VGA port (dongle) or full-sized HDMI port (mini-HDMI). Availability of the new Yoga machines is quite limited and sporadic. This machine is available in Europe at the time of writing, but not in the USA. I estimate that the price will be around $1,500 in the United States.
Please don't confuse this machine with a tablet, even though it could be used like one. It is an ultrabook-like machine that has a nice trick.
What Machine Would I Choose?
That's the question I had to ask myself as my consumer ultrabook started to die recently. I reviewed all of the options. No machine was perfect. In the end, I settled for a custom build of the Lenovo Yoga, increasing the disk to 1 TB (for storing photos while travelling). This machine offered more than the others; the stylus support is actually a big deal for me because I like to diagram a lot while teaching. If I had to stock an ultrabook for sales people, then I would love the Toshiba with a higher screen resolution. I hate the idea of stocking/replacing dongles. Otherwise, it appears that the HP seems like the best choice.