Another VMworld has drawn to a close, and nearly 23,000 attendees are currently on their way home after more than a week in San Francisco learning about the latest and greatest news and product announcements from VMware. Petri IT Knowledgebase author Brian Suhr has already written about VMware unveiling vSphere 5.5 and vCloud Suite 5.5, and has also posted his thoughts about the changes and additions to VMware's certification program.
Rather than duplicate Brian's work, I'll focus on a recap of what was revealed at the show — especially VMware's new VMware NSX and VMware Virtual SAN efforts — and also discuss a few other things that were on the minds of VMware attendees.
1. VMware NSX and VMware Virtual SAN: Networking and storage take the lead
VMware announced some significant updates to their various product families, headlined by the impending releases of VMware vCloud 5.5 and VMware vSphere 5.5. Yet the biggest news was undoubtedly the unveiling of VMware NSX and VMware Virtual SAN, which extend VMware's software-defined data center (SDDC) strategy to the networking and storage realms, respectively. "If it wasn't obvious before, we're definitely entering the era of software definition," IT consultant Scott Lowe told me. "I believe that 'software defined' actually began with the initial release of ESX way back in the early 2000's. If you think about it, a virtual machine is really just a 'software defined server' that works by harnessing the underlying hardware. VSAN and others provide software defined storage and, of course, VMware itself also provides NSX, a network virtualization component."
We'll be covering VMware NSX and VMware Virtual SAN in much more detail in future Petri IT Knowledgebase articles, so stay tuned.
2. VMware Horizon MIA?
Conspicuous by its relative absence from VMworld keynote attention was the VMware Horizon Suite, which includes Horizon View, Horizon Mirage, and Horizon Workspace. There were some announcements at VMworld about some changes and updates to the Horizon product family made via press release, including a new DaaS deployment option, some forthcoming integration between Horizon View and the the new VMware vCloud Hybrid Service (vCHS), Horizon View DaaS availability through cloud partners, and some new phones and partners that are part of the VMware Ready smartphone program. Perhaps the lack of VMware Horizon love at the keynote level was more of a reflection of the growing size of the VMware product portfolio, and the challenges that creates for the communication team at VMware: With so many new and updated products, which ones get the spotlight?
3. VMware partners innovate (and proliferate)
The VMworld 2013 expo hall was packed to overflowing on most days, and it's clear that the VMware partner community is a visually robust and healthy one. With every new VMworld we see innovative new companies arriving on the scene and showcasing some impressive new products and technologies, and this year was no exemption. Relatively new companies like Tintri, Nutanix, Pernix Data, Simplivity, and PLUMGrid are either introducing smart new technologies into the VMware market, or refining existing ones. Look for a post next week where I'll discuss some of the vendors making the biggest impact in the VMware market.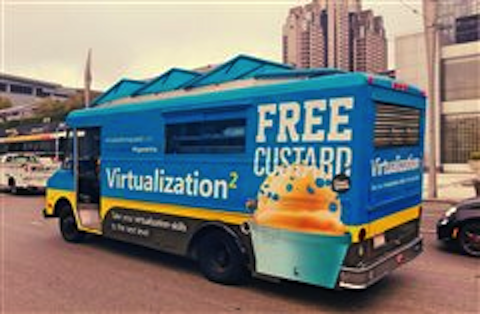 Microsoft goes behind enemy lines with the VMworld 2013 custard truck/Hyper-V guerrilla marketing vehicle (Source: Microsoft)
4. Microsoft offers custard (with a side of Hyper-V)
There's no doubt that Microsoft has made tremendous strides with their Hyper-V technology in the last few years, and did their best to remind VMworld attendees of just how far Hyper-V has come by driving around Moscone Center in a brightly-colored van emblazoned with the words "Free Custard" and "Virtualization2." You have to give the Microsoft Server and Tools marketing group at Microsoft credit for the adept marketing move with the custard truck, especially when compared with the marketing train wreck Microsoft's messaging is on the consumer side with the XboxOne and Windows 8. Yet perhaps the most telling message here is that Microsoft thought "Free Custard" and a generic "Virtualization" headline would draw more people to their truck than a giant Hyper-V logo, which leads me to the idea that…
5. Is VMware the next Oracle?
…VMware will likely be here for the long-haul in its battle with Microsoft, and — like Oracle — has managed to establish an entrenched position that Microsoft will never be able to completely breach. Back in 2008, VMware's then-CEO Paul Maritz told me in an interview that his strategy for combating Microsoft was to always stay one step ahead of them, and lead them to places that it would make it difficult for them to follow. There's no doubt that Microsoft is gaining market share from VMware, but the sheer size and immensity of VMworld — nearly 23,000 attendees, hundreds of VMware partners, lots of new VMWare updates and new products, and VMware's continuing strong position in the IT departments of the Fortune 500 — means that dislodging VMware completely from its corporate installed base "in defilade" may eventually prove to be an impossible task.
6. Acronym Gymnastics
Now that VMware has a burgeoning product portfolio, creating acronyms for a small army of products is increasingly becoming a challenge for the virtualization giant. Case in point: the new VMware vCloud Hybrid Service (vCHS) and vCloud Automation Center (vCAC), which several VMware admins I met with at VMworld were chuckling about. vCHS was often pronounced as "vee-cheese," while the vCAC acronym has been pronounced in a less-than-flattering fashion by some admins, especially those with a strong Texas accent. Perhaps VMware can take solace in the fact that it has produced enough products to now find itself in the same hallowed category as Microsoft, which gave us such gems as Business Productivity Online Suite (BPOS – big piece of what?) and System Center Virtual Machine Manager (SCVMM), an acronym that looks like a word used to describe the slimy gunk floating on top of a pond.