Its the end of the year and 2014 is rapidly approaching. As a child, around this time of year I was focused on dreaming up a list that had some cool new toy that I wished my parents would get me for Christmas. While I have long since grown up and can just purchase this new toy myself, I've switched to dreaming about things that I wish VMware would do or offer. In this light, I have put together my VMware wish list.
File Sync and Share
This is a service that almost every business user is using personally and asking for something similar for their work needs: a Dropbox-like service to store and share files. VMware released Horizon Workspace earlier this year, but it has done nothing to update it since. There's a rumor that an update might be coming soon, but it's unknown what features it may have.
In this space I'm not sure if VMware can add features fast enough, and there are dozens of other options for customers to choose from. There are on-premise and cloud-hosted options, and Citrix has the clear lead over VMware in this space with that purchase of Sharefile. Unless VMware can pull out a miracle in the next six months, they should probably get out the checkbook and buy someone in this space and integrate it with Workspace instead. I recently had a briefing on the new business service from Dropbox and it's exactly what VMware should be offering.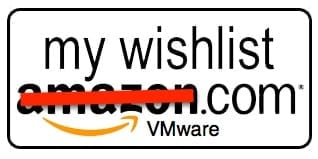 Mobile Management
This is something that I've written about or talked about in the past. I think that VMware entered the mobile management market too late and that by trying to develop their own tool they are wasting even more time. I would really like to see VMware step up and purchase a more complete product that could be integrated with Horizon Suite. This could be something on the likes of Mobile Iron or AirWatch.
By doing this VMware could level the playing field with Citrix and other mobile-only vendors. I don't think it's good enough to say that well you get this feature for free when you buy Horizon Suite. Right now enterprises are evaluating end-user computing suites and this is hurting VMware in some accounts.
If VMware had a solid mobile management solution that could attract companies looking for just mobile management they can use those accounts to further penetrate and expand View and Mirage installs. And vice versus customers looking for VDI or desktop solutions can benefit by VMware having a solid Mobile solution.
Application Presentation
This one has been on my list for the last couple of years, and I don't give up easy. Application presentation is more than just a check mark that VMware needs to fill – this is a huge feature when customers are evaluating them. The ability to be able to present an application to any device (much like Citrix can with Xenapp) is a big black eye for them. This requirement comes up often in design discussion with customers and has resulted in several designs ending up with a blend of Citrix and VMware or the customer moving towards Citrix.
Once VMware can present the applications to mobile devices and Macs they will have a powerful suite of products that can only be enhanced by adding the other items I covered earlier.
vSphere Features
Site awareness: This feature has not had a large demand so far, but I saw it increase a lot in 2013 and it will only continue in 2014. The current versions of vSphere and vCenter are not aware of different physical sites. When design stretched vSphere clusters to allow VMs to migrate live between sites today, there is no way to build in logic of sites. This benefits customers on building rules and logic on where workloads should or must run.
The only option today is to use DRS rules to try and accomplish your policies. This works in many cases but is still limited. In the near future I would like to see VMware fully support the idea of multi-site clusters and have the tools to support it.
vSphere replication: I would like to see improvements in the management of the replication. Specifically around estimating traffic and reporting of traffic usage while in a running mode. Another great option would be any enhancements that could be made around dedupe and compression to reduce the amount of network traffic and time it takes for replication.
The death of vSphere Client: VMware has been flirting with the web client for more than a year now, telling us that it will be our option for the future. The problem is we are in limbo now and there are still some things you have to use for the thick client and then new stuff is only available in the web client. This sucks for many admins having to bounce between, and with hardware version 10 not being supported in thick client, there's plenty of horror stories of people not being able to edit their vCenter VM. That they mistakenly updated. Let's just get the divorce over with and go all-in with the web client!
Your Ideas?
Do you have a list of things you would like to see from VMware in 2014? Drop them in the comments section and share with the community.